Courtney Cruzan
HR Coordinator for China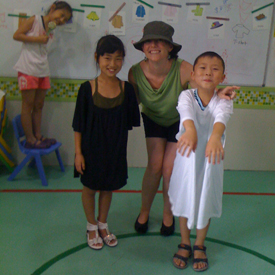 Courtney with one of her students
My interest in travel and living abroad began when I was born and has grown ever since.
I grew up with a French step-grandmother and began the journey into the world of the French language. The moment I was able to travel to Europe at the age of 17 I jumped on the plane without any hesitation. Since then, I have lived and studied in France, trekked across Western Europe, spent my honeymoon across South East Asia, and am now diving into the cultural complexities of China.
China has been an interest of mine for years. While living in beautiful Pacific Grove, California, my husband, who is also American, and I were yearning for a new adventure. We met in southern France as students and share the same passion for world cultures and dynamic life experiences. For two years, we researched on how to go abroad again. Where would we go? We felt we had the European experience already, though how to use and build on our international experiences and language skills?
China is of course at a pivotal transition in history right now and was a clear destination for us. We delved into the language and I became addicted right away. Having a foundation of Mandarin before arriving has proved to be a necessary aid in our experience. Coming to China can be overwhelming at first if you have never been to an Asian county. Overall, despite the initial culture shock, we have been really impressed by the modernism and the relative orderliness in our coastal city of Ningbo. Any pre-conceived notions of China before coming can be thrown out the window after you spend more time in this amazing country. The people are curious, open, and very driven. We have only scratched the surface and have a lot more to discover, I can't wait!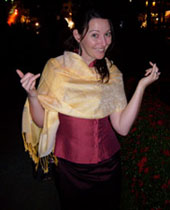 Courtney in Chiang Mai, Thailand
The education field was a natural and easy solution for us in our China job search. In the states I worked in educational public relations giving presentations all over Northen California. My University majors are Clothing, Textiles, and Design and French and I completed an international MBA. With all my education I want to use my skills to reach out to the young minds of China.
The students in China are very hard working and quick to please their teachers. They have a lot of respect for teachers and are intrigued by westerners. I feel the time I spend building relationships with my students will leave a huge impression on them for the rest of their life. I know they definitely will leave a lasting and positive impression on me and am utterly content to be immersed in the Chinese world!
If you'd like to learn more about me then feel free to check out my blog at www.courtneycruzan.wordpress.com.