Reach To Teach Events

We release event information through the Reach To Teach Facebook Page. To receive up to date information, make sure you 'like' our page. 
TAIWAN REACH TO TEACH EVENTS
Cost: Our events usually cost between NT$300 to NT$600 per person
Check out our Taiwan Event Album on Facebook
Shrimp Fishing in Taipei
Seafood is always an interesting option for dining, and Taiwan has no shortage there. Why not brave the rough seas and go shrimping with us at one of our shrimping events in Taipei? Okay, so maybe it's not an ocean, but more like a pool, inside a building, with an adjoining restaurant.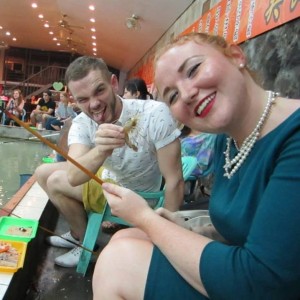 For those who haven't been shrimping in Taiwan before, it's a great time. You go to this large building with enormous pools inside. The pools are filled with murky water and shrimp. You are then handed a fishing rod and pole and sit down by the water's edge for a couple hours and try to catch the shrimp. Whatever you catch, you then barbarically rip off their claws, skewer them, and grill them on a nearby barbeque. Thus you catch your dinner!
Our shrimping events last about two hours with teachers hailing from all over the island. The cost is generally around NT$500 for one rod. Most teachers choose to share a rod for two hours, but you can pay full price for a full two hours of shrimping if you're so inclined.
RTT always organizes a shrimping contest as well. We ask each teacher to chip in NT$100. The rules were simple: Whoever catches the most shrimp in two hours takes home the pot.
Dinner and drinks followed the contest and a great time was had by all. We hope to see you at our next Shrimping Contest and maybe you will take home the top prize then!
Check out some of our shrimp fishing photos here.
---
Hiking in Wulai Day Trip – Waterfalls, hot springs and hiking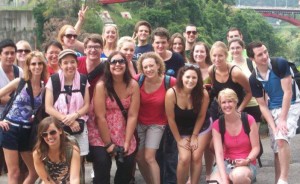 Wulai is a gorgeous little aboriginal village in Northern Taiwan, just 40 minutes from Taipei City. Its known as one of the top hot spring areas in Taipei, boasting several waterfalls and stunning hiking trails.
Wulai was once a prime hunting ground for the Atayal tribe. Its name means boiling water, which refers to the number of hot springs in the area.
Most people go to Wulai for the hot springs, but you can hike and swim in the refreshing mountain streams. This is also an excellent place for bird-watching and a terrific area to look at the cherry blossoms during the months of January through March.
---
Neihu Trail Hike
Fresh air, stunning views and as always dazzling company!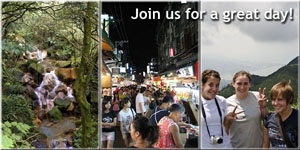 Come and enjoy a relatively relaxed walk in nature and admire the city-scape views. We walk from Tianmu to Neihu through a trail with temples and monuments along the way. The end of the trail takes us into Neihu where we can grab some food before we hop on MRT and head for home.
Wear sensible footwear for walking, comfortable clothes, and bring a rain jacket just in case! Be sure to have enough water and a snack!
We also have a wealth of information here for those of you who are interested in hiking on Yangmingshan.
---
Pub Nights in Taiwan!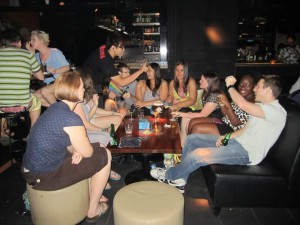 LOCATION: Pub nights tend to be our most popular events. Our staff will do their best to organize a selection of cheap drinks and food to choose from. Come and relax after a week of work, socialize among friends and indulge at one of our pub events.
It's important that you RSVP for these events so we can add you to our drinks list. If you don't, you'll end up paying full price.
Our favorite Taipei haunts include:
Taiwan Beer Bar
Taiwan Beer Bar is one of the most happening places in town. Enjoy live music, local Taiwanese snacks, and Taiwan beer, of course. Have a look through our Taiwan Beer Bar gallery for an idea of what to expect.
The Brass Monkey
This one of the most popular pubs in town, and they always put on a good party for Reach To Teach teachers.
Admission: NT$300. Entrance includes three drinks. 
Reach To Teach Happy Hours drinks run from 9pm to 12 midnight.
NT$100 – Miller Highland, Carlsberg, Heineken
NT$100 – House Spirits
Whalen's – Poutine, Poutine, Poutine – All Night Long
Whalen's Poutinery is a well known pub-style restaurant in Taipei that serves up fantastic homestyle food, including the absolutely best poutines in Taiwan. They have an excellent selection of beers, spirits, and wines. The pub can accommodate up to 35 people seated, which is typically the perfect number for our events. Our Whalen's events are always small, cozy, and fantastic food!
Beer & Cheese Social House
Come and taste the American dream with a mash up of the best craft beer in the ROC and a selection of fine cheese! Beer & Cheese Social House is a new pub in town that has combined an astonishing array of artisan craft beers paired with different cheeses from around the world.
Drink Specials:
NT$100 Moosehead lager
NT$100 Jagers
NT$100 Bellinis (peach & spiced rum)
NT$100 Lime Margaritas. 

House Special: Try a flight of beer! Try 3 craft sample beers that are perfectly paired with three delicious cheese selections. Prices and selections will be announced the night of the party.
Admission: NT$400 (You must spend a minimum of NT$400 to enjoy the evening with us.)

Sky Garden
Come and enjoy Taiwan's beautiful evening weather on a roof top patio in the heart of Taipei. Sky Garden offers good food and a great selection of beers and cocktails to choose from.
The cost is NT$440 per person for the mini buffet and one drink (beer, whiskey coke, and vodka lime). 
The mini buffet will feature: Hong Kong noodles with chicken, Leeks with Sichuan Pork, Thai salad, and fried rice. 
Le Rouge – Pizza, Calzones and Beer Night
Le Rouge is tucked away in an alley just outside of Xinpu Exit 1. Zach and his wife Lynn have owned this restaurant for several years. They specialize in pizzas, pastas, and calzones. The calzones, my friends, are simply amazing. Zach always puts on a great spread for Reach To Teach events. The cost per person is usually between NT$300 and NT$400. He usually includes some NT100 beer and cocktails specials as well. Calzone night at Le Rouge is always a special event.
We promise you'll have a blast.
---
Seafood Extravaganza
The Shrimp Daddy
One of our favorite places for a good night out that includes great food, great drinks, and a private party space that includes a wall sized television, dart boards, and a table for beer pong? Parkson and his team always give us a great deal on their specialty seafood and drink list. Our events at The Shrimp Daddy in Taipei are always well attended.
The Shrimp Daddy always offers Southern style seafood at its best. This restaurant is a one-of-a-kind place in Taiwan, and their business is booming! From deep fried calamari and crab claws to giant bags of mixed seafood, this is one restaurant you're going to enjoy getting dirty with. No chopsticks. No utensils. Just good old-fashioned American style seafood washed down with ice-cold beer!
The Shrimp Daddy offers fantastic food and service in a prime location in Taipei. Our Reach To Teach events are held in the Rec Room, which boasts enough room to accommodate 40 guests with seating, as well as a giant big screen television, beer pong, and darts.
Address: Right outside of Sun Yat Sen Memorial Hall Station Exit 1
Menu: 400NT per person.
Lobster, Soft Shell Crab, King Crab Legs, Fried Calamari, Beer Battered Fish
Chicken wings, Gumbo, Sweet Potato Fries, and much, much more!
Xien-Ding-Wei Seafood Restaurant
Ever feel like you don't have someone to properly introduce you to Taiwanese seafood dishes? Check out one of our seafood dinner parties at Xien-Ding-Wei seafood restaurant. Please note: Because of the large number of people attending, you must RSVP and pay in advance.
Location: 鮮定味 Xien-Ding-Wei
Address: 台北市長安東路一段67號 Chang-An East Rd. Sec1 #67
Transportation: MRT – ShanDao Temple Station Exit: 1 or 6
Menu:
Lobster
Sashimi
Over 10 other different Taiwanese dishes
Taiwan Beer 70NT each / Asahi 70NT each (not included)
Heineken 100NT each / Carlsberg 100NT each (not included)
Check out some photos from our latest dinner party at Xien-Ding-Wei.
---
Flag Football in Taiwan
The Reach To Teach flag football team! Our boys took home the trophy in 2007. There are a number of sports teams that you can join in Taiwan. You can join local basketball, football, rugby, and soccer leagues in Taipei.
Special Events
From time to time, we host special events for speed dating, bed racing, lantern painting classes, and events to sponsor local charities.
KTV in Taipei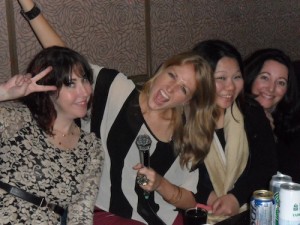 Come and belt your favorite tunes out at one of our KTV nights. KTV is always one of our most popular events for teachers. We've got a great selection of venues to choose from. KTV in Taiwan is a night you won't want to miss.
Plus it's a great way to improve your Chinese. Check out some of our past KTV events to see just how much fun you're in for or browse through our KTV nights photo gallery in Taipei.


---
Pool Parties in Taipei
Come out and enjoy some good, clean, wholesome fun at one of our pool party events in Taipei.
Reach To Teach is partnered with Frog in a Sock Entertainment, the guys behind some of Taiwan's best parties. They host their Havana Pool Parties each summer and they are also well known for their Halloween Resurrection parties. Reach To Teach hosts a meet and greet at Havana Pool Parties each summer. Come out and enjoy some fun in the sun with some great people and some terrific beats at Road Castle Water Park. We promise you'll have a blast.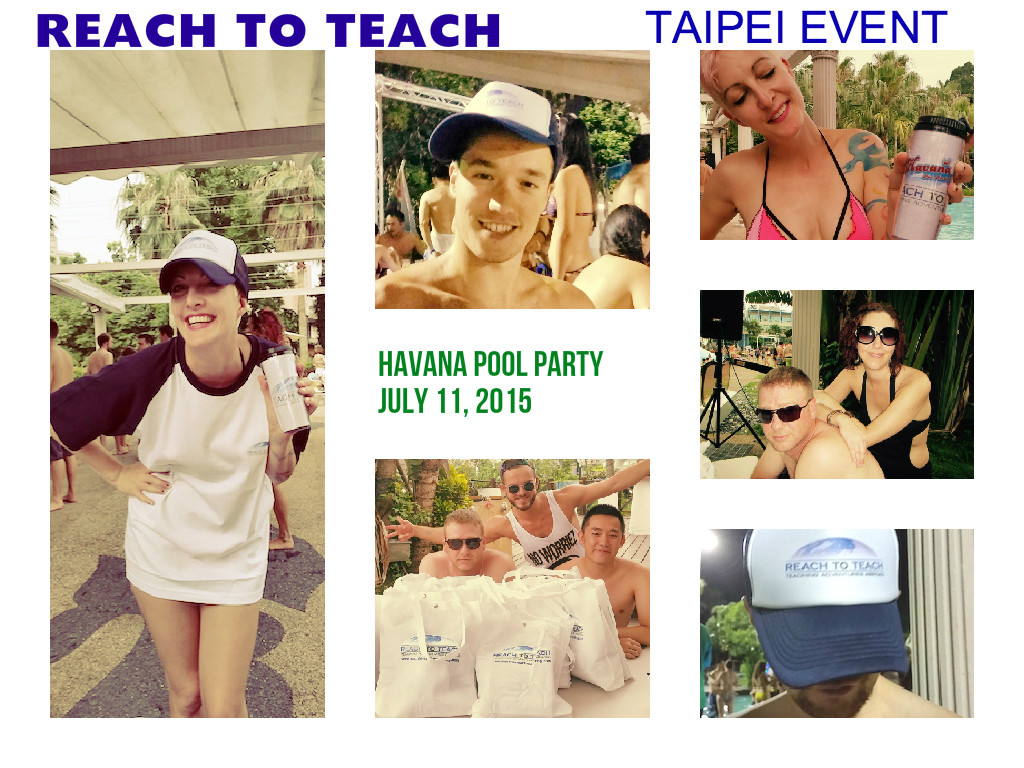 SOUTH KOREA REACH TO TEACH EVENTS
Pub Crawl in Itaewon, Seoul, South Korea
For all our teachers in Korea, it's a great time to meet new and interesting fellow teachers!
Where: We always start things off at The Wolfhound in Itaewon.
Directions: The Wolfhound is near the Itaewon Subway Station. Take line 6 to Itaewon Station and take exit 4 to the street. From the station turn to your right and walk to the first intersection.
Take a right here and walk to the first alley on your right. We are about 20 meters down the alley on the right on the 2nd and 3rd floors.
Pub Night at The Wolfhound Irish Pub
A fantastic selection of beer including Guinness, Kilkenny, Hoegaarden, Alley Cat & many more
Exceptional food featuring shepherds pie, an all day Irish breakfast, fish n' chips, steaks, bangers n' mash & more
If you liked this article, please share!