Teach English in Sighnaghi, Georgia
Now Accepting Applications for English Teaching Jobs in Sighnaghi, Georgia!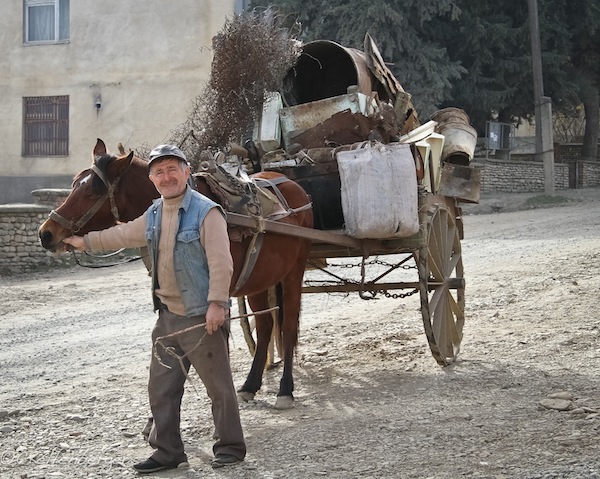 In the small village of Sighnaghi, the best of Georgia's ancient charm is on display. Although this village has a population of just barely 2,000, it offers a rich variety of cultural and historical sights, and lies at the heart of Georgia's wine culture.
In a country whose history dates back thousands of years, Sighnaghi is a relatively young town. It was founded in 1762, during a time of unrest and conflict in Georgia. The walled town, located in Georgia's easternmost province of Kakheti, was originally constructed as a fortress to protect against marauding tribes. Sighnaghi's massive walls could house the entire population of the surrounding Kiziqi region, and protect them from the frequent attacks. It wasn't until the 1800s, when Georgia was annexed by Soviet Russia, that Sighnaghi officially became a town. As an important agricultural center during the Soviet era, it grew in population and wealth until the post-Soviet era. Since then, it has undergone restoration and reconstruction, to keep the village's charm alive. Sighnaghi's history, culture, architecture, and stunning views of the surrounding Caucasus Mountains have reinvigorated the village into a popular get-away spot.
Sighnaghi is surrounded by a number of important historical sites. Portions of the ancient walls that once protected the city still stand, snaking along the hilltops. Within the city's walls are two Georgian Orthodox churches, as well as the Sighnaghi Museum. The museum houses archeological finds from the region, highlighting its diverse and extensive history. Just a few kilometers away, in the hills surrounding the city, lies the convent of Bodbe.  Here, Saint Nino, one of Georgia's most important historical figures, is entombed. For many Georgians, the trip to Bodbe is an important pilgrimage to honor Georgia's most significant female patron.
Although its historical architecture and 18th-century feel have been preserved and restored, Sighnaghi is more than just a relic of the past. Sighnaghi has continued to forge a new path into the future as a home to a thriving art and music community. Everything from traditional carpets to modern paintings are created within the village walls. Its newly restored museum was the first museum in Georgia to display the works of Picasso. You can hear regular performances of traditional Georgian music from the churches within the village, and every September, Sighnaghi is host to a music festival that attracts talent from around the world.
Sighnaghi is also a top destination for anyone interested in Georgian wine culture. For thousands of years, the people of Georgia have taken advantage of the region's climate and agricultural conditions to create wine. As far back as 4000BC, Georgians had perfected a method of wine making using massive clay jars called kvevris.  Grapes are fermented in these jars, buried in the ground, for years – or even decades! Many wineries still use the traditional kvevri method to this day, making Georgian wine unique and sought-after around the world. The region surrounding Sighnaghi offers an ideal climate for growing grapes, as well as soil that has been carefully cultivated to yield rich and flavorful varieties. There are many wineries near Sighnaghi, and many of them offer tours and taste-testing events. For anyone traveling to Sighnaghi, this is the perfect chance to experience an important part of Georgian culture.
If you are looking for a place to escape from the bustle of modern life and step into a simpler, slower lifestyle, then Sighnaghi has just what you are looking for.
If you want to experience Sighnaghi, or one of Georgia's other cities, for yourself, consider applying for one of our volunteer teaching positions in Georgia. These positions start year-round and include free room and board with a Georgian host family, a fully paid round-trip flight to Georgia, as well as a monthly stipend. Visit our Teach in Georgia page for more information on this incredible program and stunning country in Eastern Europe.