Below are the experiences of some of our teachers. Teaching English abroad is certainly a challenge, however you can always rely on Reach To Teach for support. Here are some things that our teachers have to say about our Teach in Taiwan program.
ESL Teachers in Taiwan
Hayden Tyrell - 2014 - A Certified American Teacher in Taiwan
In two days I will be flying to Taipei to begin a year of teaching. I didn't apply for an international teaching position until halfway into the summer, but the Reach to Teach staff was amazing at helping me through the application process and finding a place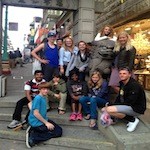 ment that fit me. I felt obnoxious asking a million questions and stressing over the tiniest things, but my contact through RtoT was very helpful and supportive. I know that I would never be ready to take this step if I hadn't gone through this organization. If you are looking for an organized and well-connected program Reach to Teach is the only way to go.