Our TEFL Course Recommendations & Everything You Need To Know About TEFL Qualifications!
The following sections cover the areas that most teachers regularly ask us about. After reading this you will be able to decide if a TEFL qualification is the right thing for you, which courses we recommend, and how to get the best possible price
Our TEFL Course Recommendations
Deciding between TEFL courses can be overwhelming and many teachers ask us for recommendations. Courses vary in many different ways; cost, course duration, international recognition, online or in class, course content, availability, location, 'hands on' teaching practice.. the list goes on and on!
Our opinions and results come from research that includes speaking with schools, getting feedback from teachers, assessing courses in terms of cost and availability, international recognition, and course content. Reach To Teach works with a number of prestigious TEFL institutions to provide our teachers with the best and most-sought after TEFL certification classes in the ESL market. Our courses come recommended by RTT teachers who have taken these courses and from our client schools.
'ONLINE' CATEGORY: We recommend i-to-i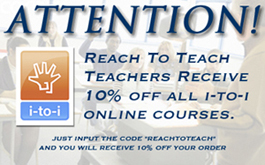 Click on the image to receive your 10% discount. 
There are so many online TEFL courses to choose from it can be difficult to know what to choose. From online colleges to Gap Year and travel companies, there are many different routes to a TEFL certificate.
i-to-i is one of the best known online courses in the world. This course has proved to be perfect for the needs of most teachers coming to Asia to teach for a few years. In fact our schools in China, South Korea, Taiwan and Thailand mostly require teachers to have a 120-hour certification, so if Asia is where you are planning to teach, this is a great and affordable TEFL option for you!
*Please note that this course may not be enough to get you in with ESL schools elsewhere in the world. If this is a concern, please contact us at Info@ReachToTeachRecruiting.com and one of our TEFL advisors will call you to go over your options with you.  
We are happy to recommend this course and i-to-i has agreed to give YOU (our readers) a 10% DISCOUNT off I to I's 120-hour course price. This discount exists because Reach To Teach and i-to-i want you to have the best course at the best price. This 10% discount is only available to our readers and by using the password/promotional code 'reachtoteach'. You can access the discount page by clicking here.
PROFESSIONAL 'ONLINE & IN CLASS CATEGORY'
TEACHERS INTERESTED IN TEACHING WITH EPIK IN SOUTH KOREA SHOULD CONSIDER TAKING THIS COURSE
Are you looking for a TEFL Course that will allow you to teach in any classroom in the world? Look no further! Become a professionally trained ESL teacher in just four to eight weeks through this world-class professional TEFL course that offers top-notch, fully accredited online TEFL courses and on location international TEFL courses. Your online course comes complete with a 150 hours worth of coursework and 20 hours of student teaching, bringing your total TEFL TESOL certification to 170 hours.
*Teachers that are interested in teaching with the EPIK or SMOE program in South Korea are now required to have 20 hours of student teaching. If you're planning on applying to EPIK or SMOE, this is the course you want to have!*
'IN CLASS' CATEGORY: We recommend Cambridge CELTA
Note: 'in class' refers to courses that take place at a training center (as opposed to online).
120 hours courses
www.cambridgeesol.org
The Cambridge CELTA course is probably the most recognized TEFL course in the world. The course is very thorough and includes 6 hours of observed teaching practice. It takes one month (full time) and is hard work – but very rewarding. You can take this course at many centers around the world but many teachers choose Thailand for its cheap cost of living and fun lifestyle. This is the type of course you'd take if you could see yourself staying in the English teaching industry for at least a few years.
'ONLINE & IN CLASS CATEGORY: We recommend The TEFL Institute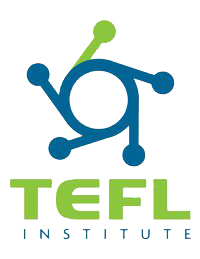 THE TEFL INSTITUTE is a TEFL course provider that provides 150-hours of certification (150-hours) while providing free access to their student services department. Your coursework entails 130-hours on online coursework and 20 hours of student teaching and/or observation.
Reach To Teach teachers who are thinking of a volunteer placement in the beautiful South American country of Chile might want to consider taking their TEFL course in Santiago prior to beginning a teaching placement in Chile. Reach To Teach and The TEFL Institute have partnered together to ensure that our teachers are well prepared and well taken care of during their time in Chile. Furthermore, we've arranged for our teachers to receive a discount from the TEFL Institute if they book through our page. Please click on this link to receive $100US off the price of your course.
The TEFL Institute is running a special right now for all teachers. Each student that signs up for the main professional course will receive a free mini course upon registration plus 20% off the sale tuition price. There are three mini courses to choose from. Theses courses are designed to give you more in depth training into special topics. Course topics include Teaching Young Learners, Teaching Advanced Grammar, and Teaching Business English.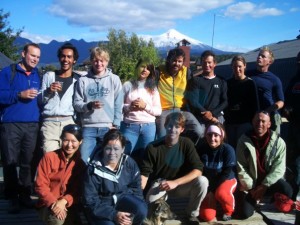 Everything You Need To Know About TEFL Qualifications!
Do I need to get a TEFL qualification?
In the last few years we have seen a very big shift in schools preferring applicants that hold a TEFL qualification. This is a result of the teaching job market becoming increasingly competitive due to more teachers than ever before looking for the opportunity to teach overseas. Resultantly, schools have become more selective about who they hire and a TEFL qualification is one of the best ways to be selected. So, while a TEFL qualification is not a 'requirement' to teach overseas it has certainly become a very valuable asset for job hunters.
Are TEFL courses expensive?
No, not when you consider you will get a great job because of it! Aside from the value of having a TEFL qualification on your resume and being a better teacher, you will be happy to hear that the many schools (especially our public school placements in South Korea) offer substantially higher salaries to their TEFL qualified teachers! This means that the cost of getting TEFL qualified is quickly reimbursed (and more) through higher pay. Furthermore, many TEFL courses offer excellent value for money and this is one of the factors we look at when recommending the best TEFL course.
I am confused by all the different TEFL terms!
First of all don't worry as you are not alone in your confusion! At Reach To Teach we like to use the term 'Teaching English as a Foreign Language' (TEFL). In fact, there is no regulatory body to standardize all the TEFL courses so the various course providers around the world have all developed different names for what is essentially the same thing! Here are a few other acronyms you may see around:
ESL – English as a Second Language
ESOL – English for Speakers of Other Languages
EFL – English as a Foreign Language
ELT – English Language Teaching
EAL – English as an Additional Language
CELTA – Certificate of English Language Teaching to Adults
TESL – Teaching English as a Second Language
TESOL – Teaching English for Speakers of Other Languages
Are some TEFL qualifications considered better than others?
Yes. This is because there are hundreds of different course providers and they all have different standards and aims. Not only are there hundreds of course providers but each of these providers often offer several different courses! Naturally, they mostly share one thing in common and that is so for you to choose their course over everyone else's! This means you have to choose carefully as otherwise you could end up with a qualification that is not best suited to your needs, or worse still, a qualification that is not even worth the paper it is written on! We know how to assess courses and we know what schools are looking for. To give you some idea here are a few of the criteria we look at when selecting a course for our recommendation:
Is the qualification internationally recognized and well known?
Is the course accredited or endorsed by a well respected authority?
How long is the course? For example, a 120 hour qualifications are considered better than 40 hour qualifications.
What is covered in the course? All courses vary in terms of content.
Which course best suits the requirements of schools in country X?
Etc, etc!
I'm a fluent English speaker. What can a TEFL qualification teach me that I don't already know?
A lot! There is a huge difference between being fluent in English and teaching English. Taking one analogy, what percentage of car drivers actually know how a car engine works and how to diagnose and fix problems? Well, as a teacher of English you need to know how the English language works and how to diagnose and fix learner problems! You therefore need to get the basics in place to avoid some very difficult situations where your students discover you have little technical knowledge about teaching English.
A good TEFL course is designed to give you these basics and get you on track to becoming a successful and skilled classroom professional. Each TEFL course differs in content and scope but these are types of things you will learn on your course: teaching awareness and how to evaluate your lessons, teaching techniques, presentation skills, identifying target language, covering all 4 skills (reading, writing, listening, speaking), lesson planning, learning activities, classroom interaction patterns, basics of grammar, common learner errors, correction techniques, student incentive schemes, hands on teaching experience, etc, etc!!!
In a nutshell: getting a TEFL qualification means you are more ready to hit the ground running than an unqualified applicant. This is exactly what schools are looking for right now!
Is it better to see if a school wants me to get a TEFL qualification before I go out and get one?
No. It is safe to assume your chances of getting the best jobs at our best schools are much better if you make the first move towards getting qualified. This shows you are committed to being a good teacher and the schools will consider you ahead of non qualified applicants. We 100% encourage you to contact us once you have decided to get a TEFL qualification as we can then tell the best schools that you are going to be qualified soon!