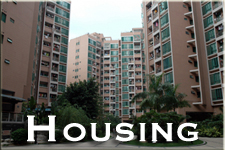 Due to Hong Kong's large population and relatively small land area, housing creates an interesting challenge for housing developers and people looking to live within the city.
Public housing is increasingly popular with approximately 230,000 waiting on applications. This equates to about a 3-year waiting period for families.Shoebox apartments are a source of housing within Hong Kong. The average living space of a person in Hong Kong is 130 square feet per person.
In shoebox apartments, the average living space of a person is 60 square feet per person. Besides the lack of space in these apartments, there is also the issue of poor ventilation. When the temperature is 86 degrees Fahrenheit outside, the apartments are about 104 degrees Fahrenheit.
Higher officials know of this issue of poor housing, but have yet to come up with a solution because people just move from illegal apartment to illegal apartment.
The schools that Reach To Teach works with have housing in Hong Kong that is available for their teachers, so rest assured that you will not have to deal with shoebox apartments, although it's likely you will still have a small living space.
Settling in Hong Kong: GovHK:. Government of Hong Kong
Please share!