TEACH ENGLISH IN CHILE
Thank you. We are no longer accepting applications for the 2013 school year.
Travel with a Purpose this Year and Volunteer Abroad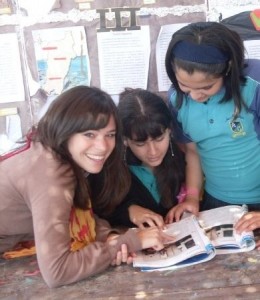 Are you looking for a meaningful way to travel and gain teaching experience? Consider one of our teaching positions in Chile. Reach To Teach is looking for individuals who can not only teach, but also inspire.
You will be a role-model and an ambassador for your home country, and have a unique opportunity to experience the culture and natural beauty of Chile.
Our English teachers help improve the speaking and listening ability of their students, as well as motivate and inspire them to be interested in learning English. In addition to teaching, you will also be expected to devote ten hours each week to lead an extracurricular activity of your choice. You can share your love for music, sports, art, culture, or anything else that comes to mind.
Why Reach To Teach?
At Reach To Teach we believe in giving each of our teachers direct, personal attention, just as we hope you will give your students! We understand the world of ESL and we care about our teachers and their students. You will receive ongoing support from us up until your placement and it doesn't stop there. Reach To Teach is here to help you through your year of cultural challenges and adventures. Best of all, our services are 100% free!
What are the requirements for teaching English in Chile?
Speak English at a native or near-native level
Have a bachelor's degree from an accredited university
Be between 21 and 35 years of age
Be physically and mentally fit and capable of working with children
Have enough personal funds to cover living expenditures during your stay in Chile
Have lived or traveled in another country before
Show a strong interest in living in a developing country, and in experiencing Chilean culture
Be flexible dedicated, and professional
English Teachers receive the following benefits:
We are proud to say that we will be able to offer our services for free in 2013!
Assistance with the application process
Online pre-departure orientations session
We offer lifetime job placement assistance to our teachers upon completion of the program
Collection at Aeropuerto de Santiago de Chile
Transportation from Santiago to your placement site
Arranged accommodations
Medical insurance provided
Materials and educational resources to be used in school placement
How long can I go for?
We have four- and eight- and twelve-month contracts available.
The Application Process
Complete an application form on the Reach To Teach website. One of our placement managers will review your application within 48 hours.
Phone interview
Teachers that pass our interview will then be required to submit an official volunteer application form as well as scanned copies of the requested documents.
The paperwork takes some time to put together, so please apply early to give yourself enough time to get everything together.
Required Documents
Once you have passed the interview phase with Reach To Teach, you will be asked to submit your documents to begin the visa application process.  We will provide you with more information about your required documents during your phone interview.
A valid passport (With year on it)
An official university transcript
A letter of reference
A completed medical self-assessment form
One passport photo
What Costs Am I Responsible For?
International round-trip airfare from my home country to Santiago, Chile
Reciprocity fee upon arrival at Arturo Merino Benitez International Airport (if applicable)
Visa and documentation fees (passport, photos, ID card, etc.) and other costs such as travel as well as costs related to obtaining a visa.
A criminal background check (if applicable)