Reach To Teach's Frequently Asked Questions
about our

HOW TO APPLY TO TEACH ENGLISH ABROAD
Not sure where to start? This section will teach you how to prepare for your job application, give you tips on how to pass your Skype interview, and explain the application process and what the basic qualifications are for each country.
How to write a good ESL resume, the application process, and basic questions about teaching abroad qualifications.
Job interviews are a fact of life, but that doesn't make them any less scary to go through. Your ESL job interview is the most important part of your job application process, and there are a number of things to consider before your interview to ensure success.
One of the most important steps before you leave your home country is your interview with your prospective recruiter or school. Below are some tips to help you put your best foot forward and ace your teaching abroad interview on Skype.
Six great tips to consider when preparing for that phone call with EPIK or from any other agency or future ESL employer, for that matter.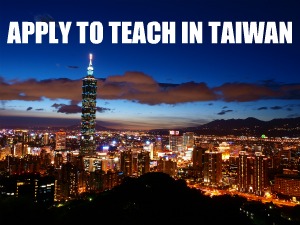 The following links cover information pertaining to teacher salaries, the cost of living in Taiwan, visa issues, and more.
This is a compilation of questions from our teachers that we have collected over the years. This page includes basic facts you need to know before you apply to teach English in Taiwan.
What you need to know to teach legally in Taiwan. This page is updated regularly to ensure that you have up-to-date information about Taiwan's via laws. Last updated July 2017.
Information about how your teaching salary will be taxed in Taiwan. Don't skip this page. If you're going to teach in Taiwan, you need to know Taiwan's tax laws for foreigners
This is our complete and official Reach To Teach Country Guide to living and working in Taiwan. It also includes several Taiwan City Guides as well as articles on things to see and do in Taiwan.
Taiwan experiences some extreme weather throughout the year. Make sure you know how to pack for its hot, humid summers and torrential downpours.
Many teachers come to Taiwan to learn Chinese. We've compiled a list of online Chinese learning resources for you to browse through.
Check out our Teach English in South Korea FAQs for information about what to expect from life in South Korea.
We've done our best to answer questions you might have about getting a job teaching English in South Korea.
Have a suggestion? We'd love to hear it. You can contact us at info@reachtoteachrecruiting.com if you'd like get in touch with us.
TEACH ENGLISH IN CHINA
On this page, you'll find all the questions we have been able to answer (so far) about teaching English in China. If you're interested in learning about visa information, the cost of living, or when should you apply, please visit Teach in China FAQs
China Country Guide – This massive guide offers tips on living in China, which sites you can visit to find things to do in your area, and a section on administrative tools for China. We also include information on Chinese culture, Chinese etiquette, Chinese history, Chinese food, plus information on housing, transportation and medical services.
We also have a number of City Guides for China, including:
Beijing City Guide                     Changzhou City Guide                    Chengdu City Guide
Guangzhou City Guide             Guiyang City Guide                         Jilin City Guide
Nanjing City Guide                   Ningbo City Guide                            Shanghai City Guide
Shenyang City Guide                Taizhou City Guide                           Tianjin City Guide
INFORMATION ON TAXES FOR AMERICANS LIVING OVERSEAS
Important information regarding the tax laws for US citizens living abroad. The good news is you (probably) won't have to pay any taxes as an English teacher in Asia!

Taxes for Americans Living Overseas
A Checklist for Preparing to Teach English Abroad from Reach To Teach Recruiting
If you liked this article, please share!