Teaching Locations in Korea
Updated February 2023
Reach To Teach would love to help you learn more about Teaching Locations in Korea so you can decide on your best adventure for teaching abroad and have the best year teaching in Korea!
Deciding where you would like to teach in Korea is a major decision. Learn about Teaching Locations in Korea with us!
You may find yourself considering the following:
Do I want to teach in a major city or a smaller town?
Is it more important to immerse myself in Korean culture in a rural area or to surround myself with fellow westerners in a major city?
What are my goals for my year teaching English in Korea?
These are just a few of the questions you may find yourself considering as you decide which location is best for you. Below we have included a brief summary of each major city and province in Korea.
As you decide upon your preference list, we hope this teaching locations in Korea information will help you.
Happy reading and feel free to let us know if you have any questions!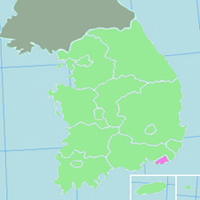 Busan is the 2nd largest city in Korea with a population of over three million people. It is Korea's most important port city.
Points to consider about living in Busan:
Busan is well known for its great beaches and shopping districts
A great selection of foreign restaurants and food markets
Haeundae Beach features the Sea Life Aquarium, plus a Folk Square with traditional games such as tug-of-war
Gwangalli Beach has many bars and views of modern Diamond Bridge
Gamcheon Culture Village was once  a shanty town on the fringes of the city centre, but now it's considered to be a historical village and it's one of the most interesting parts of the city to visit
Tourist attractions include Hallyeo Maritime National Park, hiking trails at the base of Geumjeong Mountain, temples
A temperature climate with four distinct seasons. December through March brings the coldest weather of the year while June through August brings the hottest temperatures.
Busan has a number of annual festivals including a music festival, film festival, sea festival, polar bear swimming festival, fishing festival, motor show as well as a contemporary art and tourism festival
The city also holds numerous well-known events such as the 2005 APEC Economic Leaders Meeting and the 2002 Asian Games
Large expat community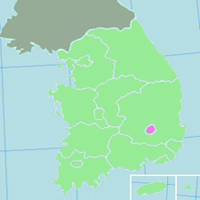 Daegu, located near Busan, is a city of over two million people. It is the fourth largest city in Korea after Seoul, Busan and Incheon. Because is located in southeastern Korea, its climate is somewhat milder than the rest of the country.
Points to consider about living in Daegu:
Daegu is located near many popular tourist sites, including Mt. Palgongsan, Jikjisa Temple and Gayasan National Park
Many of the nearby parks that surround the city have historic Buddhist temples that attract visitors from all over the world
Duryu Park, at the foot of Duryu Mountain, has numerous walking trails and a large amusement park, among other attractions
The summers are still hot, but winters tend to be a bit warmer.
Large expat community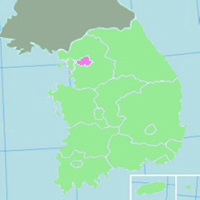 Seoul is the capital and largest city of South Korea. It currently has a population of over 10 million, making it one of the largest cities in the world. The city hosted both the 1988 Summer Olympics and the 2002 World Cup. Its status as a leading center for business, technology and culture add to its recognized place as major global city. Seoul's climate is hot and humid during the summer and cold in the winter, and it snows on average 28 days each year.
Points to consider about living in Seoul:
Seoul is a major shopping center with both local cultural markets and modern malls including Dongdaemun Market, Namdaemun Market, and Apgujeong
Insadong is a beautiful outdoor market and cultural art walking street with plenty of teahouses and street buskers
The center of the foreign community is located in Itaewon
Seoul is also home to a number of important cultural sites and museums
Gyeongbokgung Palace is a must-see destination in Seoul
Large expat community
See the Seoul Official Web site for more information!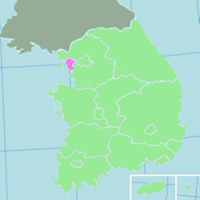 Teach English in Incheon
Incheon is a large and vibrant city located in the northeastern part of Korea. Incheon is regarded as part of the greater Seoul metropolitan area due to its close proximity to the capital, and the fact that the Seoul Metropolitan Subway and the Incheon Subway systems are linked. Incheon is, however, a major city in its own right and is a separate jurisdiction from Seoul. In fact, this city serves as a gateway to the country, as many people traveling to Seoul fly into Incheon International Airport. There are also several colleges and universities which can be found in the Incheon area.
The area is famous for its islands and beaches, especially the Muuido and Sido Islands, where numerous television dramas have been filmed in the past. Interestingly, it was the first district in Korea to be receptive to Western culture and thus served on the forefront for this social movement. And, on February 27, 2007, the city declared itself an "English City". This was done for the purposes of enhancing Incheon as a business and commercial hub in Northeast Asia. The official slogan of Incheon is "Smile with English". See the Incheon Official Web site for more information
Teach English in Gwangju
The city of Gwangju is located approximately four hours south of Seoul. With nearly 1.5 million residents, it is the 6th largest city in Korea. It is considered the administrative and educational center of the Jeollanam-do province. Gwangju is in such a central location that you can get anywhere in Korea within 24 hours.
The city has a number of festivals and parks and is a popular destination year round. Each year it has a Kimchi Festival well known throughout Korea. The nearby Mt. Mudeungsan to the east of the city is renowned for its watermelon.
See the Gwangju Official Website for more information on living in Gwangju!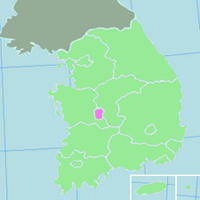 Teach English in Daejeon – Continue learning more about teaching locations in Korea!
Just a bit larger than Gwangju, Daejeon is the 5th largest city in Korea. Daejeon is also very centrally located and is a convenient place to travel to any part of Korea for a day trip. Winter temperatures can be below freezing while the summer can be hot and humid.
The city is completely surrounded by four mountains: Mt. Gyeoryongsan, Mt. Gyejoksan, Mt. Sikjangsan and Mt. Maninsan.
Daejeon has a number of interesting places to visit for arts & culture, including the Daejeon Museum of Art, the National Science Museum and the Daejeon Zoo. Several 2002 World Cup games were played in the Daejeon World Cup Stadium.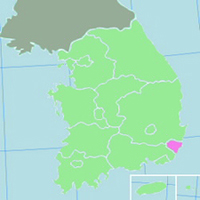 Ulsan is a metropolitan city in the south-east of South Korea, facing the Sea of Japan (East Sea) and is located about 70km north of Busan.
This city of one million is known for its relatively mild climate, although temperatures can get quite cold during winter nights. Ulsan is only accessible from Seoul and Jeju by air and does not have an international airport.
Ulsan has a number of popular beaches nearby and is committed to better promoting its numerous tourist sites, including castles and fortresses from the Shilla Period. Ulsan has also focused on promoting environmental attractions such as a popular bike path along the Taehwa river, a winter migratory bird habitat and the Mt. Shinbul nature park. There are also a wide variety of art galleries, museums, and cinemas in and around Ulsan. For more information, visit the Ulsan Official Website.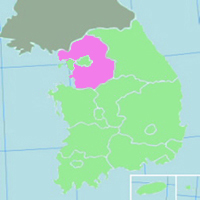 Teach English in Gyeonggi – Continue learning more about teaching locations in Korea!
Gyeonggi is by far the most populous region of in Korea as it is the province in which Seoul is located. Although Seoul is in this province, it has had special administration privileges and has been referred to as a "Special City" since 1946. The Demilitarized Zone tour (DMZ) at the border between North and South Korea is located at the northern edges of Gyeonggi province. There is a distance of four kilometers between the two sides which forms the DMZ. The border itself is still fiercely guarded by soldiers from both countries and is one of the most heavily guarded pieces of real estate in the world.
Gyeonggi is home to over ten million people and is home to several theme parks including Hallyu Wood and Everland (one of the top theme parks in the world considering number of admitted guests). The new Hallyu Wood Park is based on 'Korean Fever' and will also have shopping, entertainment and Hallyu-specific cultural events. Other unique tourist sites include the English Village, an English-theme amusement park. This park is made to resemble a village in an English-speaking country in which guests experience cultures of the world from an English perspective. It has been designed to increase the Koreans' interest in the English Language.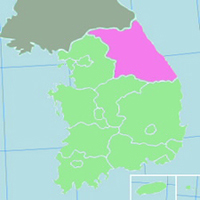 Teach English in Gangwon
On the eastern border of Gyeonggi province, the Gangwon region is one of the oldest in Korea. It was one of the eight original provinces during the Joseon Dynasty and was split in two after the Korean War. Because of its large size and small population of just over one million, Gangwon has a very low population density compared with other areas of the country. The renowned scenic east coast of the region is just a three hour drive from Seoul.
The Chuncheon and Namiseom Islands have become major tourist destinations in Korea. Widely viewed as having spectacular sunsets and plentiful recreation resorts, these sites attract both domestic and foreign tourists alike. A variety of water-sports such as kayaking, rafting and water-skiing can be found in summer. Skiing in the Yongpyong and Sunwoo resorts are popular winter sports in this area. See the Gangwon Official Website for more details.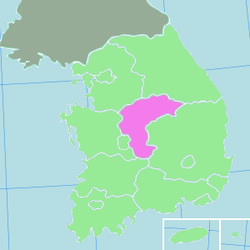 Teach English in Chungbuk
This large mountainous, land-locked region in the center of Korea has a small population of only one million. Because of its mountainous location, many cities in Chungbuk receive more precipitation in the form of rain and snow than other areas of Korea. Even though the climate is relatively reflective of the rest of the country, some of the coastal cities experience more mild temperatures in the winter.
The main attractions in the province are Mount Songni (1,058 m) in the Sobaek mountains and its national park. Beopjusa, the site of one of the oldest temples of Korea is located in this national park, as in Guinsa, the headquarters of the Cheontae sect. There is another national park around Mount Worak. Due to the mountainous nature of the region, skiing is a very popular sport in the winter. Golf courses have also been constructed to take advantage of the breath-taking scenery that the mountains provide.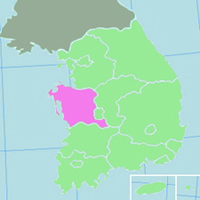 The Chungnam region is on the western side of Korea and has a population of just under 2 million. Despite its small population, Chungnam remains an important area for those traveling through Korea. There are a number of major rail lines and highways within the region and, as a result, many travelers going between the northern and southern areas of the country pass through Chungnam.
Chungnam is well known for the wide availability of outdoor activities. At 845 meters, Mount Gyeryong is the most notable elevation. It is located in a national park which is noted for its unique rock features. Apart from the stone formations there are a number of old temples. The Taean Marine National Park includes some of the country's best bathing beaches.. The Independence Hall of Korea is another big attraction in the Chungnam area and pays homage to those who fought against foreign invasions throughout Korea's history. See the Chungnam Official Website for more information!
Teach English in Jeonbuk
This area of two million people is located in southwestern Korea. It is well know for having a great natural environment, with many attractive lakes, rivers & mountains. Jeonbuk is also well know for it's local cuisine. One of the most popular tourist attractions in Jeonbuk is Soswaewon Garden. Its enormous bamboo trees attract visitors from all over the country.
Jeongbuk has become a popular skiing destination because of its variety of mountains. It has also become well known for its souvenir production. A variety of companies which make souvenirs such as bamboo fans, wood products and jewelry are located in Jeonbuk. See the Jeonbuk Official Website for more information!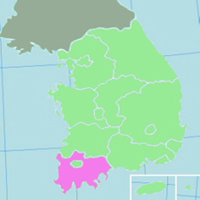 Teach English in Jeonnam
With a population of almost 2 million, Jeonnam is the most southerly province in Korea (aside from Jeju island). There are almost 2,000 islands along the coastline, about three quarters of which are uninhabited. The coastline of the province is about 6,100 kilometers and many of Korea's seafood products, in particular oyster and seaweed, are produced here. Because of its location in the southern part of Korea, the weather is quite mild and average temperatures in winter rarely drop below freezing.
Because of its lengthy coastline, there are numerous water-based activities available in Jeonnam and its surrounding islands. One of the most popular activities is the Open Water Swimming contest between Heuksando Island and Hongdo Island. Captain Cooks Island Adventure is an exciting program that offers a tour of the islands of Jeonnam for more adventurous types. See the Jeonnam Official Website for more information!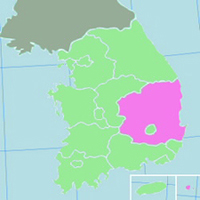 Teach English in Gyeongbuk
Gyeongbuk is home 38 universities and well over 200,000 students. This large network of universities has contributed to the tremendous growth of science, technology and other knowledge-based industries. The region is surrounded by mountains, which provides for fairly extreme temperatures in both the summer and winter.
This large region, home to nearly three million people, is the proud origin of many ethnic cultures such as the the Buddhists from the Silla Dynasty and the Confusion culture of the Joseon Dynasty. This is a major source of pride for many residents. The historic villages of Hahoe and Yangdong in Andong and Gyeongju respectively are very popular with tourists. Because some of these locations have been designated as World Heritage sites Gyeongbuk is regarded as a major cultural center of South Korea. See the Gyeongbuk Official Website for further information!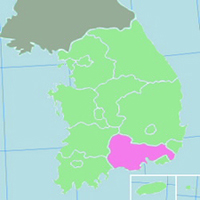 Teach English in Gyeongnam
With a population of almost 3 million, Gyeongnam provides many of Korea's agricultural products. The area is renowned for its cotton, sesame, and especially fruits which are grown along the southern seaside. The province is also one of the country's leading fisheries. Being around the mountains generally calls for more temperature extremes while southern locations tend to be much more moderate due to the sea.
Both Busan and Ulsan are located within this province, although they are technically separate autonomous provinces.
One of the most widely-recognized temples in Korea can be found in Gyeongnam Gayasan Mountain National Park, home to Haeinsa Temple, is one of Korea's Three Jewel Temples and a World Heritage Site. It is located on Gaya Mountain in the major national park around Iris. See the Gyeongnam Official Website for further information!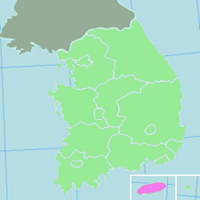 Teach English in Jeju – Continue learning more about teaching locations in Korea!
Jeju is a small, self-governing province in southern Korea with a population of half a million people. Because of its isolation from the rest of the country, the people of this area have developed culture and a language that is somewhat different from the rest of Korea. Jeju's natural beauty, mild climate, and wide variety of convention options make this area a popular location for business meetings to take place.
The island is considered a major tourist site, with beaches, waterfalls, scuba diving, hiking and paragliding to name a few of the local attractions. It is the home of the Jeju Volcanic Island and Lava Tubes attraction, which has been designated as a World Heritage Site. The tallest mountain in Korea, Hallasan is the volcano that created the island, and is the base of this heritage site. This site has one of the most diverse types of flora and fauna found across many subtropical and temperature climatic zones, making it all the more attractive to tourists. See the Jeju Official Web site for further information!