Teach English in Jeju!
Updated February 2023
Do you want to teaching English in Jeju? We're not going to lie! Jeju is one of our most popular teaching destinations with teachers who want to get away from the hustle and bustle of big city life. It is the perfect way to experience the warm weather and island bliss of South Korea's resort island.
Jeju City, the capital of the island province of Jeju, is a perfect starting point for seeing the rest of the beautiful Jeju island.  If you are enthusiastic about living and working in this beautiful city, then don't wait to submit your application to teach English in Jeju!
Teach English in Jeju: Snapshot
Jeju is the largest city, and the capital city, of Jeju Island
Jeju city is home to around 400,000 people, while the island is home to 583,284
Jeju Island is the smallest province in South Korea, and its only self-governing province. With a surface area of 1,846 square kilometers, it the country's largest island.
In addition to its many beautiful beaches and natural scenery, Jeju Island is home to the UNESCO World Heritage Sites
Why Teach English in Jeju?
Long thought of as a paradise, and often used as a recreational get-away by Jeju's rulers throughout history, Jeju Island is a perfect place to relax and see a completely different side of South Korea. The island is known for having three things in abundance: wind, stones, and women. It is also commonly said that the only three things that are lacking on the island are thieves, beggars, and locked gates.
Beautiful scenery, and outdoor activities abound, and mild year-round weather makes it easy to take advantage of all the natural beauty while you teach English in Jeju.

History
Originally an independent country called Tamna, Jeju became part of the Korean Goryeo Dynasty in the early 1100s. Since then, Jeju changed hands a number of times until it came under Japanese rule. Jeju was a Japanese colony from 1910 until the end of World War II, when it joined the Republic of Korea. In 1946, Jeju Island received its status as a province.
Since Jeju is isolated from the rest of South Korea, it has many customs and traditions that are different from the rest of South Korean society.  Matriarchal family structures are more common here, in part because of the large number of fisherman who were lost at sea, leaving wives behind to care for the family.
Food
Traditional cuisine on Jeju tends to be simple, with few ingredients needed to prepare a meal. The taste, while often on the salty side, brings out the ingredients' original flavors as much as possible.
Jeju has a long tradition of fishing, so seafood plays an important role in its food.  Traditional meals usually include dried, salted fish.  Porridge with fish and seaweed is popular as well. Since the island's terrain is not suitable for rice production, rice is not usually a part of traditional meals here. Instead, various types of grain are eaten.
In Jeju City, it is easy to find good food.  Traditional Korean restaurants are easy to find, ranging from inexpensive but delicious snacks bought at stalls in a market to high-end restaurants. For non-Korean food, some of the most well-known restaurants are Baghdad Cafe, which serves Indian and Pakistani food, and the Mexican restaurant El Paso.
Transportation
Jeju City
Getting to Jeju City is easy. Jeju International Airport is about 45 minutes away, and frequent buses travel between the city and the airport. There are also daily ferries connecting Jeju to the mainland of South Korea. Overnight ferries connect to Busan and Incheon, and shorter ferries travel to Nolyeogdo, Wando, and Makpo.
Within Jeju City, the main forms of transportation are taxis and the bus system. Although the buses are efficient and tend to arrive on time, the routes can be difficult to navigate without a good knowledge of Korean.
Taxis within Jeju are generally affordable and very safe, with meter fares starting at 2,200 won. Since it is a small city, walking to many locations is also possible. However, if you plan to do much travelling, you may find it more convenient to have your own transportation.  Bicycles and motorcycles are popular options, and can be purchased second-hand or rented on the island.
Jeju Island
There are many sights on Jeju Island outside of the city. Buses are the main way to get around, and they are quite convenient to use. Fares range from 1000 to 3000 won, and bus routes run between most cities and towns, along the coasts, as well as to the starting points of prominent hiking trails in the center of the island.
Weather
Jeju is blessed with a beautiful climate year-round, although it does experience near constant winds. Being at the southern point of South Korea, the island lies on the border between moderate and subtropical climates. Jeju has four seasons. Summer sees temperatures ranging from 26 to 33 degrees C, and is perfect weather for beach-going. The temperature cools off somewhat for August, although it is still warm and pleasant. Winters are mild. Jeju city, in the northern part of the island, often sees snow during the winter, but even when it snows, it rarely drops much below zero degrees C.  Spring is also warm and pleasant.
Things to Do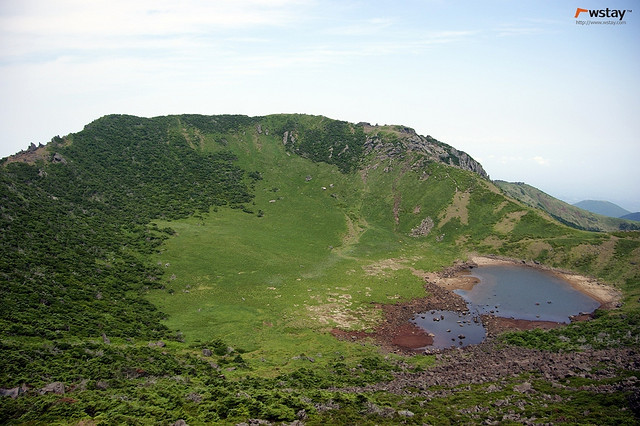 If you're looking for night life, Jeju doesn't disappoint. Since it is a popular tourist spot, there are plenty of places to kick back, enjoy some local or foreign food, and have some drinks. Tap dong Street, near Jeju Port is a popular place to go for bars.  Topland Amusement Park is located here, as well as a boardwalk lined by plenty of bars and restaurants.  The City Hall area of Jeju City is another common hang-out for travelers and expats.
One of the biggest draws about Jeju is the natural wonders of the surrounding island. From the city, it's easy to catch a bus to just about anywhere on the island. At the center of the islands stands Mt. Halla, a dormant volcano and a popular place for hiking. For a more leisurely stroll past stunning mountain and coastal scenery, you can spend an afternoon on the Olle trails which have various routes around the island. Another must-see is Manjanggul caves, one of the largest lava tubes in the world.
Get Advice from the Experts
All of us at Reach To Teach have taught English abroad. We understand the anxiety that comes with considering a move halfway across the world. With that in mind, remember that all questions are good questions! We want you to feel as comfortable as possible with your decision. Leaving your home country to teach English in Jeju is an exciting and adventurous choice. It's important to be sure you have as much information as possible so you can concentrate on enjoying your year (or more!) teaching English in Jeju.