Teach English in Daegu
Updated February 2023
Do you want to teach English in Daegu? Daegu is a popular teaching destination with Reach To Teach teachers because of its close proximity to Seoul and Busan. Being located in the middle of the country, Daegu offers a little bit of everything at a very affordable cost of living.
It is the fourth largest city in all of South Korea found in the Yeongnam region, boasting a population of 2.5 million residents and it's the capital of the Gyeongsangbuk-do province and is steeped in Korean history. We've had hundreds of teachers teach English in Daegu through the EPIK program of the years.
It is also the third largest metropolitan city in South Korea, so there's always something to do. It sits in a basin surrounded by low mountains with the Geumbo River and Nakdong River surrounding pats of the city.
Daegu is only 80Km from the sea coast located in the south eastern area of South Korea and is known by two nicknames, the "Apple City" for its production of top quality apples, and the "Textile City " for its history as the number one textile industry area in all of South Korea.
The textile influence is still very much seen today, with Daegu using fashion as one of their largest economic industries and hosting exhibitions such as the "Daegu Fashion Fair" and "Preview in Daegu".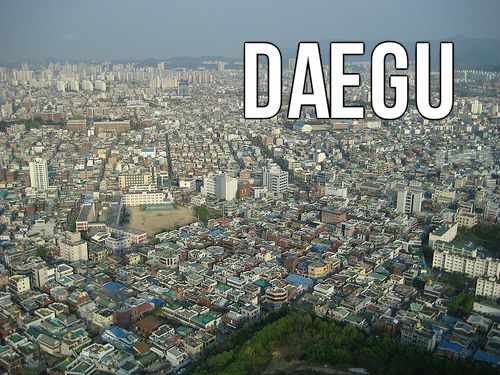 Weather in Daegu 
The weather in Daegu can be very varied. Due to Daegu's location within a basin it tends to become a weather trap, during the hot months the mountains trap the hot, humid air and during the cold months it traps the cold air.
Daegu tends to be sunny throughout much of the year with little in the way of rain and precipitation not counting the rainy summer season. The warmest month is in August with a mean temperature of 26.4 °C (80 °F) and the coldest being in January with a mean temperature of 0.6 °C (33 °F).
Being Outdoors – Teach English in Daegu
Most teachers really enjoy Daegu as it's surrounded by mountains with many activities that involve the great outdoors. The most famous mountain being the Palgongsan Mountain which is a natural park. Perfect if you like hiking and walking through beautiful scenes of nature, this area is very easy to get to by either bus or train, and you can even spend the night there in one of many small inns or temple stays.
You can also get an aerial view of the mountains by taking the cable car which runs for 1.2km, giving you a unique view of the mountains and the surrounding cities.
Another park to check out that has a bit more in the way of activities is Woodbang Tower Land, situated within a beautiful park but with fun activities to keep you entertained, including the famous Woodbang Tower Land sky jump which offers the daredevil in you a 123 meter drop over the city.
Other Parks and outdoor spaces to check out are Apsan Park, Mangwoo Park, Gukchaebosang Memorial Park and Daegu Arboretum.
Getting Around Daegu
There are a number of ways to get around the city of Daegu and in general it's fairly cheap to do, making it really convenient to teach English in Daegu. The easiest way is to use the subway. Currently there are only two lines, the red and the green which form an X across the city. This mode of transport is cheap, fast, clean, safe and very easy to use.
You can also take a bus if you are looking to visit the more rural areas that the subway doesn't quite stretch to. This mode of transport is also very inexpensive and easy to use due to its digital real-time schedule monitors. Handy tip: each bus will show a 3 digit number which are unique to the zone of service.
A more expensive way of getting around the city is by taxi, of which you can find them everywhere. If you have an address or a landmark then you will have no problem relaying that to your cab driver, they all have the latest GPS systems in the cab.
If you are looking to get to other areas of Daegu or fancy a trip to the coast then the train service can take you there. Daegu has two train station, Dongdaegu station and Daegu Station.