Transportation in Korea
Getting around South Korea is quite easy and due to its small size, it does not take long to get from one city to another. The public transport system is great and allows you to avoid the cost of buying your own car or scooter to get to and from work.
Buses Systems in Korea
Because of the infrastructure requirements and expenses related to airplane and train travel, bus service continues to provide the bulk of public transportation in Korea. The country has 3 major types of bus services: intra-city, long distance, and charter (tour).
Although bus travel is generally safe, most bus drivers seem to want to get where they are going in a hurry. Fortunately, the transportation gods smile favorably on Korea, and the accident rate is lower than it could be. The weak of heart may want to close their eyes for the duration of the trip. When seat belts are available, use them!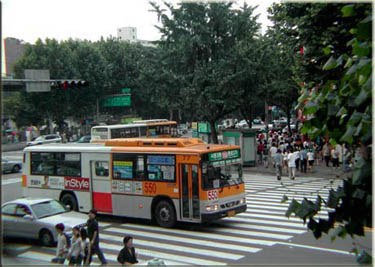 Intra-city Buses
Most large cities in Korea have two different types of intra-city buses : ilban (regular) and chaseok (seat) buses. Some areas may also have mawol buses (vans), which only cover a small route, generally traveling down narrow streets where regular-sized buses cannot fit. Seoul and Pusan also have limousine buses that run between the airport and downtown areas and hotels. Although intra-city buses do not have established schedules, they generally leave their home stations at set intervals. Varying traffic patterns and different driver temperaments can cause long gaps between buses, and then suddenly three pass the same stop within minutes of each other. Buses are numbered according the route they travel, and major stops are written in Korean on the buses.
Signs at bus stops list the buses that stop there, with the number of the route and final destination of the bus (in Korean). In some areas, only half of the buses for a given route will stop. Bus signs will be red or blue colored and the buses will have matching colored backgrounds for their route numbers. Note that bus drivers may not actually stop directly in front of the sign, especially in crowded areas. If you see your bus pull over near the curb 20 meters away, you should run for the bus because the driver probably will not pull up or wait very long.
Paying the Fare
Passengers pay the bus fare upon entering the bus. Place cash in the fare container next to the driver or swipe a bus debit card across the card reader attached to the fare container. (The reader will either accept the card or automatically deduct the fare from the amount remaining on the card, or it will beep and give a recorded message in Korea telling you to swipe the card again.) Bus drivers usually cannot make change, so always have exact fare or use pre-paid debit cards. Most bus stops have a small newspaper stand or some other store selling pre-paid bus debit cards in denominations of 5,000, 10,000, and 20,000 won.
Ilban Buses
These are the most common types of intra-city buses. Passengers enter in the front of the bus and immediately pay the fare. Most buses have single seats along both sides of the bus. Due to the limited number of seats, most passengers stand, holding onto straps or a railing. Recorded messages announce the next bus stop in Korean, although sometimes the tape machine is broken or the driver will forget to play it correctly. Signal the driver that you want to exit at the next stop by pushing one of the buttons along the ceiling or sides of the bus. When the bus stops, exit out the door towards the rear of the bus. (Note, some newer bus models only have one door, similar to the chaseok style.) Although some newer models come with air conditioning, older buses rely on windows for ventilation and cooling.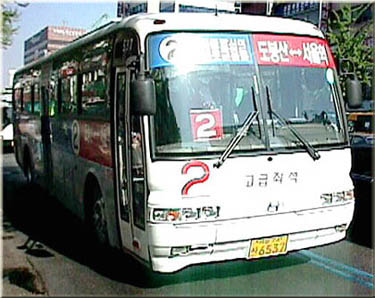 Chaseok Buses
These buses have more seats, generally travel further between stops, and cost more than regular buses. Passengers enter in the front of the bus and immediately pay the fare. Two-person bench seats, or 2-person bucket seats, line both sites of the bus. The buses have only one door (although some newer models have two, similar to the ilban design). During rush hour or other times when the bus is crowded with people in the aisle, it makes it difficult to squeeze past to get in or out. Push the buzzer to let the driver know you want to get off, then make your way to the front of the bus. (If the bus is crowded, factor in the time you will need to maneuver around the other people in the aisles.) Some areas also have a deluxe type of chaseok bus. These generally travel between the suburbs and the city, are not supposed to pickup more passengers unless empty seats are available, and have pay phones on board.
Long Distance Buses
For traveling between cities or through the countryside, you can use two different types of inter-city buses. While kosok buses usually go directly from point A to point B along the most direct route (major highways, if available), chikaeng buses take less major roads and make stops at major towns or tourist destinations along the way. Drivers usually break every 2 hours or so at highway rest areas so people can go to the bathroom, smoke, and get something to eat or drink. (Make sure you remember which bus is yours when you exit! Memorize the license plate number of some other distinctive feature as drivers will sometimes have to move their buses to make room for other buses to park.)
Kosok Buses
These buses are similar to chaseok buses. The seats usually recline, have individual vents for air conditioning or heating (depending on the season), and have a small overhead rack for storing purses or small bags. (You should store large packages in the storage bins.) More expensive deluxe style (u-deung) buses have larger and more comfortable seats that recline more fully.
Chikaeng Buses
Sometimes affectionately called "chicken" buses by foreigners because of the similarity in pronunciation (and because countryside residents will sometimes bring their livestock with them on the buses), these buses are similar to ilban buses.
Taxis in South Korea
Korea has two major types of taxis: regular and mobeom (deluxe), although generally only larger cities have mobeom taxis. You can hail these taxis on the street or find them at taxis stands. (Major transportation hubs such as airports and bus and train stations often have several dozen taxis lined up waiting for passengers.) Many areas also have call taxis that will come and pick you up when you call them, for an added charge. Several U.S. military installations also have their own taxi service (AAFES).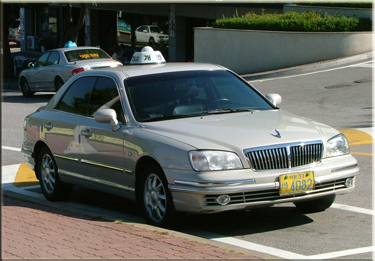 Metered fares are based on taxi type, distance traveled, and various surcharges for time of day or heavy traffic. Passengers are also responsible for any tolls incurred. In the countryside, you will often have to negotiate the price before you start, but within city limits the meter should always be used. Tipping is not a normal custom, unless the driver performs some extra duty like handling your bags.
Although the number of drivers who can speak foreign languages is increasing, do not count on drivers being fluent in English (with the exception of the special Goodwill Guide Taxi drivers). If you cannot speak Korean well, have a Korean write down your destination in Hangul and show it to the driver.
Hapseung ("taxi sharing") is a practice where drivers stop and pick up additional passengers heading in the same direction. The original passenger pays the metered amount, while the later passengers pay the metered fare minus the fare when they entered the taxi. Technically illegal, despite periodic crackdowns by the police, the practice still persists. Since only the original passenger's fare is recorded on the meter, the driver gets to pocket the money from the other passengers. During rush hour, it can be difficult to find an empty taxi, so the passengers also benefit. In general, the driver should ask the first passenger's permission before stopping for other fares. Mobeom taxis do not practice hapseung.
Regular Taxi
These medium-sized white or silver taxis are the most common in Korea. The fare starts at 1,900 won at flag fall and costs an additional 100 won for every 144 meters after the initial 2 kilometers. If the taxi's average speed drops below 15 kph, 100 won gets added to the fare every 35 seconds. Travel between midnight and 4:00 a.m. incurs a 20% surcharge.
Mobeom Taxi
The black luxury taxis can definitely be worth the price. The drivers tend to be more professional and act more like chauffeurs than taxi drivers. Whereas some regular taxis look like they are ready to fall apart, mobeom drivers keep their cars in pristine condition. Cars have cell phones and the drivers hand you a printed receipt at your destination. Fares are 4,500 won at flag fall and 200 won for every 164 meters after the initial 3 kilometers. If the taxi's average speed drops below 15 kph, 200 won every 39 seconds is added to the fare. (Mobeom taxis do not incur a surcharge after midnight and the drivers do not practice hapseung.)
Call Taxi
Call a call taxi dispatch operator, and a taxi will pick you up, usually within 10-15 minutes. This service usually costs at least an additional 1,000 won or more, depending on the pickup location. For many people who live off the beaten path, this can sometimes be the only way to get a taxi.
AAFES Taxi
AAFES stands for "Army and Air Force Exchange Service," the organization that operates the U.S. military's P/X and B/X facilities. Normally, Korean taxis are not allowed to drive on U.S. military facilities (in certain areas where AAFES taxis do not operate, a limited number of Korean taxi drivers can get special permission to operate there), so AAFES taxis are popular among military members who live or work far inside base. Their black color and design can make them easy to confuse with mobeom taxis. Although primarily for military and U.S. Department of Defense members, anyone can use them. However, they charge in U.S. dollars and the rate is higher than regular Korean taxis. They also stop operations before midnight.
Goodwill Guide Taxi
In an effort to improve foreigners' experiences with Korean taxi drivers, the government has designated certain taxi drivers as Goodwill Guide Taxis. These drivers can speak English or Japanese well and display a special sticker in the rear window of the taxi. You can call (02) 3431-5100 and ask for pickup by a driver with either language specialty. The drivers can also serve as tour guides around Seoul.
Subway Systems in South Korea
There are currently subway systems in Seoul, Busan, Daegu, Incheon, and Gwangju. A system is also currently being built in Daejeon and is on schedule to be completed soon. All the subway systems in South Korea are extensive and offer one of the best ways to travel throughout the city. The price is 700 won for most distances but can cost as much as 1400 won for long distances.
For quickly getting around the city and avoiding the increasingly heavy road traffic, taking the subway can be the best way to go. Subway lines go to most of the popular areas, with stops near the major train stations and bus terminals. Station signs are written in English and Korean, as well as Chinese characters at some stops. Announcements about the upcoming stop are made in Korean, although most lines have also added English announcements.
Buying a Ticket
Subway tickets can be bought at ticket vending machines (newer ones accept coins and bills, while older ones will only take coins) or from a ticket window near the entrance turn styles. Tickets are valid at any time. Frequent commuters can save time and money by buying debit tickets, with the amount of each trip automatically deducted from the ticket. (Foreigners who are taking language classes can usually get this discount as well if they show their student ID.) Senior citizens (age 65 and older) and the handicapped get to ride for free.
Train Systems in South Korea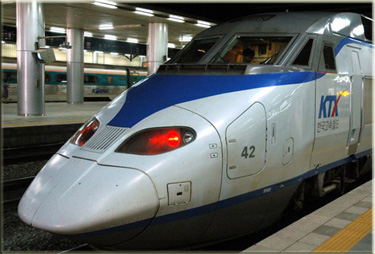 With the historical opening of the express rail in April 2004, Koreans now have access to a high-speed rail system that rivals similar systems in France, Japan and Taiwan. Operating at speeds pushing 300 km/hr, it is now possible to reach almost any part of the country within three hours.
This extra convenience comes at an extra financial cost, but for those needing to get around in a hurry, the KTX train system can't be beat.
Ticket Purchase
Reservation for KTX passenger tickets can be made conveniently at ticket counters in the station, travel agents, and automatic ticketing machines or via the Internet.
Reservations and ticketing are possible from 09:00am, two months in advance up to one hour prior to departure of the corresponding train
When the person making a reservation is different from the person boarding the train, the person making a reservation may pay for the ticket
When there is no available seat, apply to go on the reservation waiting list through the Internet (two days prior to departure). Cancelled seats are automatically allocated to those on the waiting list
A reserved ticket purchasing deadline system has been adopted to automatically cancel reservations when the corresponding ticket is not purchased or paid for within the designated period after making a reservation
[clear]