Private School (Hagwon) Application Process
Below is a flow chart for the private school (hagwon) application process. After you apply online you will be contacted by our placement coordinator and will be sent information on country-specific documents you will need to complete the visa application process.
Apply through our online application at ReachToTeachRecruiting.com. Make sure to choose your location when you apply.
Reach To Teach will review your application and be in contact through email. Make sure to check your spam folder just in case.
Reach To Teach will send you country specific information on how to go about gather the documents that you'll need in order to teach in Korea.
You will be sent out information on available openings based on your preferences and school qualification requirements from your placement coordinator. (Please not that some schools prefer a TEFL certificate, but it is not required for hagwon positions.
After choosing a school, you will interview directly with the school. This is the most important part of the

private school (hagwon) application process as you can get a feel for the school. 

Typically your placement coordinator will have your interview results within 48 hours at the most.
If you agree that you'd like to teach for the school that you interviewed you will sign a contract and send it back through email.
After agreeing to a contract, you'll need to send your visa documents to the school in Korea, so that they can apply for your VIN number.
Once the school has gotten your VIN number, they will pass this along to you and you'll be able to apply for your E-2 visa at your nearest Korean consulate.
Once your visa is applied for, you will book your flight to Korea. Sometimes, this is handled by the school directly, but your placement coordinator will let you know how to proceed.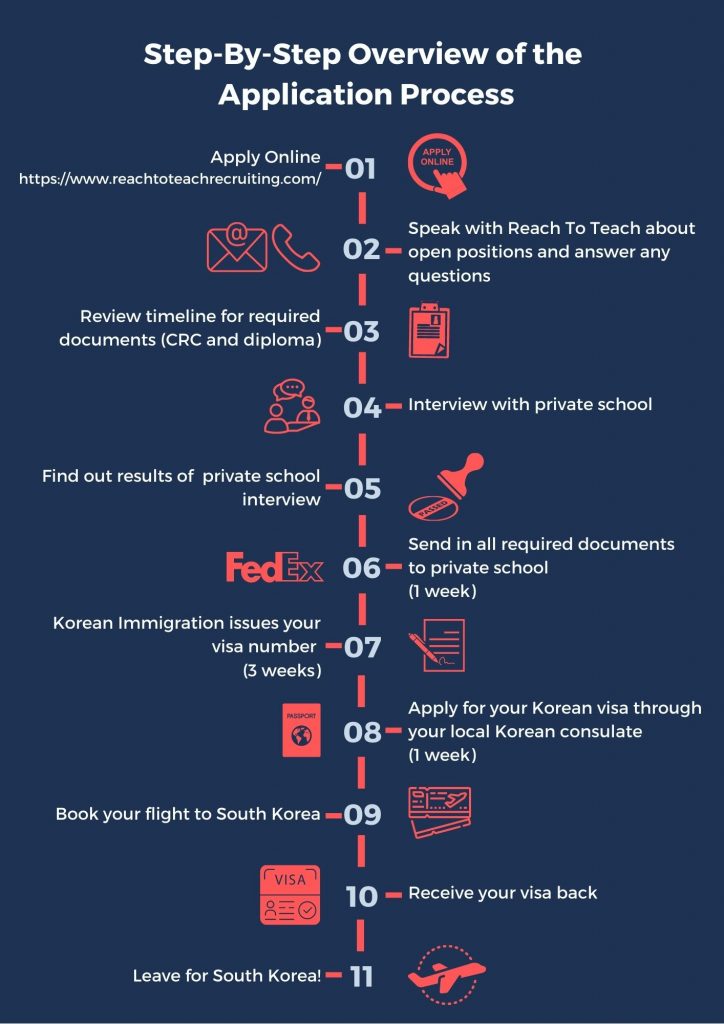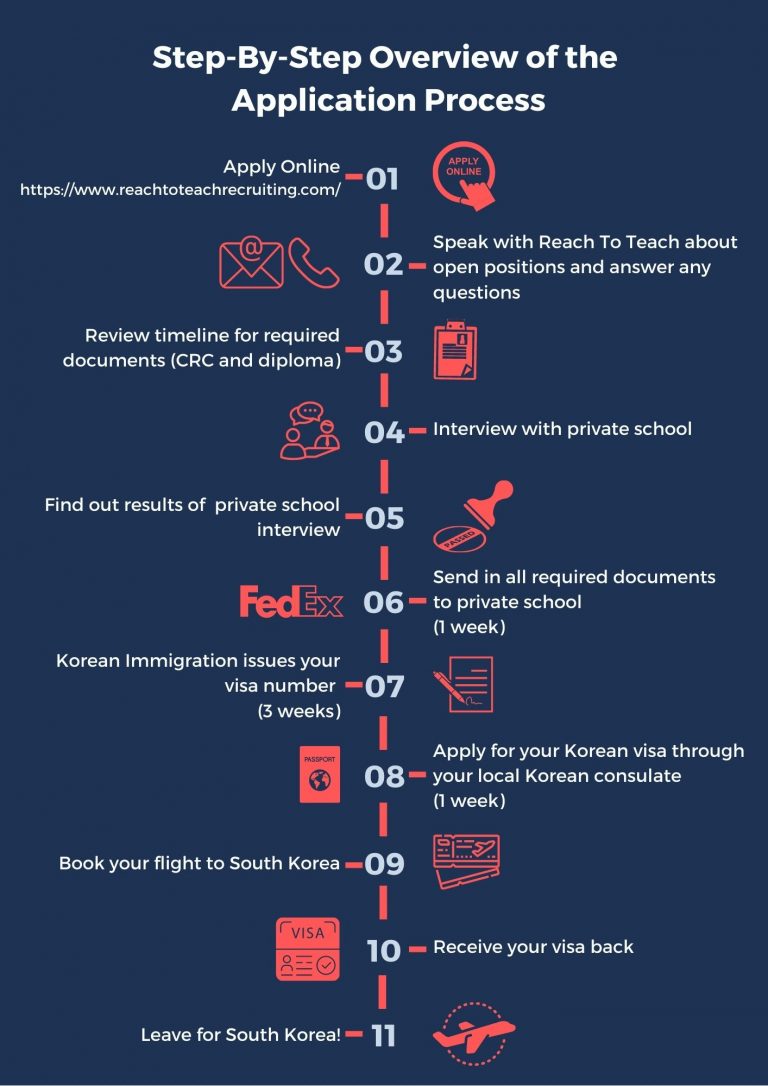 If you ever have any questions about the private school (hagwon) application process, please contact your coordinator directly through email. While you will see many different types of salaries and positions posted online, the vast majority of hagwons start teachers out at 2.1 to 2.4m Won a month depending on experience. Reach To Teach also has hagwons that pay up to 2.7m Won a month, but these positions require more work and teaching hours than most hagwons hence the increase in pay.
While most people would like to earn the highest amount of salary they can, please be aware that the higher salaries at hagwons normally come with more responsibilities. If you are a first time teacher, it may not be in your best interest to take the highest paying job available to you. Normally the higher paying schools require more classroom teaching hours, which leads to more prep-time. A lot of first year teachers struggle with prepping for classes in the beginning as schools have a curriculum that they want you to follow.
Please know that Reach To Teach is here to help you find the right position for you, so if you have any questions throughout the process don't be afraid to ask.
Please share!