Housing in Georgia
Note that our Teach in Georgia program is closed due to government cutbacks by the Ministry of Education in Georgia. We have many positions in other countries open on our Job Board. We encourage you to take a look and apply with us today.

---
Housing in Georgia
We have left our pages about the TLG program up as they are still useful for information. Reach To Teach hopes that the TLG program will be reestablished in the future, as we had many amazing compliments from our teachers about this outstanding program in Eastern Europe.
As part of the TLG program, teachers receive free room and board with a Georgian family. TLG prides itself on screening each and every Georgian family before placing teachers in a home stay. The following factors are taken into consideration before the Ministry of Education will accept a host family into the program: the type of accommodations (Is the home or apartment a nice place to live?), Internet, proximity to schools and hospitals, among others.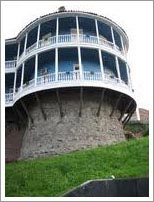 Teachers are given their own private room and both the family and teacher receive intercultural training to ensure that each understands the cultural differences that could come into play during a teacher's stay in Georgia. Keep in mind that the concept of privacy is different in Georgia than in the West. Georgians generally believe that free time should be spent with family. Some teachers have found the adjustment to Georgian privacy standards to be challenging. It's important to be flexible and try to understand the Georgian cultural perspective. Many teachers have found this to be both one of the more challenging and rewarding aspects of their job.
All in all, TLG has received a lot of positive feedback from both teachers and host families. Some Georgian families enjoy having teachers with them so much that they are always eager to have another teacher stay with them once the first teacher has left!
Does TLG accept couples?
Couples are welcome to participate in the TLG program. Couples that are interested in applying to the TLG program should be aware that TLG will do their best to find a family that can accommodate them. There is no guarantee, however, that couples will be placed together.
Couples have the following options to consider if they wish to participate in the TLG program:
1) Live with separate host families that are located nearby to one another.
This option tends to be the most practical for everyone as the whole purpose of the program is to participate in cross-cultural exchange. TLG does their best to place couples as close together as possible.
2) Couples who choose to rent an apartment can start off their teaching assignments in Georgia by living with host families while searching for an apartment.
TLG and Reach To Teach cannot help couples in their search for suitable accommodations. Couples must do their research and find accommodations on their own time.
The approximate costs of renting an unfurnished apartment in Georgia are as follows:

Rent 300 GEL/mo


Utilities 100 GEL/mo


Groceries 200 GEL/mo/person
You will also need to budget accordingly for household items and appliances when choosing this option.
3) It is possible for couples to live together with one host family.
TLG will look for a special host family once you have submitted all your documents and one they have approved you both for volunteer teaching positions. Please bear in mind that it is not always easy to find a host family that is willing to have two teachers instead of one. Taking this option could result in delaying your arrival in Georgia.
Should you and your partner choose this option, you will be expected to provide your host family with 150 Lari each to contribute towards the cost of utilities and food. If you decide that this is the best option for you, please complete your application package, including completed documents, at least two months before you plan on arriving in Georgia.
[custom_frame_right]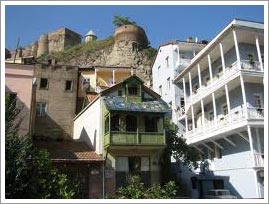 Apartments in Georgia[/custom_frame_right]
Utilities
TLG teachers are expected to donate 100 Lari per month to their Georgian host family to cover the cost of utilities.
Electricity
Georgia uses a standard of 220 volts and 50 cycles. Electrical plugs are the European round two-pin plugs. It's a good idea to bring a few adapters to start with, but you will also be able to buy adapters while you're there.
Water
The water supply in Georgia is contaminated and tap water is not safe to drink. It is recommended that you buy bottled water or treat your water before drinking it to avoid potential health problems.
Phones
Landlines are widely available and mobile phone coverage is good in the capital and along coastal regions. A typical mobile phone plan costs around 40-60 Lari per month. Calling the United States is 70 tetri per minute, so keep in mind that cell phones aren't good for chatting if you're making an international call.
Additional Costs as a TLG Teacher
Teachers with special dietary needs (such as vegetarians) should be aware that their host family might not be able to meet their expectations. If you are on a special diet please plan on placing a portion of your monthly stipend aside for your dietary needs.
[clear]