Postal Services in Korea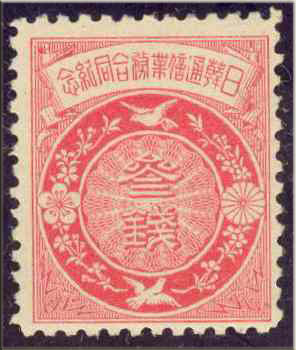 A South Korean postal stamp
Residents can easily recognize Korea's post offices by their red signs and distinctive logo (3 swallows symbolizing speedy, reliable, and safe postal delivery). Customers can buy stamps and postcards and send letters and packages. Most post offices have packing materials for packages.
You can write Korean addressees in English, although writing in Korean can result in faster delivery and fewer problems. All letters and packages must have the recipient's postal code. (Each post office has a book listing every postal code for the country. Customers can look up postal codes online as well at the Ministry of Information and Communication.
Customers sending packages overseas will have to fill out a customs declaration form.
Besides sending letters and packages, the postal service also offers limited banking services. Customers can open bank account, wire money to other accounts throughout the country and pay bills. In certain remote areas, post offices can also reserve and sell train and airplane tickets. Unlike European post offices, Korean ones do not offer international telephone services.
Post offices are open 9:00-18:00 (until 17:00 from Nov.-Feb.) (Banking services are only available until 16:30.) Post offices are closed on Saturdays, Sundays and holidays.
Prohibited Items
Money (coins, currency) or other negotiable items
Valuables (gold, silver, jewelry)
Drugs, pornography
Explosives, flammable articles
Quick Service
Private "quick service" courier agencies deliver packages across town by motorcycle messenger. They will deliver anything from paper documents to computer monitors- just about anything that can fit on the back of a motorcycle. Rates depend on distance traveled and the size of the package. Riding motorcycles, the messengers can easily bypass grid locked traffic and deliver packages speedily. Messengers come to your home or office to pickup the package(s). Although the sender usually pays for delivery, cash on delivery can also be arranged.
Parcel Service
For larger packages that need to be sent across the country, Korea has several parcel service (Taekbae) companies. Drivers pick up and deliver packages door-to-door, and most deliveries take one day. For international shipping, UPS, Federal Express, and DHL have local branch offices.
Please share!