Guide to Kaohsiung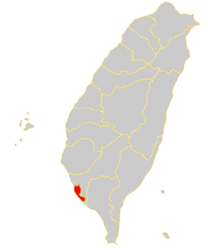 Our staff at Reach To Teach have created this handy guide to Kaohsiung to help you familiarize yourself with this incredible city.
Kaohsiung (高雄; Gāoxióng) is the second largest city in Taiwan and is located in the south of the island. Kaohsiung is known for its harbor, although more for commercial than tourism reasons. Hence it is also known as the Harbor Capital (港都) of Taiwan. Its year-round fine weather and the low cost of living makes Kaohsiung a must for visitors to Taiwan.
Kaohsiung (高雄; Gāoxióng) is the second largest city in Taiwan and is located in the south of the island. Kaohsiung is known for its harbor, although more for commercial than tourism reasons. Hence it is also known as the Harbor Capital (港都) of Taiwan. Its year-round fine weather and the low cost of living makes Kaohsiung a must for visitors to Taiwan.
Click on the Apply Now button to be taken to our Job Board.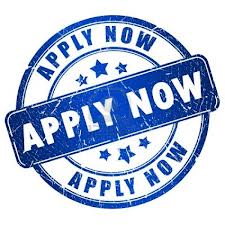 History of Kaohsiung
Kaohsiung is Taiwan's second largest city (with 1.5 million inhabitants) and its largest port. Although the ranking has declined steadily over the last few years, Kaohsiung is still the world's sixth largest cargo-container seaport. [2] The city has high concentrations of heavy industry, including steel production, shipbuilding, and other exports that have led to Kaohsiung's relatively high levels of air pollution (though the situation has improved substantially in recent years). Unlike Taipei, Kaohsiung is a planned city with wide streets and slightly less traffic congestion than the capital. In recent years the city has made great strides in transforming itself from a primarily industrial city into a modern Asian metropolis, and several areas of the city, such as along the banks of the River Ai (Love River), have benefited from major beautification projects under the tenure of former mayor Frank Hsieh. The city is often known as Taiwan's "Harbor Capital" (港都) because of its close connection and heavy reliance on the ocean and maritime transportation.
Kaohsiung began in the 17th century as a small fishing village named "Takao" (打狗), derived from the local aboriginal name meaning "bamboo forest". The name was changed to "高雄" (meaning: "high hero") by the Japanese in 1895, also pronounced "Takao" in Japanese, as they found the original name of 打狗 ("beating the dog") to be vulgar. The modern name of "Kaohsiung" is the pronunciation of "高雄" in Mandarin.
Marietta Adams - 2007 - An American in Kaohsiung, Taiwan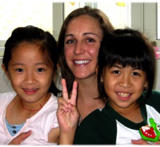 At age 25, and after 3 years of teaching elementary school in an inner city school, I was ready for a change. I had nothing holding me back and as it felt a little crazy, I made the decision to teach in Taiwan. It was an easy decision though, especially with the magnitude of professionalism, reassurance, and helpfulness that Reach to Teach provided from the onset. I was highly impressed with RTT's recruiting and matching system, the communication I had with Mitch and his team, and the teacher testimonials I read online. Two months after interviewing, I was on my way to amazing Taiwan.
As I arrived in Taiwan, the sun was just rising, and the beauty was a metaphor for what my year was going to be like in Taiwan. My job was in Kaohsiung, which is in the south of Taiwan. My school manager and the school employees immediately took me under their wing and helped me find living arrangements. I went through training back in Taipei and met friends as well as got prepared for what my job would be like. The Reach to Teach team did a great job letting me know what I could expect, and I felt very safe, supported, and cared for.
Some of my top highlights of teaching in Taiwan were learning (survival) Chinese, going to Reach to Teach events like hiking and tubing, vacationing in the most beautiful places of Taiwan has to offer, making friends through church and through the RTT network, joining the gym and getting a personal trainer, meeting foreigners out for fun times on the town, riding my scooter, singing karaoke, and getting cheap massages!
Reach to Teach truly set me up for a wonderful year that enhanced my life and I am thankful to them.
- Marietta Adams
Getting to Kaohsiung
By Plane
Kaohsiung International Airport is about twenty minutes to the south of the city center. 1997 a new terminal was added dedicated to international connections and transfers to Taipei international airport. This airport is very small and cannot compete with other international airports around the world. International flights from Asia arrive daily, with frequent connections between Taiwan Taoyuan International Airport and Kaohsiung. The airport is on the MRT Red Line and is also easily accessible by scooter, car or taxi.
By Train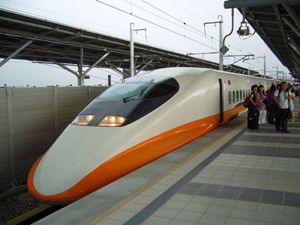 Taiwan High Speed Rail line (HSR) Traveling by train is a viable option for getting to Kaohsiung, as the fastest trains from Taipei cover the distance in just 90 minutes. There are 3 types of tickets: Business Reserved, General Reserved, and Non-Reserved. Reserved are approx. NT$1500 ($50 USD) and non-reserved slightly cheaper at NT$1400.
Please note The HSR terminal is in Zuoying (左營, also Tsoying) on the northern outskirts of town, and you'll need to connect to the city center via the MRT Red Line(approximately NT$20-25), bus, ordinary train, or taxi(approximately NT$250-350). The MRT Red Line brings you into Kaohsiung city proper and makes the next taxi ride much cheaper. Extending the HSR line to Kaohsiung Main Station is planned but as of today not yet built.
Kaohsiung is also served by the Taiwan Railway Administration's Western Line and Pingtung Line. The city is roughly 4 to 5 hours away from Taipei by normal express train.
By Bus
Buses run the length of the island, with stops in major towns. They feature fully reclining seats, baggage transportation and, on most, video game consoles or televisions for each seat. Prices run around NT$1000 per trip, give or take, depending on the initial and final destination.
Most major bus companies have their office and stops close to the train station. They are located on the same road as the train station, about half a block down the street.
Getting Around Kaohsiung
By Metro
The long-delayed Kaohsiung MRT opened in 2008, with two lines. The Red Line runs from north to south, offering a handy route from both the THSR Zuoying station and the airport into the downtown core, while Orange Line runs across the city from the Port of Kaohsiung in the west to eastern suburb of Daliao. The Metro Line is very clean and offers a convenient way to quickly move within the city. However as the metro is rather young the network is yet not very dense and often you have to walk few minutes to the next station. Operation of the MTR stops as early as about 11:30 p.m. (at least an hour earlier as compared to Taipei).
Feeder buses are available to bridge network gaps and provide better access to the metro lines. The MRT stations are all well connected to the city bus lines for further transfers.
By Taxi
Taxis can be an easy way to get to somewhere unfamiliar, and are fairly common in the city. If you have the business card of a location, or the Chinese characters written down, they can easily get you there far faster than most other means.
It is best to get the price in advance, and, if possible, buckle up. Few taxi drivers speak English, and the majority ignore any and all rules of the road. Do not be surprised if they drive the wrong way, up a hill, through heavy traffic. If the price is not negotiated in advance, do not be surprised if they take you in the wrong direction for a little while, or even drive in circles. Typically, going from one end of the city to the other should never be more than 400 NT$. This behavior of cab-drivers is rarely seen nowadays however may still happen more often on the country side.
Do not be surprised if they open the door and spit what looks like blood. In actuality, the taxi driver is chewing betel nut (binlang). This commercially available product is a mild stimulant and is used by many taxi drivers.
By Car
Rentals are available in various locations across town, but obtaining a license within the city can be a problem. It is recommended you call ahead if you have an international drivers license to insure it will allow you to drive. In addition, license laws in Taiwan fluctuate from year to year for foreigners. Currently, as of 2006, you must have an Alien Residence Card for more than a year to take the license examination.
Parking is scarce, but available. The city recognizes this problem, and attempts to make the city more car-friendly by building parking garages and painting designated parking spaces alongside streets. However, for travel within the city itself, or only locally, it is recommended you get a scooter.
By Scooter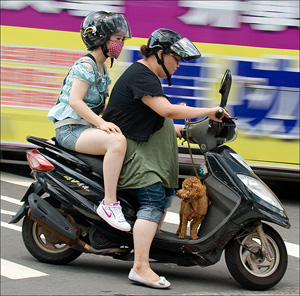 Scooters are the primary means of transportation within Kaohsiung. With a dedicated two-wheel vehicle lane on most major roads, and with frequent and varied scooter shops around town, renting or purchasing a scooter is very easy; however, see the Taiwan article for legal issues including licenses.
Scooters come in several engine sizes from below 50cc to more than 250cc. Most common in recent years are the 4-stroke 100 and 125cc models, which are also suitable to explore the surroundings of the city. The larger scooters, 150cc and more, often include a greater subset of amenities for a second passenger, including a backrest, wider seat, full windshield and footholds and can rival a motorcycle overall size, weight and fuel consumption. Often, they come with larger wheels as well.
All passengers on a scooter must wear helmets by law. Helmets are sold almost everywhere, and range in price from 100 NT$ to upwards of 2,000 NT$. A helmet with visor is strongly suggested.
Legal Issues
Scooters with an engine size of 50cc require a light motorcycle license to drive, and should be insured and registered in the owner's name. If you have a Taiwanese automobile driver's license or a valid International Driving Permit you do not need an additional license for these small scooters. Motorcycles with an engine replacement of 51 to 250cc require a heavy motorcycle driving license. However, foreigners often drive scooters up to 250cc with no license, insurance or registration. Due to a loophole in Taiwanese law, scooters registered to foreigners who have left the country cannot be bought by Taiwanese citizens because the registration cannot change hands, legally. An underground market in "foreigner scooters" allows visitors to purchase scooters without insurance or registration.
City police are often more lenient on foreigners. Short of being towed for parking in a red zone (a stripe of red paint on the edge of a sidewalk or road), foreigners are usually waved through stops, or, at best, ticketed. If the scooter is not registered to you however, its hard to say what exactly happens when the ticket is sent out. Often the best idea is to speak a language other than English or Chinese, play dumb and hope the officer will get flustered and let you go.
By Bike
Bikes are also common in Kaohsiung, and the large number of locally produced bikes (often rebranded and sold overseas) means purchasing a new bike will often be cheaper relative to its counterpart in other countries (primarily Europe and America). Giant, a well-built, recognized Taiwanese brand, has shops throughout the city, and some of the store managers speak English. Bikes are street legal, even without a helmet, but theft is common for any bike over 3,000 NT$. Until recently, even serious violations of the traffic rules by cyclists are were not fined, however, government authorities are planning to change this in the not too distant future.
As Kaohsiung is predominantly flat, a great way to see the city is by bike. Riding along the Love River north towards the Art Museum area offers a pleasant ride and some scenery of the old Kaohsiung that is fast disappearing. Pleasant bike routes can also be found around Sun Yet-Sen university and on the coastal side of Shoushan mountain, but expect a few hills to climb. It is best to avoid this place on the weekends when hordes of young Kaohsiung couples head to the mountain for some romantic sunset views of the city and ocean at one of the countless coffee shops. Cijin Island also offers some nice riding around the streets at the northern end of the island.
Guide to Kaohsiung – What to Do and See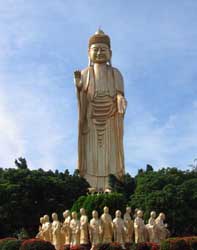 The Cijin District (旗津) is located on a slender island in Kaohsiung harbor which serves as a natural breakwater for the harbor. The district is filled with seafood restaurants selling freshly caught seafood which can be prepared right after you pick it out. Cijin is connected to the rest of Kaohsiung City by underwater tunnels, but the transpiration of choice is one of the many ferries that traverse the harbor. Fare for the ferry ride is NT$10 per person. The area is especially crowded on weekends with many visitors bringing their entire family along.
Dream Mall (夢時代購物中心) is the largest shopping mall in Taiwan and 2nd largest in Asia. The mall is a bit out of the way, but worth it to visit the Hello Kitty Ferris Wheel on the roof.
Urban Spotlight During the day it is a normal city park with coffee-shops. In the evening local live bands perform on the venues and nice lighting is turned on. After a hot day it is most enjoyable to sit in one of the outdoor coffee shops and listen to one of the music bands.
Enjoy a coffee in one of the waterfront-side cafes along the Ai River, also known as Love River.
Shoushan (壽山; Shòu shān) is known by many as Monkey Mountain, it gets this name for a very obvious reason; there are monkeys everywhere. The mountain itself is a pleasant hike, along the way you can see monkeys that have grown to be very used to people. There are signs that tell you not to feed the monkeys, however a lot of locals do. Be warned, some monkeys are nice, and some are not, if you have food you may find yourself being mugged by an ape.
Lotus Pond is one of our favorite places to visit in Kaohsiung. This area is home to a number of strange looking pagodas and temples. It is also home to Ciji Temple, the largest Confucius temple in Taiwan. This beautiful dragon can be found directly across the street from the temple. Enter the dragon's mouth and exit the tiger's mouth for good fortune in your life.

Check out this video to see just some of the amazing things that Kaohsiung has to offer.
Language
Taipei Language Institute (TLI)) – Located in the heart of downtown Kaohsiung. They focus heavily on spoken and conversational Mandarin, and teach primarily through the use of Hanzu Pinyin.
Wenzao College of Languages – Offers courses in a number of languages, including English, French, Spanish and Mandarin. Chinese classes focus on the full spectrum of the language, and traditionally begin with BoPoMoFo phonetics and move into character production, tone use and full immersion.
Both schools are excellent and highly respected. On average, Westerners can become conversationally adept in 6 months to 2 years, depending on intensity of study and frequency of class attendance.
Guide to Kaohsiung – Food in Kaohsiung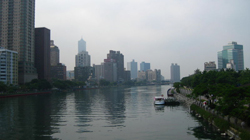 Night markets are a great place to pick up cheap local foods, including stinky tofu, barbecued squid, red bean pancakes and the like. The one not to be missed is the Liouho Night Market (六合夜市) which has several interesting dishes such as salty glutinous rice balls (咸湯圓) stuffed with pork.
Bagel Bagel is great for disoriented Westerners in search of familiar food. They offer a variety of tasty sandwiches at reasonable prices (150-200 NT$). The menu is in English and most of the staff understand and speak some English. There are two branches in the city, including one adjacent to the Love River.
Smokey Joes offers Tex-Mex, including fajitas, tortillas and other Western staples at affordable prices (170 NT$ and up). The menu is in English and the staff usually understands some English as well. They offer a 'VIP' card for people who spend over 1,000 NT$ on 20 separate meals which gives the holder at 10% discount at any store operated by Amy (the owner of Smokey Joes). This includes Mama Mia's, an Italian restaurant located downtown.
General Panchos, a Mexican restaurant near the ZuoYing HSR, offers slightly cheaper Mexican cuisine, including taquitos, tacos and burritos. Prices range but stay under 200 NT$ for a meal. 302, JhihSheng Rd, SanMin District. (請點選縮小圖來看放大的地圖) Tel: (07) 556-0056 English
The Pantheon serves traditional Greek and Mediterranean food at good prices. Known for their Gyro lunch (around 200 NT$), they are one of the few (if only) restaurants that serves lamb. They also offer a 20% discount on takeout.
Cosplay Cafe offers a Cosplay themed restaurant. Sadly, we went at lunch on a Tuesday and the wait was 75 minutes. 161, ChangMing St, SanMin District. Tel: (07) 235-0128 Hours: 12-9:30 pm every day
The Spice Shop, 508 Mingcheng 2nd Road. Tel:+886 7 558-5709. An Indian restaurant serving a-la-carte style meals, with each dish ranging from 120 NT$ to 270 NT$.
An excellent vegetarian buffet-style restaurant is situated in the basement of the Tuntex Sky Tower (the two-legged skyscraper) – around NT$800 for an all-you-can-eat lunch.
Guide to Kaohsiung – Drink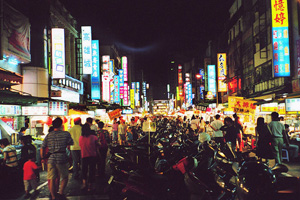 Liuhu Nightmarket, Kaohsiung
Two local beer companies, Tsingtao and Taiwan Beer, are ubiquitous throughout the island and can be purchased by visitors cheaply with little hassle about age restrictions.
Most major soft drinks are available, and tea stands on almost every corner offer concoctions of fruit, yogurt, green tea, the Taiwanese specialty "bubble tea," and a variety of other flavors.
While tap water is most certainly not potable, good reverse osmosis filtration will remove bacteria and heavy metals, and is considered safe for consumption. Water dispensers, which resemble gas stations, are present throughout the city. However, they, along with many of the bottled water brands, are suspect. Both have been found, in the past, to simply bottle or distribute tap water.
To avoid ingesting non-potable water, only purchase bottles that are sealed with an expiration date clearly printed on the bottle. Often, it is easier to simply purchase green tea at a stand or a convenience store, or a soft drink. Restaurant water is safe, with the exception of some lunchbox eateries and stands on the street.
2 Coins Bar 350 Fujian St (1/2 block from the Lees Hotel at Wu-Fu 1st Road and Fujian). 2 Coins Bar is a small bar down the street from the Lees Hotel. The bar owner is quite nice, but doesn't speak English. Good music and decent prices are standard for this relaxing bar.
Stay Safe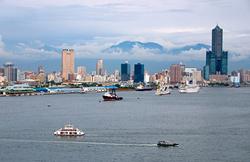 Kaohsiung is one of the largest cities in Taiwan. In general, Kaohsiung offers a very safe environment for foreigners as long as you mind your own business and don't get involved with local rivalries. Violent street crime against ordinary people is rare, and visitors should not encounter any problems – though, like any major city, it is always wise to err on the side of caution.