Stephanie Long
HR Coordinator, Reach To Teach
Growing up in a small town, I always wanted to travel the world.  The opportunity didn't come until my junior year of college.  The first time I ever left the country was to spend 10 months in England on a study abroad program.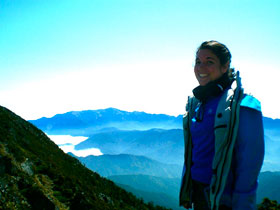 That was my first taste of the thrill of traveling.  From the moment I first stepped out into London, I was hooked.  My family told me to enjoy backpacking around and traveling while I could, because this was a once in a lifetime experience and soon I'd be bogged down in a career with no chance to travel.  As my year abroad went on, though, I grew more and more skeptical of that advice.
After coming back to the US for my last year of school, I was finally able to admit to myself that my major, and my plan of going on to medical school, was all wrong for me.  And it was a pretty terrifying admission, because it left me with one giant question: "Now what?"
The answer, I eventually realized, was: "Whatever you want."  For the first time, I had the freedom to choose from a whole world of possibilities.  And what I wanted to do was keep traveling, and have the freedom to explore all the interests that I never had time to pursue in the midst of my coursework.  I knew I wanted to go somewhere totally different and learn a new language.  And, of course, making enough money to live on was a pretty high priority, too.
All of these things led me to teaching English in Taiwan.  I still remember trying to sort through websites and hunt down jobs myself before I found Reach to Teach. My first few days in Taiwan were a blur of strange food, smothering heat, and the realization that even the simplest things were now completely different.  It really wasn't until the end of my first day here, when I stumbled, dizzy from jet-lag and excitement, into the middle of a noisy, crowded, and bustling temple, that it finally really sunk in: I was in Asia!!  Even now, two years later, sometimes I still can't believe I'm really here!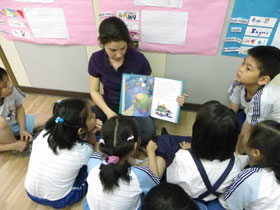 Like so many people who come here, I expected teaching to be just a job that was fairly easy, and a simple way to pay for my travels.  But I've had some of my most enjoyable and memorable moments in the classroom, as well as some of my biggest challenges to overcome.  My students are always finding ways to surprise me, make me laugh, and make me love my job.
When I'm not teaching, I spend most of my time studying Chinese, studying martial arts, hiking, playing guitar, reading, or just relaxing with friends.  Some of the best memories that I have of my time in Taiwan so far have been during weekends roaming the mountains and jungles around Taiwan, and during late nights training martial arts.
When I first came here, it was, in a lot of ways, a leap out into the unknown.  A new city, a new culture, a new language, and no idea where it would all lead me or what I'd end up doing next.  I can't claim to have it all figured out yet, but moving to the other side of the world gives you a whole new perspective on who you are, and what really matters.  Whatever I end up doing, I know I'll always look back on my decision to come teach English in Taiwan as one of the best choices I've made.
Return to Contact Reach To Teach
Please share!