Teach English in Shenzhen with Reach To Teach!

Categorized as China's first Special Economic Zone, you will benefit from Shenzhen's subtropical climate and opportunistic location. The city's ultra-modern landscape looks like an anachronism in architecture, but it sets the perfect backdrop for anyone wanting to teach English in Shenzhen. It's a location that won't disappoint!
Shenzhen is China's second largest trading hub after Shanghai. Due to it's rapidly developing economy (one of the fastest in the world), you'll have access to an exciting and fast paced lifestyle. Shenzhen is also about as close as you can get to Hong Kong without leaving mainland China, making day trips to Hong Kong and Macau viable every weekend.
Shenzhen is also about as close as you can get to Hong Kong without leaving mainland China, making day trips to Hong Kong and Macau viable every weekend.
Requirements to Teach English in Shenzhen
You must have a Bachelor's degree
You must be at least 24 years of age
You must have a 100+ hour TEFL certificate
You must have one year of formal post-graduate teaching experience
Teach English in China's First Special Economic Zone
Set up as a capitalist market within Chinese socialist traditions, Shenzhen made full use of its proximity to Hong Kong to attract foreign investment. That means Shenzhen is now set up to be southern China's powerhouse along the Pearl River and one of the most economically influential cities in Southern China.
Walking down the street you'll run into all types- business savvy's dining to the nines, tourists on day trips crossing the border from Hong Kong, and fellow folks like you all living and teaching in Shenzhen. It's vibrant and colorful lifestyle combined with its economic potential places you right in the center of the action when it comes to experiencing China first hand!
Shenzhen is also known for some of the architectural biggies in the world. At one time, it held the record for tallest building in the world, tallest building in Asia, and more record-shattering projects are on the "rise"!
Teach English in a World Class City
Your journey to teach English in Shenzhen starts now!
As Shenzhen is home to China's flourishing business district, it is home to some of the most exciting shopping, dazzling restaurants and first-class entertainment. But there are plenty of draws for the teacher here outside of the city. It's not to far to experience the serenity at Wanlu Lake or the majesty of the Guishan mountain scenery. Or how about a day of fun at the Shenzhen Happy Valley, home to rides that will zip you along (see below). So if you are looking for that fast paced, day-to-day life coupled with plenty of escape routes to natural wonders outside the city limits, then a position in Shenzhen is for you!
Expand Your Horizons in Shenzhen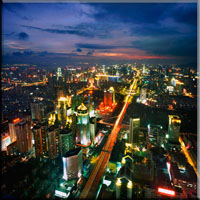 So the city life appeals to you, and the idea of teaching ESL in Shenzhen seems like a pretty good next step. So what now? You have that tickle in your stomach that tells you what you're doing is exciting and has to be the next move in your life. Reach to Teach will help you get out there with the best possible advice and guidance along the way. We know – we're out here in Asia ourselves!
Few decisions can have as many benefits or life-changing experiences as the decision to teach abroad. In Shenzhen, you will make lasting friendships with the co-teachers you work with. Together, you'll explore this unique world so many have only dreamed of seeing.
You'll meet the citizens of Shenzhen and some of your closest friends might not even speak the same first language as you.
ESL Jobs at Reputable Schools in Shenzhen
Deciding where to teach English in Shenzhen can be a difficult and stressful decision. There are a myriad of ESL teaching jobs available in Shenzhen and they don't always appear to be of the most reputable variety! That's where Reach To Teach comes in. We carefully screen any school we work with. We mean it when we tell you, "We will only place you at a school we ourselves would work at (and often have worked at previously)"!
What To Do?
Happy Valley Theme Park
A theme park to rival that of Disneyland in neighboring Hong Kong, this area is split into several areas that each has its own themes. You can expect rides to satiate the most eager or daredevils as well as those for the more faint hearted. If you are a thrill seeker then be sure to check out the Shangra-La which involved a 4G drop or the Snow Dragon which will keep you upside down with your feet dangling. The best time to visit is during weekdays to avoid crowds.
Lianhua Mountain Park
First it should be said that Shenzhen is the greenest of all cities in China, being rivaled closely by Dongguan. Out of all of the parks to be found in Shenzhen this one is recognized as being the main and most central park. The mountain has many facets to enjoy, including beautifully taken care of gardens, the lotus lake, beautiful views of the city, as well as a steady 20 minute walk up the mountain top where you can see a huge bronze statue of Deng Xiaoping. The best time to visit would be in the early morning where the mountain is alive with activity from locals whether it be aerobics groups, belly dancers, singers and other such delights.
Fairy Lake Botanical Gardens
Whilst the Lianhua Mountain Park is the main park, Fairy Lake Mountain Park is by far the most beautiful. You quite literally have miles of land to explore that is made up of a number of natural scenes to enjoy including valleys, rivers, foothills, lakes and mountain sides. You can also enjoy its main attraction, Hong Fa Temple but be warned that this will be busy.
You could also skip the temple and head straight to the lakes, surrounding the lakes are a number of very nice tea houses and pavilions for you to sit and relax in.
Shiyan Lake Hot Spring resort
This is a must visit if in Shenzhen! Its popularity can be traced back to the 16th century, mainly because of its incredible views. This is located on a manmade reservoir behind Yingtai mountain and has water fed into it at around 40°C for you to come and rest your aching muscles.
Be warned that this isn't the easiest place to get to but once you are there enjoying public, private, indoor or outdoor pools you will be glad you made the effort.
Beaches in Shenzhen
If you want to find good beaches in China then you should head to Shenzhen, they have some of the most beautiful coastline for you to enjoy throughout all of mainland China. You can enjoy untouched stretches of national parks which provide beautiful relaxing sandy beaches for you to enjoy. Shenzhen is even listed in the top 10 most scenic coastline's of China. Be sure to punch some fo these beaches into a search engine for some ideas: Jin Sha Wan, Longqi, Dameisha, Xiaomeisha, Nan'ao, Xichong, Shuitousha, Judiaosha.