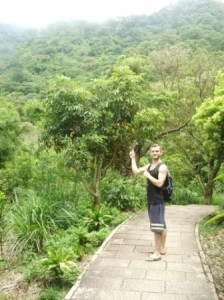 I grew up in a fairly small city in England, it's a city where daily life is just daily life and nothing hugely exciting happens, people are content with this way of living and that's great, for them. I on the other hand have never really been content with this way of life; all through high school I had an end goal in my head, which was to get out of this place and see as much of the world as I can.
My first ever flight I took was on a school trip to the states. It was at the tender age of 13 I boarded my first plane to Stowe, Vermont for a skiing trip which also included a visit to New York to do some sightseeing. This is where the birth of the adventurer began; I knew as soon as I boarded that plane that traveling was going to be a part of my life forever.
In the years that followed I visited various different places in Europe, my mother made the move to Spain so Spain became something of a holiday home. I'm also part German so I visited the relatives in Nuremburg, Germany a lot. I was lucky enough to be brought up by my uncle and aunty who would take me skiing every year to places like Switzerland, Austria, Germany and France. Whilst these were amazing experiences, I wanted to go out on my own and travel more independently. That's when Bali happened.
After finishing my Degree in Sociology I decided the avenue I wished my life to take was that of teaching. I've always had a strong interest in teaching which, during my degree, I almost lost sight of. However one pivotal dinner with my aunty, who is somewhat my life advice guru, put me back on the right track, so I did a month intensive TEFL and boarded a plane to Bali.
Teaching in Bali was an interesting experience to say the least. In terms of teaching I didn't quite know what to expect as it was my first teaching experience, but once I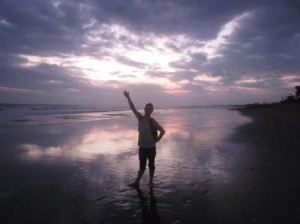 got past that first lesson I knew that teaching was where I was supposed to be. I lived very close to the beach so as you can imagine my free time was spent in picturesque settings, surfing and living the beach life.
But it wasn't without its challenges, the first month or so was great; my teaching was developing nicely and I was indulging in the new surroundings and experiences Bali had to offer me. But after a while it became more apparent that things just weren't as easy as home, lack of transport isolated me a little and you will never escape people thinking you are a rich tourist. I expected major differences but it really wears you down after a few months. So I decided to make a change in location. It was tough saying goodbye to the kids but I had to consider my own experiences.
So I packed up my things and headed out to the city of Taipei, Taiwan. I chose Taiwan based of its raving reviews. I had read that the locals are a very happy people and living here as a foreigner can be fairly smooth sailing, and I was in no way disappointed. One of the first things that I noticed was the happiness I saw on the faces in the street. In London if somebody smiles at you in the street that you don't know, your immediate thought is 'that's weird' and you find yourself making a mental note of where your belongings are. It took me a while to stop feeling my pockets every time a local smiled at me in Taiwan, which is fairly often. Once I broke this and relaxed a little I could really step back and appreciate how great Taipei really is.
One of the major things I enjoy doing here is exploring. The island is not huge so if I wanted I could wake up early and climb Elephant Mountain, which is only a 15 minute bike ride from my apartment, watch the sun come up over the whole of Taipei, head back down and visit some local temples to then be at the beach by 1:00pm to enjoy the wonderful sunshine. This accessibility to adventure is what holds my heart in Taipei.
This experience is one that is completely life changing and I can feel that it is shaping me as an individual. It truly is a unique experience which I will always look back on with extremely fond memories of the people I have met and the things I have done.
–          Dean Barnes
Please share!