Public Holidays in Georgia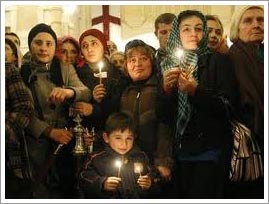 Official Georgian Holidays
(January 1) New Year's Day
(January 7) Orthodox Christmas in Georgia is celebrated on 7 January. Traditionally, people dress up in special clothing and celebrate by going on Alilo, a mass walk in the streets to celebrate and congratulate each other.
(January 19) Orthodox Epiphany/Baptism
(March 3) Mother's Day
(March 8) Women's Day
(April 9) National Unity Day April 9th marks the commemoration of a tragedy known as the Tbilisi Massacre, when an anti-Soviet demonstration was dispersed by the Soviet Army, resulting in 20 deaths and hundreds of injured people.
(24 April) Orthodox Easter
(25 April) Orthodox Easter Monday
(9 May) Victory against Fascism Day This day marks the capitulation of Nazi Germany to the Soviet Union in the Second World War. Georgia has officially recognized this day since May. 9, 1946.
(26 May) Independence Day The National Council of Georgia declared national independence on May 26, 1918. The statehood of Georgia was restored after 117 years (from 1801).
(28 August) Mariamoba (Day of the Virgin Mary) This special date commemorates the death of Mary, the mother of Jesus, and her resurrection. It is celebrated as the Feast of Dormition of the Mother of God. The feast is preceded by a two-week fast from red meat, poultry, meat products, dairy products, fish, oil, and wine.
(October 14) Svetitskhovloba This festival celebrates the first Christian church in Georgia, Svetitskhoveli Cathedral, which translates to "the Living Pillar Cathedral". This Georgian Orthodox cathedral, located in the historical town of Mtskhet, Georgia, is located 20 kilometers northwest of Tbilisi.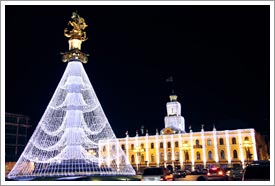 Freedom Square, Tbilisi by Carrie Kellenberger
Svetitskhoveli is also known as the burial site of Christ's mantle. It has long been known as the principal Georgian church and remains one of the most venerated places of worship in Georgia to date. The cathedral was built in the 11th century. As the second largest church in the country, Svetitskhoveli is also listed as a UNESCO World Heritage Site.
(November 23) Saint George's Day, also known as Giorgoba, is celebrated in honor of Saint George, the patron saint of Georgia. It is a very special day for Georgians, who celebrate by eating a traditional Georgian supra and then attending church. Schools and universities are closed for the day.
Many countries celebrate Saint George's Day on 23 April, which is the traditionally accepted date of Saint George's death in 303AD. Some Orthodox churches have additional feasts dedicated to Saint George. The country of Georgia, for example, celebrates the feast of Saint George on 10 November of the Julian Calendar. This special day falls on 23 November on the Gregorian Calendar.