Phones in Georgia
The international dialing code for Georgia is +995.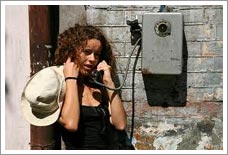 Landlines
Landlines are widely available throughout the Republic of Georgia. Keep in mind that international telephone calls can be made in larger cities, but a call to the United States can be as much as two Lari (approximately $1) per minute. Operator assistance is often required and long waits have been known to occur on some outgoing calls. Some local telecom companies offer special accounts that allow clients to make long-distance telephone calls without operator assistance. We recommend using Skype, or other Iinternet- based phone systems, for international telephone calls.
Mobile Phones

Mobile phones are quite cheap in Georgia. Many teachers choose to purchase a cheap phone when they arrive in Georgia, but you can also bring one from home and purchase a SIM card when you arrive. Volunteers can buy pre-paid cards for making phone calls. Please visit www.geocell.ge to learn how to purchase a pre-paid card or refill the balance on your account. A typical mobile phone plan costs around 40-60 Lari per month. Calling the United States is 70 tetri per minute, so keep in mind that cell phones aren't good for chatting if you're making an international call.
Georgia has three providers for mobile phones: Geocell (pre-paid LaiLai card), Magti (two prepaid brands "Bali" and "Mono") and BeeLine. Geocell and Magti are exceptionally good providers and you should be able to use your phone in most non-mountainous areas.
iPhones, Blackberries, and smartphones will work in Georgia. Both, Geocell and Magti have 3G service including video call and high-speed data.
Roaming agreements exist with international mobile phone companies, and coverage is fairly decent throughout Georgia.
Area Codes:
| | |
| --- | --- |
| Batumi – 222 | Gori – 370 |
| Kataisi – 331 | Rustavi – 34 |
| Sukhumi – 122 | Tribuli – 397 |
| Chaltubo – 340 | Hashuri – 368 |
| Poti – 393 | Samtredia – 311 |
| Tbilisi – 32 | Zugdidi – 315 |
Emergency Phone Number in Georgia
Ambulance: 03, 009, 901
Fire Department: 01
Police: 022