Transportation in Georgia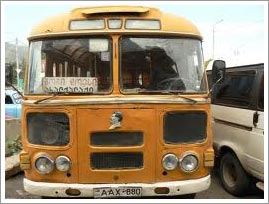 Transportation in Georgia can be slightly confusing when you first arrive. Thankfully, TLG provides a week of intercultural classes and training to prepare you for your time in Georgia. Transportation, and how to get around both Tbilisi and the rest of Georgia, will be covered in detail by the TLG staff upon your arrival.
Taxis in Georiga
There are a number of options for getting around in Georgia, with taxis being one of the cheapest, safest, and most convenient methods of travel. Trips within the capital city of Tbilisi range from three to five Lari, depending on distance. Remember to always have small bills and coins on hand, as most drivers will not be able to provide change for anything over 50 Lari.
Foreigners often have to pay inflated rates as well, so try to negotiate a price before getting into the taxi.
Buses in Georgia
Buses operate within Tbilisi and in the Georgian countryside, but the types of buses that are available vary greatly depending on location. Buses operating in Tbilisi, at 40 tetri per passenger, are one of the cheapest ways to get around the city. City buses are relatively comfortable, although they aren't air-conditioned.
Buses operating outside of Tbilisi and in the Georgian countryside are known for being slow and worn-down.
Georgia also has direct bus services from Istanbul, Turkey. These buses stop at various locations in Georgia and end in Tbilisi.
Minibuses

If doing what the locals do is something that gives you a thrill, try flagging down a marshrutka on the street. These tiny mini-buses operate within large towns and to and from cities all over Georgia.
Marshrutkas originate and end at bus stations and at the Didube Market in Tbilisi.
Minibus routes make scheduled stops at bus stations and central locations such as town squares, but you can easily flag one down on the street if you know your route number.
Marshrutkas also operate on international routes between Georgia and Russia, Azerbaijan, Armenia, Iran and Iraq.
Cars
Similar to many other countries in the region, driving conditions in Georgia can often seem chaotic. Traffic laws are not generally enforced, everyone drives at top speeds, and road conditions outside of the cities vary greatly.
Teachers are not encouraged to drive in Georgia. As a pedestrian, please exercise caution when you are crossing the road.
Trains
Train services run from Baku, Azerbaijan and stop at various places along the route, ending in Tbilisi. Prices for train tickets can vary, but are quite cheap and economical.