Health Care In Taiwan
The health care system in Taiwan is great. As a teacher in Taiwan you automatically qualify for national medical coverage. However, this coverage does not start immediately. In order for it to begin you must have your Alien Residence Card (ARC), which can take upwards of two months to get established. It is advised that in the mean time you get emergency medical coverage before you go.
Rest assured that all doctors in Taiwan speak some level of English from their exposure to many medical texts in English. It also helps to try and find the largest hospital in your area, as it will undoubtedly have the largest staff to draw an English-speaking doctor from.
If you have a medical emergency dial 1-1-9 to reach emergency services in Taiwan. You can also call one of the medical centers listed below and they may have the ability to dispatch one of their own emergency vehicles to come and get you.
Here are two articles written by Reach To Teach teachers that outline their experiences with healthcare in Taiwan:
In this article, Vadim explains the differences between clinics and hospitals and what you can expect at each. How do I register for an appointment? where do I go? how do I pay? what kind of doctor do I see? do I go to a hospital or a neighborhood clinic? The first couple times at a clinic or hospital can be overwhelming, especially without the ability to speak Chinese or anyone to help; however, once accustomed to the processes it is, like most things in Taiwan, very convenient.
Hospitals in Taiwan are known for their cleanliness and excellent healthcare, but the experience itself can be very different to what you may be used to back home. Made all the more difficult with a language barrier to tackle. 
There may come a point when you need to visit the hospital for something while you are teaching in Taiwan. Never fear! The hospitals are modern, clean, and very accessible! There are a few differences, though, when visiting a hospital in Taiwan.
This is the latest information about getting a health check at Renai Hospital in Taipei, Taiwan. A health check is required in order for your employer to apply for a work permit for you. The type of health check you get is determined by which field you will be working in.
Working abroad in Taiwan means that a health check will be part of your yearly routine until you get your permanent residence card, which is known as an APRC. Anyone who is planning to teach English in Taiwan must do a health check to teach legally.
If you live in Taipei, you will likely make a trip to Renai Hospital for your health check. Renai is not the only hospital in Taipei that does health checks, but it is the most efficient.
Hospitals and Medical Centers in Taipei
Address: 424 Pa Te Rd., Sec. 2, Taipei
Telephone: 2771-8151
This clinic is very popular in the expatriate community and probably treats more expat patients than all other clinics combined.
Address: Jen Ai Rd, Sec. 4., Taipei
Telephone: 2708-2121
Address: 77 Chung Hsiao E. Rd., Sec. 4, Taipei
Telephone: 2751-0221
Address: 199 Tun-Hwa North Road, Taipei
Telephone: 2713-5211
Cheng Hsin Hospital
Address: 45 Cheng Hsin Rd., Shih Pai, Taipei
Telephone: 2826-4400
Chung Shan Hospital
Address: 11 Lane 112, Jen Ai Rd., Sec. 4,Taipei
Telephone: 2708-1177
Country Hospital
Address: 61 Jen Ai Rd., Sec. 4, Taipei
Telephone: 2771-3161
Mackay Memorial Hospital
Address: 92 Chung Shan N. Rd., Sec.2, Taipei
Telephone: 2543-3535
National Taiwan University Hospital
Address: 7 Chung Shan S. Rd., Taipei
Telephone: 2312-3456
Reputed to be one of the best medical facilities in Taiwan
Shin Kong Hospital
Address: 95 Wen Chang Rd., Shihlin
Telephone: 2833-2211
Sun Yat-Sen Cancer Center
Address: 125 Lih-der Rd., Pei-Tou District, Taipei
Telephone: 2897-0011
Taipei Municipal Yang-Ming Hospital
Address: 105 Yu Sheng Street, Shihlin
Telephone: 2834-9721
Tri-Service General Hospital
Address: 325 Cheng Kung Road, Section 2, Nei Hu District, Taipei
Telephone: 8792-3311
Veterans General Hospital
Address: 201 Shih Pai Rd. Sec.2, Shih Pai, Taipei
Telephone: 2871-2121
One of the largest government hospitals in Taiwan
Hospitals and Medical Centers in Other Areas of Taiwan
Changhua – Changhua Christian Hospital
Address: 135 Nanhsiao Street, Changhua
Telephone: (04) 723-8595
Hualien – Tzu Chi Buddhist Hospital
Address: 707 Chung Yang Road, Section 3, Hualien
Telephone: (03) 857-8600
Kaohsiung – Chang Gung Memorial Hospital
Address: 123 Ta Pei Rd., Kaohsiong
Telephone: (07) 731-7123
Keelung – Chang Gung Memorial Hospital
Address: 222 Mai-Chin Road, Keelung
Telephone: (02) 2431-3131
Linkou – Chang Gung Memorial Hospital
Address: 5 Fu-Hsing Street, Kuei Shan Hsiang, Taoyuan Hsien
Telephone: (03) 328-1200
Taichung – China Medical College Hospital
Address: No. 75 Yuh Der Road, Taichung
Telephone: (04) 205-2121
Taichung – Chung Shan Medical College Hospital
Address: 110, Chienkuo N. Rd. Sec.1, Taichung
Telephone: (04) 473-9595
Taichung – Taichung Veterans General Hospital
Address: 160 Chung-Kang Rd., Sec. 3, Taichung
Telephone: (04) 359-2525
Tainan – Chi Mei Foundation Hospital
Address: 901 Chung Hwa Rd., Tainan
Telephone: (06) 281-2811
Traditional Chinese Medicine in Taiwan
For over 3000 years traditional Chinese medicine has healed sick and imbalanced bodies through massage, manipulation of blood flow and acupuncture. The theories of these practices were long ago outlined in The Yellow Emperor's Classic of Internal Medicine written between the third and first century B.C.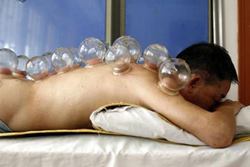 Baguan
Baguan is the art of placing large bell-shaped vacuum caps on one's back (see picture). The idea is to pull blood and any toxins that reside in it to the surface of the body using the strong suction inside the cups. Bringing the blood to the surface draws the toxins out and allows the body to rid itself of disease. The downside is that the cups leave large circular bruises on the skin. These bruises will slowly heal and change back to a normal skin tone over a period of about a month.
Guasha
Guasha will typically follow a baguan treatment. The technique involves pressing a cow-horn implement onto pressure points along the entire back. The tool is then dragged (in a scraping motion) along the back that causes bruising. This brings more of the body's internal impurities to the surface to be cleansed. The next step is an acupuncture treatment to help the body relax and heal faster by balancing the flow of yin and yang.
Acupuncture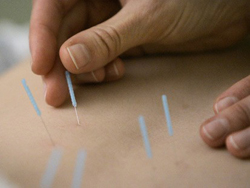 The technique does not always involve needles going into your skin. Acupuncture can also involve using a small steel prong connected to a source of low electrical current. This is pressed onto different pressure points on the body until the flow of electricity stimulates these points. The initial sensation can be very painful, especially if one of the acu-points that is being pressed connects to a body organ or energy field that is unhealthy. The soreness is temporary though and the initial sting is replaced by a sense of relaxation.
In traditional acupuncture needles are pushed into acu-points that are connected with energy fields or internal organs. It is the stimulation of these acu-points that activates that organ or energy field. Through a combination of techniques this stimulation unblocks organs or energy flows in order to induce proper function.
Hair-Pulling
A trained professional will grab your hair in a special way and slowly start to pull. They will start gently but continue to apply more pressure until your eyes become slits and the skin on your forehead is stretched tightly back. The pain involved is exquisite, but when it's done your whole body tingles and feels like rubber.
Pharmacies In Taiwan
Small pharmacies can be found in just about every little neighborhood throughout the country. Here you can find all your common cold remedies as well as other hygienic products. Pricing is very cheap particularly compared to what you may be use to paying back home. If you need to refill a prescription it is best to return to the doctor from whom you received it.