Guide to Taichung [Updated September 2023]
Welcome to our Guide to Taichung! Our staff at Reach To Teach have created handy city guides for our teachers to ensure you can familiarize yourself with this incredible city and with other cities in Taiwan.
Taichung (臺中 or 台中) is the third largest city in Taiwan, located in the west-central part of the island. It has a pleasant climate, and a population of just over one million people. The city is home to many manufacturers and in recent years has experienced rapid growth in the diversity of its cultural offerings.
Among the activities to catch when visiting Taichung: the world-class science museum and hiking in the nearby hills. There are also many famous night markets that provide night-time excitement. Here you can enjoy delicious food and drink, and find cheap and interesting items for sale. These include the ChungHwa night market (中華夜市), the Feng-Chia university night market (逢甲夜市), the Tung-Hai university night market (東海夜市), and the Chung-Shiao night market (忠孝夜市).
Guide to Taichung – History
Aboriginal Era
Taiwanese aborigines originally populated the plain where modern Taichung City is located. They lived by cultivating millet and taro and hunted deer. Several local names in central Taiwan contain the word for "deer," including Shalu Township and Lukang Township in Changhua County.
Early History of Taichung
Taichung was founded in 1705 as a part of Changhua County with the name of Dadun (大墩 or 'large mound'). At this point in history, the Qing Dynasty, formed by invading Manchus in the 1640s, was consolidating its hold on western Taiwan, which it had wrested from the Cheng family in 1682. As a part of strengthening its control, a garrison was founded in 1721 near the site of present-day Taichung Park by Lan Ting-chen.
All was not peaceful for Qing authorities in central Taiwan. North of the city, at the Dajia River, an aboriginal revolt broke out in 1731 after Chinese officials moved in and compelled them to provide labor. After being joined by other aboriginals, they drove as far south as the county seat of Changhua in May, 1732 before being chased into the mountains by Qing forces.
Another rebellion, this one in 1786 against Qing authorities, had its roots in the nearby town of Dali, just south of Taichung City. Led by Lin Shuang-wen, it began as an attempt to overthrow the Manchu government and restore the Ming Dynasty. Unfortunately, as they moved northward, they turned to slaughter and looting. They were eventually defeated by a coalition of Hakka, Quanzhou Fujianese descendants, and Aboriginal volunteers who joined with the government to defeat the rebels.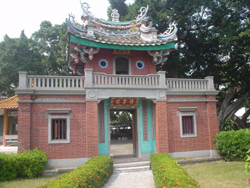 Qing Dynasty Rule Era
Taiwan became a province of Qing-dynasty China in 1885, and the city, named Taiwan at the time, was named capital of Taiwan Prefecture, one of the three prefectures in the newly created Taiwan Province. It was also initially designated as the provincial capital, and Qing official Liu Ming-chuan received the authority from the Guangxu Emperor to oversee the development of the area. However, four years later, Liu was forced to "retire" by Empress Dowager Cixi, and the provincial capital was moved to what is now known as Taipei.
Japanese Colonial Era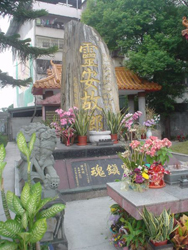 China lost the Sino-Japanese War in 1895. As a consequence, the Qing Dynasty was forced to surrender Taiwan to the Japanese in the Treaty of Shimonoseki. The Japanese changed the name of the city from Dadun to Taichū (台中) and began to develop the city, setting out to make it the first "modern" area of Taiwan.
However, Taichū bore the brunt of early Japanese repression. There were many rebels who stated that they had accepted amnesty from the earlier period of rebellion when the Republic of Taiwan was declared in 1895. However, many of those same people continued anti-Japanese activities. On May 25, 1902, some 360 rebels and their families accepted invitations to surrender and receive amnesty and rewards. Instead of receiving amnesty, once inside, the Japanese locked the doors and slaughtered the former rebels.
Taichū Park was completed in 1903. The old north gate, one of the few Liu-era structures to survive the Japanese reconstruction of the city, was moved to the new park. To this day, Taichung Park is one of the most popular places in the city for people to relax.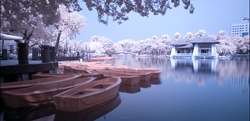 The first market in Taichū was built in 1908 along JiGuang Road between ZhongZheng and ChengGong Roads. It is still used today, and is a popular spot to purchase food and other items in downtown Taichung. Taichung Middle School (now known as Taichung First High School) was founded in 1913 by Lin Hsien-tang and his brother Lin Lie-tang, two wealthy Taiwanese intellectuals of the era. This was done in an effort to teach children the traditional culture of Taiwan and to foster a sense of local pride.
Taichū Train Station was completed and began operation in 1917, and still operates today. Taichung's historic city hall Taichung's historic city hall Shinto Shrine to Japan's WWII soldiers fighting overseas Shinto Shrine to Japan's WWII soldiers fighting overseas.
Taichū was officially designated as a city by Japanese Imperial authorities in 1920, and Taichū City Hall was completed in 1924 after eleven years of construction.
A Taiwanese cultural association founded in 1921 in Taipei by Lin Hsien-tang was moved to Taichū in 1927. Most of the members of this association were from Taichū and the surrounding area. The city became a center of Taiwanese culture and nationalism.
The newfound prosperity of Taichū was eventually squandered by the war effort. When World War II ended in 1945, Taiwan's economy, like Japan's, was in shambles.
Chinese Nationalist Rule Era (1945-1996)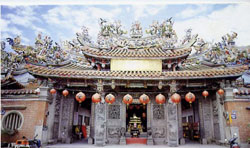 The Japanese were forced to surrender to Republic of China forces on behalf of Allied forces on 1945-10-25, who came across the Strait on U.S. ships and accepted their surrender on behalf of the Allied Powers.
The early post-war era was one of transition and turmoil for Taiwan. Taiwanese nationalists had divided into three prominent groups, one of which was known as the Taichung Clique. These were men with relatively high social standing during the Japanese era, such as Lin Hsien-t'ang, Yang Chao-chia, Yeh Jung-chung, and others. These men attempted to take what they believed to be their rightful place as the political leaders of the island. However, the administrator of the island, Chen Yi, opposed this faction as it contained many people, especially merchants and landlords, who had opposed his policies.
Under the authorities of the Republic of China, Taichung had become the center for organized crime and associated businesses.
The Kuomintang (KMT), also known as the Chinese Nationalist Party, relocated the government of the Republic of China to Taiwan upon losing the Chinese Civil War to the Communists.
Guide to Taichung – Climate
Taichung is blessed with pleasant climate and convenient transportation. The booming tourism in surrounding areas adds distinctive colors to the local tourism industry. The city offers something for everyone in all four seasons and remains one of the most desired destinations for foreign travelers.
The subtropical monsoon climate gives Taichung south wind from June to August and north wind from October to May. The highest temperature appears in the summer months of July, August, and September, and the lowest temperature arrives in the winter months of January and February. The difference in temperature between summer and winter never exceeds 13c.
The city enjoys mild weather throughout the year, with the average annual temperature being a comfortable 23ºC. The average annual rainfall is around 1600 mm. The rain falls generously in the wet season (May – August) and scarcely in the dry season (October – February). The unique landform of basin means that the summers and autumns remain blissfully unaffected by typhoons.
Guide To Taichung – Getting There
By Bus
Bus is the most convenient and least expensive option. From Taipei Train Station, go to bus terminal, take Tong-Lien Bus (統聯客運), Guo-Gung Bus (國光客運). Tickets cost from NT$100-300, depending on the number of passengers. Busses depart several times an hour from the early morning through evenings and the entire ride is about two hours long.
By Train
All Taiwan High Speed Rail (HSR) trains between Taipei and Kaohsiung stop at Taichung. The High Speed Rail station is located on the outskirts of Taichung. You can take a regular train between the two stations in about six minutes, in addition, a free bus is available to take HSR passengers downtown, to the universities, etc.
In addition, Taichung is a major stop along the Western Line with all north and south bound trains a making a stop here. Midrange ticket prices (Jukuang class) typically run around NT$300 from Taipei or NT$350 from Kaohsiung. The entire trip takes about three hours from both Taipei and Kaohsiung. The Western Line station is located in central Taichung.
By Plane
Taichung airport operates mostly as domestic hub, though it does also offer a limited international service to neighboring counties. A flight to Taipei takes 40 minutes, although air service to Taipei has been cut back lately as the High Speed Rail is generally a faster and more convenient way to get there.
An international terminal is being built currently in Taichung and is going to be the largest airport in Taiwan with a floor area is more than 800,000 square meters. This airport is normally compared to the Beijing Capital International Airport T3, The Changyi International Airport T3 in Singapore, and other big airports around the world. This new airport will be home to at least 80 airlines and more than 70 restaurants. The airport should be finished by the end of 2009.
Guide to Taichung – Getting Around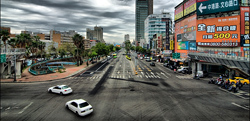 Taichung has a convenient and efficient bus service. For those with a Taiwanese driver's license, renting a used 125 cc scooter is also an option worth considering. Otherwise, you will need to take taxis. Taxis are convenient, and fares start at NT$85. The downtown area is sufficiently compact to make it easy to get around on foot, although many shop owners will utilize the sidewalk in front of their business. This can make walking something of an ordeal, dodging traffic as you are forced to walk on the street.
The city government is currently constructing MRT lines in the city. The future Taichung MRT will have stations at the Science Park, New Taichung City Hall, Taichung Convention Center, Shui-Nan Financial District, High Speed Rail Staion, Taichung International Airport, and more.
Guide to Taichung – What To See And Do
National Museum of Natural Science This is a very large and elaborate science themed museum, actually composed of seven museums in one. Its Science Center features a huge assortment of "hands-on" exhibits that demonstrate scientific principles. The separate Life Sciences section is also very large. There's also a botanical garden, an earthquake museum, greenhouse, global cultures and global environment museums, as well as theaters. Can easily spend more than a day here, especially with kids. 1 Guanchien Road. Tel:+886 4 2322-6940 – Open:9AM-5PM (closed Mondays)
National Taiwan Museum of Fine Arts The Fine Arts museum is a very large and elaborate modern arts museum, featuring rotating visual exhibits. The museum also has a very elaborate children's section, featuring hands-on art exhibits and creative playthings. There's also a children's reading room in the basement with Chinese and English books. Bring your children. Admission is free. 2 Wu Quan West Road, Sec.1 Tel:+886 4 2372-3552 – Open:9AM-5PM (closed on Mondays)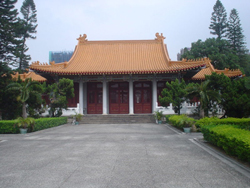 The Parkway is narrow corridor of greenery forms a pleasant parkway which runs south/north between the Museum of Fine Arts and the National Museum of Natural Science, intersected by the main Taizhonggang Rd. You can spend minutes or hours walking along it, or just chill in one of the parks.
The southern end is home to the Art Museum with Modern and Traditional exhibits, a cafe on the third floor and a garden area which is particularly popular with families at the weekend. Linked to the Art Museum is the Taichung City Cultural Affairs Bureau, with a large reading room among other facilities. At the north end of the Parkway behind the Science Museum is a botanical garden home to interesting plants and trees (with a few dinosaurs hiding in them).
You can climb to the top of the little hill and listen to the birds singing. Some Taichung residents do Tai Chi and other exercises outside the Museum, early in the morning. Beyond the botanical garden, is a cycle track and path where the greenery continues through a more residential area. The gardens here are carefully tended by locals. The roses create beautiful perfumes in the evening. Shops on either side include cafe's, restaurants and a 24 hour optician. If you continue walking along this path, it takes you West, past the university hospital to another nice place – Zhongsheng Park. Here there is an open-air swimming pool, old style benches and a foot massage path. From Zhongzheng Park, North and across the river is the Baojiue Temple. South of the park is the Yizhong Street area, Confucius Temple, Martyrs Shrine, Chungyo department store, Taichung Gym and Taichung Park.
Guide to Taichung – Eat and Drink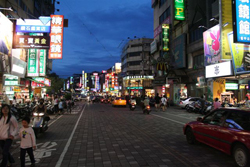 With a proliferation of noodle shops and street vendors peddling anything from the exotic to common household dishes, there is no lack of choice for enjoying local delicacies. Fortunately, the Taiwanese are quite accustomed to non-Chinese speakers, so using gestures will get you what you want (with a perhaps a little surprise!)
89K Pub 89 Chung Ming S. Road. Tel:+886 4 2320-701. Great live music on the weekends. Fantastic Blues band, Boogie Chillin plays there the 2nd Friday of every month. Large screen projector for the big games and music videos. Old school bar with a great atmosphere. Great mix of people. If you want to see some great live bands as well as get your party on… this is the pub.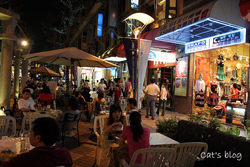 FuBar 25-9 Da Ye Road (Soho Street – a small pedestrian street near down town). Tel:886 4 2310-9401. A sports pub catering mostly to foreigners. All kinds of sports, including hockey, rugby, basketball, american football, and more. TV feeds from Japanese and North American Satellite, and Taiwan cable to watch local games. With simple pub fare and cold beer, as well as outdoor seating, it's a great place to watch the game on the big screen, or just hang out and meet new people.
Stay Safe
Taichung is generally safe as long as you are vigilant at all times. Look both ways before crossing roads, then look again while you cross. Most injuries and fatalities to travelers in Taichung occur from vehicular accidents.
Get Out
As Taichung is located in the middle of Taiwan, it is conveniently located for making trips to both Taipei and Kaohsiung. There are frequent, comfortable and inexpensive freeway-bus services plying the routes. The journey to either city by bus or train takes around 3 hours, or as little as 1.5 hours given optimal traffic conditions.
The Taiwanese High Speed Rail (HSR) is now in operation, and as it will run at up to 300 kph, travel time to both Taipei and Kaohsiung is now as little as 45 minutes.
Taichung is located near several recreational areas. A short distance to the north is a large water park, especially enticing during the hot summer months, while the mountains and lush plains of Puli and Nantou County are within an hour's drive to the east. The coast is a mere half-hour to the west.
Click on the Apply Now button to be taken to our Job Board.