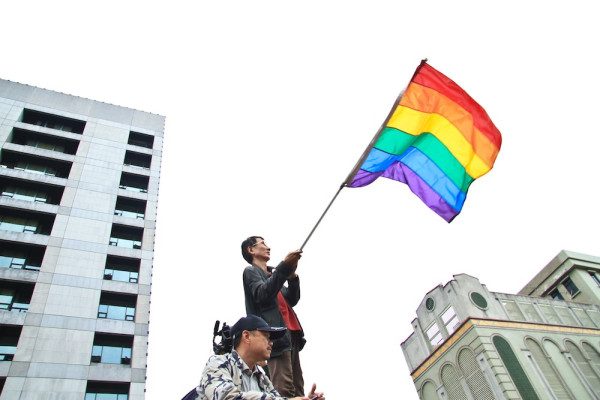 Many of my friends from back in England often ask me what it's like to be gay in Taiwan. My response usually takes them by surprise.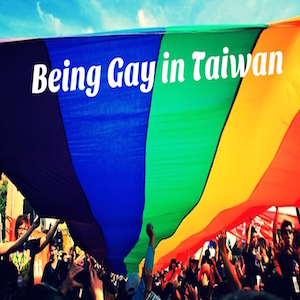 In fact, most people might be surprised to learn that Taiwan is one of the most gay-friendly countries in Asia. Being gay in Taiwan is rarely an issue.
People here are friendly and hospitable and you can be who you want to be in Taiwan. So much so that Taiwan is on the brink of being the first country in Asia to allow same-sex marriage.
Before I set off on my adventure I visited such websites as Spartacus.com to research how gay-friendly Taiwan is. I was surprised and a little worried to find that their performative scale ranked Taiwan as 74th in the world's most liberal and gay-friendly countries to visit, which comes in far below places such as South Africa and Mexico, which are two of the most violent areas to go to as a gay person. That just goes to show you that you can't take everything you read literally.
Mentality
My first thought before making the move to Taiwan was that I was going to be entering a rather oppressive arena that wasn't very liberal. In fact, I was very much mistaken. I have been living in Taipei for a while and I have found it to be the complete opposite to what I learned online. The mentality of the local people towards gay people has been nothing but endearing.
The attitudes of the local community I think are quite unique. From my experiences, they don't care that someone is gay or straight. I have often asked local people about attitudes towards gay people here, whilst preparing for counter attacks in my argument with an arsenal of responses. What I found was that my arguments were snuffed out and I found that they just don't really care if you are gay or straight.
Buddhism is one of the main religions here; the religion is very tolerant of most things as they believe there is always a reason for something that happiness, so they respect it. There are no laws here that criminalize homosexual behavior. Taiwan actually hosts a huge Pride march every year attracting more than 50,000 people from all over Asia (80,000 in 2016 this year).
Drag shows in Ximending and throughout the rest of the city are a regular occurrence. In fact, two of Taipei's most popular divas, Magnolia la Manga and Bouncy Babs are regular guests at local events in Taipei. People turn out in droves to watch them perform.
Socializing
In Taipei, there are ample gay resources including a whole host of gay bars. I was first taken to the Red House in Ximending (Taipei's unofficial gay district) in my second month of being here. Behind the Red House is a string of really nice bars with huge outdoor seating areas that are absolutely packed full of people at the weekends.
Cafe Dalida has to be my favorite as it serves up delicious cocktails, drag DJs, and wonderful staff. If you're gay, lesbian, straight or whatever, it really doesn't matter, it's a great place to sit outside, people watch, and enjoy some drinks.
If you want something a little faster paced than bars with outdoor seating then there are a number of gay clubs you can visit which all have different vibes depending on your musical tastes and what you are looking for.
Check out G-Star if shaking your shimmy to K-Pop is your thing, drinks aren't too expensive and it hosts a good 'twink' scene. If the dance and house scene is more your thing then you should definitely check out the WERK! party at Triangle, great music, brilliant venue and excellent drag shows.
Now, often girls can get slightly forgotten about when talking about the gay scene in a city; well let me reassure you ladies, this will not happen on my watch! There are equal, if not more, resources for gay girls than there are for guys. The lesbian scene in Taiwan is large, and you see more lesbian couples holding hands and appearing more 'out' than what you do guy couples.
There is also Club Taboo which hosts various events and is almost completely lesbian, whilst guys pay more for entry. They have a good mix of events to keep you occupied and drinks prices aren't too bad. For more lesbian resources including libraries, cafes, meeting places, and to see how you can get more involved in activism in Taipei, check out Autostraddle for the Queer Girl City Guide to Taipei, Taiwan.
Aside from bars and clubs there are also popular gay hangouts here including a gay beach, two popular gay hot springs, various cafés and even gay libraries. 
Resources
Doing my research before my move and whilst here I have found a few good resources to check out. Utopia is a good all round resource for gay travelers in Asia. Here you can find information on the best gay areas to visit, complete with reviews.
You can also check out purple roofs for more information about traveling Taiwan, local issues, and events to visit.
Be sure to check out the official Taiwan Pride March website for regular updates on current issues in Taiwan and information regarding the next big march. You can also check this website to see if you can get involved in any way. Some of it is in Chinese, but there are emails you can use to gain some more information.
Moving to Taiwan and looking for a gay-friendly place to stay? The Three Little Birds Hostel may be just the thing. This is an LGBT friendly hostel that offers great prices, beautiful decor, airport pickup and is in a great location next to Taipower Building MRT (brown line).
Articles:
Taipei is named the gay capital of Asia and it didn't earn this title by sitting on its glittery pink bottom and doing nothing. It is a place where gay guys and girls from all over Asia come to visit and revel in its openness and acceptance. I've seen guys walking down the street holding hands before, showing a confidence in their sexuality which wouldn't be there if Taiwan wasn't such an accepting country. I feel very comfortable as a gay man in Taiwan, and I would recommend Taiwan as a destination for any gay traveler.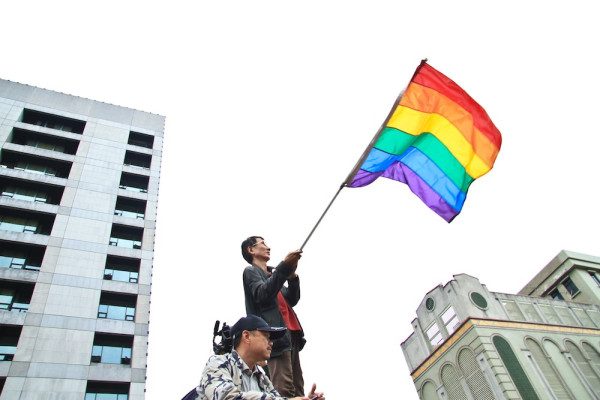 Article by Dean Barnes. Photo by Carrie Kellenberger
Please share!