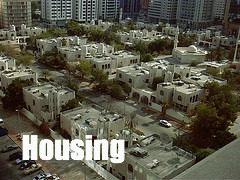 One of the great benefits about being a teacher in the UAE is that accommodation is provided. An even greater benefit is that housing in the UAE tends to be pretty swanky. You can expect to find a great apartment, either shared or single, with furniture provided or with a furniture allowance so you can furnish the apartment yourself.
Usually in the UAE if you want to rent an apartment then the landlord expects the full annual fee upfront, some landlords will accept a series f post dated checks which the tenant must make sure they do not bounce, allowing a check to bounce is illegal in the UAE.
Of course employers realize that arriving in the UAE with a full year rent is not so easy, which is why they opt to supply the teacher with the accommodation as part of the employment, to avoiding any unnecessary struggles.
What's more is that with a teaching benefits package you will get either some or all of your utilities paid for you, so the money that you make isn't being budgeted on rent and bills, it can be spent more on you or saving money.
What to expect
Of course not all of the apartments provided are going to be exact replicas of each other, so you should expect some differences from apartment to apartment. However there are some things that each apartment will have.
Due to the soaring temperatures and humid air in the UAE, air conditioning will be provided in every apartment.
Apartments have a nice bedroom which usually comes with a double bed and a wardrobe. You will have a lounge/living room with a sofa and a TV and usually a table with chairs for you to dine at. The kitchen should be furnished with a stove oven, refrigerator, washing machine and microwave.
All apartments com with internet but not all apartments come with a bath tub, those that don't of course have a shower room.
IKEA can be found in various locations so if you want to buy more furniture or make your apartment look a little more modern then there is opportunity to do so.
Please share!