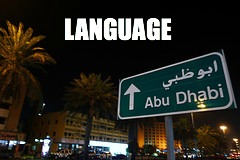 The official and national language spoken in the United Arab Emirates is Arabic; however there are a number of other languages that are spoken within the UAE. English is used as a second language, excellent news for us westerners who don't quite know the lingo yet.
Now the other languages, along the gulf the dialect of Arabic is spoken among the Emirati people. The official language of Kerala (India) is Malayalam and is spoken widely in the Malayali community which forms the main bulk of the Indian community in the United Arab Emirates.
As well as these languages there are also Hind-Urdu and Tagalog which are languages commonly spoken by south Asian and Philippine dispersions.
What this information reflects is the multiculturalism of the UAE. Many different cultures have filtered into the emirates creating a diverse population.