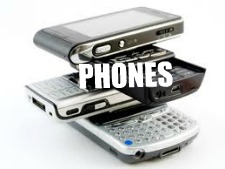 One of the first things you are probably going to want to do when you move to the UAE is to get a mobile phone. Now, you probably won't be able to get a phone plan straight away, instead you will have to get a prepaid phone, this is because you don't have your visa or a local bank account set up.
With these prepaid phone you can buy prepaid cards with a certain amount on them to top up your phone credit that can be used for calls, SMS, and data (if you wish to use your internet), these cards can be bought from local shops/supermarkets. Usually the more you put on your phone the bigger the discount.
Once you have your visa/bank account set up you can then apply for a phone plan. You have the option of sticking with the prepaid plan to avoid bills, or you can choose the post paid plan.
There are 2 providers in the UAE, Eristalat and Du. Both of these providers give pretty good deal on phones, and most deals offer international calls be warned there are some odd catches, for example only being allowed a Smartphone after being with Esistalart for 6 months.
Some advice, don't choose a really expensive phone plan to begin with, you always have the option of upgrading your plan, but you can nit downgrade it. Start low and work your way up to one that suits you.