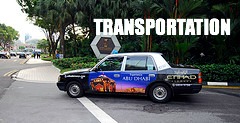 Since you're moving to the UAE, you're probably wondering how you're going to get around. You might be surprised to learn that public transportation, for the most part, is fairly inexpensive in the UAE. Expect traffic congestion, though. The UAE is growing at a fast pace, and with the amount of construction going on in the cities, it's easy to see why roadways might be clogged. Here's a breakdown of what you can expect to see on the roads in the UAE.
Private vehicles
These are probably the most common type of transport in the UAE. Most people have their own cars and use this as their means of transport. You have to be 18 years old or over to drive a car in the UAE and woman are allowed to drive.
There is a massive road system which connects all of the coastal cities of the UAE. However the dessert is a lot less developed in this sense. Making getting around a lot more difficult.
Taxis
Taxis in the UAE are relatively inexpensive and safe. Most large cities have extensive taxi systems, which are by far the most frequently used means of public transport within the Emirate. You'll find government-operated and private cab companies in operation. Meters generally start at 6.00 Durham and are charged by the distance at 1.5/km
Buses
There are bus systems in the UAE which can come regularly and are fairly efficient. The bus will not cost you much but the travel can be a little far and tiresome. You can also travel in between cities using the bus service as well as inner city bus services.
Rail
Transport by rail is not very popular in the UAE, however this is an area that is up and coming in the UAE. Most people choose to get around by taxi or in their own car, and this is how it has been for a long time, so the train system has been slow to develop.