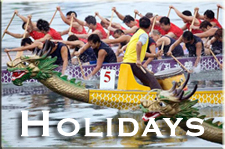 Because of the Western and Eastern influence in the city, the people of Hong Kong celebrate a diverse range of holidays throughout the year.
The list of holidays in Hong Kong include:
Hung Shig Festival, Ching Ming Festival, Birthday of Tin Hau, Cheung Chau Bun Festival, Birthday of Buddha, Birthday of Tam Kung, Dragon Boat Festival, Birthday of Kwan Tai, Seven Sisters Festival, The Hungry Ghost Festival, Mid-Autumn Festival, Monkey God Festival, Birthday of Confucius, Chung Yeung Festival, Winter Solstice Festival, and the Chinese Lunar New Year.
The Chinese Lunar New Year is the most prominent holiday on the calendar. The holiday lasts 15 days long on the first lunar day of the first lunar month. On the first day of Chinese New Year, people go to their local temple to pay respect to their ancestors. This is typically done by lighting incense.
Day Two is the Birthday of Che Kung, a Song dynasty military commander. People spend this day showing respect to Che Kung and hoping to be blessed with a year of good fortune.
Day 15 is the last day of the Chinese New Year and it is referred to as the Spring Lantern Festival. This event was first used to worship Buddha, but it is now common for people of all religions to light lanterns on this day.
Additional Resources
to teach English in Hong Kong
Please share!