We regret to inform you that our Georgia program is closed.
Why teach English in Tbilisi?  There is a huge need for English teachers in Tbilisi since Georgia's Ministry of Education made English language instruction an important part of its public school curriculum in early 2010.  You can live and work in the gorgeous city of Tbilisi among a diverse group of Georgians and foreigners.
Teach English In Tbilisi: The Heart of Georgia's Culture and History
With nearly 1.5 million people, Georgia's capital city of Tbilisi is the perfect location for an English teacher who wants to be at the center of everything.  The city boasts the best in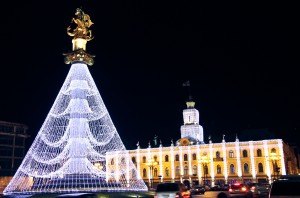 Georgian culture, history, and nightlife, as well as quick and easy access to snow-capped mountains, stunning scenery and great outdoor adventures.
Tbilisi's history is a long and fascinating one.  Since the 5th century AD, Tbilisi has been at the center of many major historical events and it has been influenced by the peoples of Persia, Arabia, the Turks, the Byzantine Empire, Mongol armies, and the Soviet Union. Its fortresses, cathedrals, old neighborhoods, and diverse population all bear testament to its long and varied heritage.
In the last decade, Tbilisi has made many drastic political and economic changes. Since the 2003 Rose Revolution, the city has been rapidly modernizing its transportation, education, and infrastructure. Gleaming skyscrapers, modern architecture, and an increasingly global population combine with tradition to create a vibrant and rapidly changing city. This is an exciting time to be teaching English in Tbilisi!

Living in Tbilisi
Climate
Tbilisi's moderately humid subtropical climate is tempered by the surrounding mountain ranges and nearby lakes. This gives the city a comparatively mild climate. However, you can still expect hot summers and chilly, snowy winters. Summer highs average around 88 ⁰F (31 ⁰C) and winter lows typically reach 29 ⁰F (-1 ⁰C).
Cost of Living
Teaching English in Tbilisi is a great way to be at the center of Georgia's culture, entertainment, and political scenes, although your daily expenses in a big city will always be higher than what you'll experience living in a more rural area. In general, Georgia is a very affordably place to live. You'll earn enough from your monthly stipend to be able to travel and have an active social life since the average monthly salary for a local teacher is between 100 and 150 Lari and you'll be making five times that amount. For example, you should expect to pay a couple of dollars for a casual meal out and it costs around  $0.30 for a one-way ticket on public transportation. Of course, your cost of living depends a lot on your lifestyle, but with your housing provided and many of your meals cooked for you by your host family, you will find that it is easy to get by in Tbilisi. While you shouldn't expect to save large sums of money, English teachers in Tbilisi find that they can live comfortably on their stipend.
Transportation
Tbilisi has a modern metro system connecting most of the city. In recent years, the government has allocated considerable funds to improving the quality and service areas of the Tbilisi metro, making this one of the fastest and most convenient ways to get around the city.
There are plenty of busses running along numerous routes through the city. While many of the bus signs are only in Georgian, the local bus system and subway system in Tbilisit have been going through a lot of upgrades. Electronic bus signs, as well as more English route maps, are being incorporated into the system, making it easier to get around by bus.
You can also find plenty of taxis driving around Tbilisi's streets. Be aware that most of these are privately owned and they don't generally run on a meter. Make sure to negotiate a price in advance!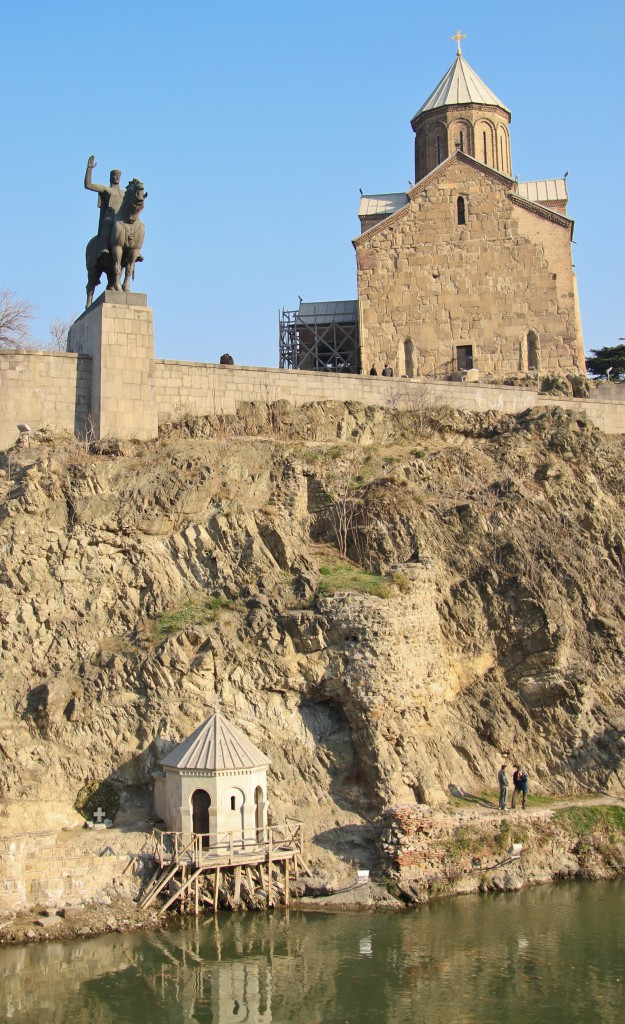 Things to do in Tbilisi
If you're coming to Tbilisi to teach English, you;'ll have plenty of free time to explore the city.
Tbilisi's rich history and its location at the crossroads of Europe and Asia mean that there are plenty of cultural and historical sights to see. You could easily spend your afternoons roaming the streets and appreciating the eclectic architecture. Ranging from old world building complexes and the narrow streets of Old Town, the city's architecture bears influences from the Middle East, Byzantine, and neoclassical European styles.
If you are interested in delving deeper into Georgia's cultural heritage, Tbilisi has museums, galleries churches, cathedrals, basilicas, and even a fortress. There are also a number of near-by historical sites such as a pottery village and one of many unique cave monasteries.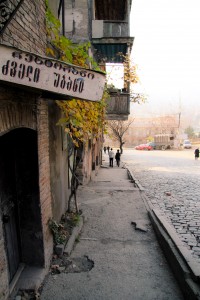 Getting out of the city makes for a refreshing change. Because of its central location, Tbilisi is a perfect base for travel and adventure. For a quick day-trip, head to one of the picturesque lakes that lay within a short drive from the city. Tbilisi is surrounded nearby mountains, which are the perfect playground for any hiking or mountain climbing enthusiast; offering endless opportunities for beginners and advanced hikers alike.
As it is, by far, the biggest city in Georgia, Tbilisi gives you lots of choices for entertainment. Modern clubs and bars are popular with the younger crowd, and the city is also host to a number of bands and music festivals throughout the year. If you are looking for a quiet night out, check out Tbilisi's numerous movie theaters showing the latest Hollywood releases and local films or spend the evening watching an opera show or a local dance or music performance, of which there are many to choose from.
Trendy cafés make for another great place to hang out. Tbilisi's Internet cafés/bookstores are a popular place to spend the afternoon browsing the books, surfing the net, or chatting with friends. The most famous of these is Prospero's Books/Caliban's Coffee House. This laid-back venue offers a large selection of new and used English books, as well as being a hub for connecting with other English-speakers and ESL teachers in Tbilisi.
Tbilisi also has restaurants with cuisine from all over the world.  Try the local food, treat yourself to a Western style meal, or try some Japanese cuisine—you won't get bored with the food in Tbilisi!