Teach English in Telavi, Georgia

We regret to inform you that our Georgia program is closed.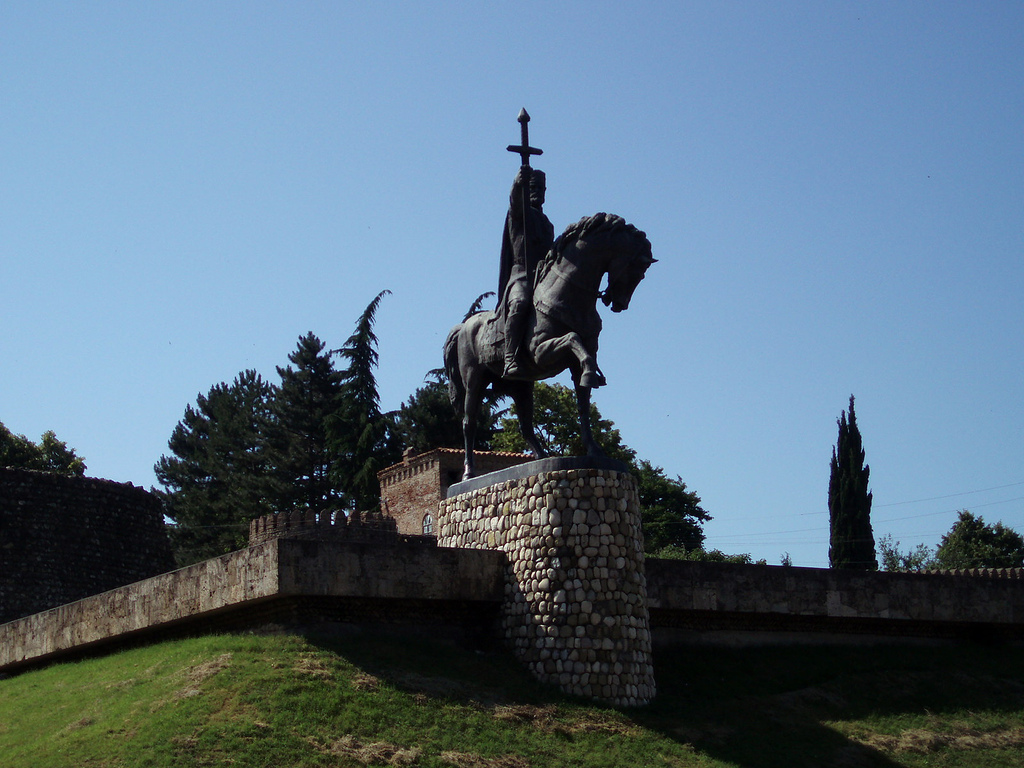 Telavi is a small city in Kakheti, Georgia's eastern-most region. In the heart of Georgia's wine country, the region of Kakheti is filled with stunning views of the Causasus Montains, small villages, and a rich historical setting. Its capital, Telavi, is the largest city in the region—but with a population of just over 20,000, it still has a warm, small-town feel.
With its wealth of surrounding historic monuments, its welcoming and friendly people, and its amazing scenery, Telavi is drawing more and more visitors. Teaching English in Telavi is a great opportunity to experience the laid-back life of a small Georgian city, while still having access to Kakheti's fascinating historical sights and stunning snow-capped mountains.
History of Telavi
Although settlements have been found here dating as far back as the Bronze Age, Telavi first became important in the history of the region in the 8th century A.D. When the ancient Kingdom of Kakheti was in power, Telavi served as its capital. From the 10th to the 12th century, Telavi was the political and economic center of this kingdom.
However, after the fall of the historic Georgian kingdom, Telavi entered a period of decline. It wasn't until the 17th century, when the Kingdom of Kakheti was revived, that Telavi regained its role as capital. Both the kingdom and its capital city of Telavi reached their height in the mid- to late-1700s, under King Erekle II. Erekle II is a towering symbol in Georgian history. During his reign, from 1744-1798, he instituted reforms to nearly all aspects of life. He brought in western scholars and scientists, as well as establishing a theater, and a theological seminary. He was also a driving force behind political, economic, and cultural reforms, driving the kingdom toward a more European culture, and closer relations with European powers. Although he was born and died in Telavi, his influence reaches throughout all of Georgian culture.
Telavi's golden era lasted until the early 1800s, when the Kingdom of Kakheti was annexed by Russia. No longer the capital, Telavi shrunk in population and importance. It still retained most of its historical sites, as well as the small-scale industries, vineyards, and agricultural centers that make up the bulk of its economy.
Modern Telavi
Despite being the largest city in the Kakheti region, modern Telavi is fairly small. With a population of only around 20,000, it's a perfect place to escape the bustle of the larger cities. Although there is not a lot to do within the city, Telavi attracts visitors because of its scenic views, and the easy access that it gives travellers to the nearby mountains and the many historical sites in Kakheti.
Some of the best things to see while based in Telavi are:
Tusheti – Filled with small villages and settlements where local traditions run strong, Tusheti is a remote and isolated historic region. The inhabitants are mainly mountain tribes whose livelihood is sheepherding and cattle breeding. Tusheti is a popular hiking area, with peaceful walks through scenic mountain areas past snow-capped peaks, or demanding treks up to the tops of some of those peaks.
Batonistsikhe Castle – This famous castle was home to many Kakhtian kings during the height of the Kindgom of Kakheti. The Persian style palace within the Castle's walls is where the famous King Erekle II was born and died.
Tsinandili – This village just outside of Telavi is the site of a large former estate. It is also the site of Georgia's largest and oldest winery. The winery still produces a famous and well-regarded dry white wine.
Bodbe Monastery –This famous historic monastery still functions as a nunnery today. The monastery was built in honor of St. Nino, an important female figure in Georgian history. In addition to functioning as a nunnery, it is also an important site of religious pilgrimage.
Sighnaghi – This picturesque historic village is an easy day trip from Telavi. Ancient traditions and lifestyles are still alive in this small village, making it a fantastic way to glimpse Georgia's customs.  (Read more about Teaching English in Sighnaghi)
Teaching English in Telavi gives you the chance to see many of Georgia's most impressive historic relics, as well as some of its most amazing mountain scenery.  Plus, with friendly locals and a laid-back feel, this small city is the perfect base for a teaching in Georgia.