Teach English in Shijiazhuang!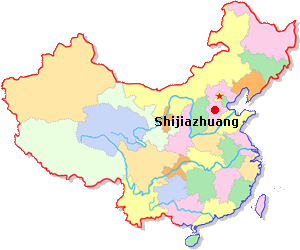 Shijiazhuang is located in Northern China and is the capital of the largest city in Hebei province. It is a city that has seen a fast growth in population over the past 30 years and has more than quadrupled in that time, making it a city of constant expansion.
Shijiazhuang is only 280 km away from Beijing and is made up of 6 urban districts that covers an area of 15.8 thousand square kilometers (6100.4 square miles). There are 12 counties, 5 county-level cities and 1 national-level new and high-tech development zone under its prefecture. The population of Shijiazhuang hits 9.395 million, 2.313 million of which live in the urban area.
Within this city you can find a large store of military troops that are in place to protect Beijing. There are also a number of big universities and colleges to visit. The city is also environmentally aware and in 2012 launched a project to replace all coal fire boilers with gas fir ones in an attempt to reduce its carbon footprint.
Requirements
Full BA degree
You must be a native English speaker from Australia, Canada, England, Ireland, New Zealand, South Africa or the United States.
No experience required
History

Although today we see Shijiazhuang as a large fast growing city, this was not always the case. Originally Shijiazhuang was a county that was abolished by the government when they were re-organizing the local governments, making the location merely a market town. It wasn't until 1905 that this area began to really grow when the Beijing railway hit the area which in turn opened up new avenues for trade. The railway system really had a huge bearing on Shijiazhuang becoming a big city making it a railway town for many years.
Today Shijiazhuang is best known for its industrial status in industries such as the textile industry.
Weather
The weather in Shijiazhuang can vary quite a lot; during the summer time you can expect the weather to be very hot and humid due to the East Asian monsoon reaching temperatures of 35°C/95 °F. This then changes during the winter months to a dry, cold and windy winter, influenced by the large Siberian anticyclone. So you can expect lots of snow reaching temperatures as low as -17 °C/1 °F
Autumn and Spring can be similar in temperature and lack of rain, usually you can expect nice warm weather.
Things to Do
Shijiazhuang is a city that is filled with historical sites and beautiful scenery. It is a great city to explore, plus it has excellent transport making visiting neighboring areas easy.
Here are just a few things you can do in Shijiazhuang.
Visit Zhengding
Are you a complete culture vulture? Looking for an area to soak up China's vast culture? Do you like looking at pretty things? Then look no further. Zhengding is a national level historical and cultural county in Shijiazhuang and is an area that is dripping in cultural points of interest. Do you like the look of pagodas? This place has four you can visit. Maybe temples are your thing; choose from the 8 you can find here. Zhengding also offers its tourists nine pavilions to visit and a whopping twenty-four golden memorial archways.
Scenic areas
Do you long for the beauty of nature to feed your mind with tranquil thoughts and peace? Shijiazhuang offers a number of areas where you can achieve just that.
Mount Cangyan is a beautiful part of China, if you are looking for the green plush mountain meets ancient temples scenery then this definitely ticks all of the boxes, check out the picture to the right for a taster.
Speaking of mountains, how about taking a hike up Tianguishan Mountain for spectacular views and scenery that will make your jaw drop. Expect jagged mountain peaks jutting out of the tops of soft clouds as you hike along the thin dubious hiking trails with a view that is beyond words.
This mountain truly is a scenic paradise and is actually divided up into 8 scenic spots including the Yinghe (Milky-way) cave, Xuanwu Peak, Wanghai (Sea-watching) Peak and Qinglong Taoist temple being the central scenic spot.
Other areas of interest
For an interesting temple be sure to visit the Longxing Temple which houses the largest ever copper figure which is a thousand armed Avalokitesvara Bodhisattva in China as well as the fantastically designed statue of the Vairocana Buddha.
Be sure to also visit the Zhaozhou bridge, also known as 'the first bridge under heaven' which is a stone bridge as old as 1400 years. It makes for a pleasant day in summer to walk along the waters edge to get to the bridge.
Please share!