RTT April 2012 Taiwan Event – A Day of Biking in Taipei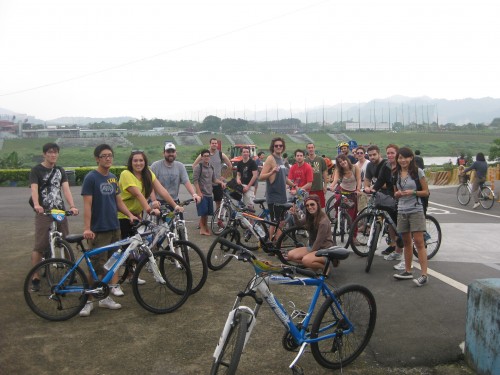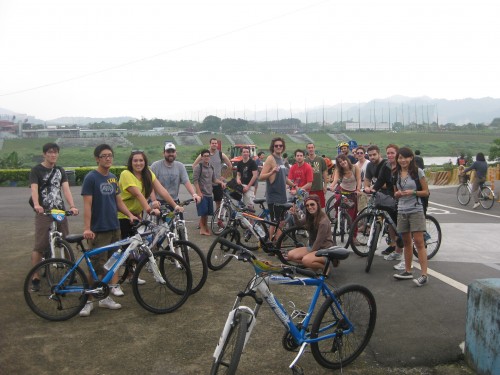 Although the skies were typical Taipei grey and the threat of rain loomed over us all afternoon, the Reach to Teach bike ride from Gongguan to Xindian went off without a hitch or a single raindrop. A large group of Reach to Teach members and other fellow teachers met at Gongguan to rent our bikes, and then we set off down the river. It was a beautiful ride; not too long and not too short, and full of scenic views, open space and fresh air that is sometimes hard to come by in Taipei City. It was a refreshing and relaxing ride.
After about an hour, we arrived in Xindian. After dropping off our bikes, we walked across the suspension bridge that hangs magnificently over the river. Although this experience is not for those with fear of heights or a weak stomach, the views from the bridge make the trip well worth it! After conquering the bridge, our group set off to explore the Xindian harbor front. Overall, Xindian felt like a mix of California boardwalk, charming Taiwanese village, and romantic European town all in one. The boardwalk was full of friends, families, and couples walking their dogs, hopping into four-person paddle boats, or strolling along, something that reminded me of my boardwalk experience in California. After walking up a few flights of stairs we encountered the harbor front restaurants, boasting spectacular views of the river, romantic lighting, and vocal entertainment to set the mood. Then, behind the harbor front lay the market with all sorts of vendors advertising an array of Taiwanese street food and trinkets to sell. The atmosphere was lively and eccentric, and unlike anything I have experienced in Taipei.
After exploring the beautiful harbor front our stomachs were calling to us for some nourishment and so we settled in for some Western fare at the Green Hornet pub. After filling ourselves up on some much-needed chili, burritos, nachos, and pasta, we made our way to Xindian Station and hopped on the train back home. Overall, it was a unique, fun, and interesting way to spend a casual Sunday, and I would recommend the trip to anyone! As for myself, I will definitely be returning to Xindian very soon to have a ride on those paddle boats.