5 Awesome Korean Summer Festivals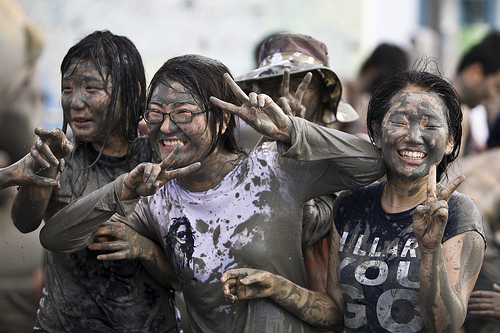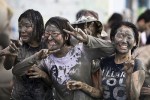 Summertime in Korea has so much to offer to those looking for some seasonal entertainment. One of my favorite things about Korea is the festivals here. They're usually big, flashy, and always done right. Although there are countless fun and interesting festivals occurring all throughout Korea during this time of year, I'm here to share my favorite 5 with you.
1. Boryeong Mud Festival

Probably the most well-known summertime festival in South Korea, the Boryeong Mud Festival lasts for 10 days on Daecheon beach. During that time participants can enter mud wrestling contests, enter photo contests, and even take a turn slipping down the mud slide. Once you've had your fill of mud and sunshine, you can always buy mud cosmetics, mud face masks, and moisturizer to take back with you when you head home – a sweet token to remember the festival while achieving beautiful skin.
2. Haeundae Sand Festival 
Another summertime fun in the sun festival to check out is the Sand Festival on Haeundae Beach. The eco-friendly fest attracts people of all ages to the beach every year in June to see giant sand sculptures and even try their own hand at learning to sculpt sand themselves. There's music, movies, and a playground proven to be a great success in bringing in visitors from around the world.
3. The 15th Seoul International Cartoon & Animation Festival
July 22 – 27, beat the heat in a cool, air conditioned film screening! Namsan will host the 15th Seoul International Cartoon & Animation festival. Exhibitions and screenings will be scattered throughout the trendy area in Seoul. To choose which screenings you'd like to watch and where to purchase tickets you can visit the guide map here.
4. Ulsan Grand Park Rose Festival
This beautiful festival in Ulsan should not be missed. Running for a month starting in May, the gorgeous Rose festival showcases 1.2 million (did you read that? Million) roses throughout the famous Ulsan Grand Park. To the delight of children, the festival holds a parade, bubble shows, and photo contests. Those who are in the mood for some music and Korean culture can enjoy the Rose Valley Concert where performers dance, sing, and play instruments for the crowd.
5. Craft Beer Fest Korea
And now for the grand finale of my favorite summertime festivals here in Korea, I preset the Craft Beer Festival in Seoul. July 5th is going to be a marvelous day in Seoul because the owners of craft beer pubs will join forces to showcase their unique and delicious beer. Early-bird tickets are 25,000W, and while door tickets were quoted at 40,000W, tickets have actually sold out this year. It appears Korea is starting to appreciate good beer and shun the evilness that is Cass beer.
The festival will showcase 24 different craft beers varying from thick, frothy porters to hoppy indian pale ales. Each ticket gives you 8 types of craft beer tasting, a slice of pizza from California Pizza Kitchen, and various bar snacks like salty duck jerky. Along with food and booze, there is an entertainment area set up where bands will entertain brew enthusiasts. Craft beer, pizza, and live music, can you think of a better way to spend a Saturday evening? I sure can't which is why I bought my ticket the second they went on sale! Hope to see you there!
 If you live in Korea, what festival is your favorite to attend? Tell us in a comment below! We'd love to learn more about your favorites and recommendations!