Christmas in Taipei

The end of 2015 is fast-approaching, which means the holiday season is upon us. Expats are getting that warm, fuzzy Christmas feeling inside and memories of running down to the Christmas tree on the morning of the 25th are beginning to materialize; however, for the locals, life continues on as normal on Christmas day.
Christmas is not an official holiday in Taiwan so people will still go to work, students will still be in school, and shops will still be open. Also, there will most definitely not be any snow on Christmas day in Taiwan (there probably won't be anywhere I'm from in Maryland either, stupid global warming).
However, do not fret! There are still plenty of ways to get into the Christmas mood here in Taipei. Being fairly westernized, Taipei offers expats the feeling of Christmas without the mad dash to buy and exchange gifts. Decorations are set up all around the city and businesses offer special Christmas meals and deals.
Below are a few of the Christmas happenings around Taipei:
Food
Many hotels and businesses offer Christmas deals for dinners and buffets. A majority of the places will offer special dinners on December 24th and 25th. A majority of the dinners will run somewhere from NT$1500 – 2000 for the higher class places and around NT$1000 for the more casual experience. All of the following businesses can be found on Facebook and reservations are recommended.
Other places such as TGI Fridays, Ruth's Chris Steakhouse, Hard Rock Café, Tony Roma's, and independent Western restaurants will have Christmas dinners as well.
Attractions
Many places around Taipei decorate in Christmas fashion. The SOGO's and big department stores deck the halls with lights and decorations.
Christmas Land in New Taipei City. This is going to be THE place to visit during the holidays. With a huge array of attractions, decorations, food, games, and music this will be an attraction you will not want to miss. It will boast the first 360- degree 3D projection mapping Christmas tree in the world. Located right off the Banqiao MRT line it is easily accessible and a DEFINITE must-see this season. Visit Christmasland this coming weekend, December 19-20 for the main events. Click on these links for pictures and detailed information.
Zhongxiao Dunhua MRT area has plenty of decorations. Do some walking around of the large department stores there. There is a huge Christmas tree set up in front of the SOGO there that is bound to make you feel a little more at home.
Zhongshan MRT area also boasts plentiful decorations and music. A stroll around the area will make expats feel like they're shopping back home.
北極熊滑冰世界 Polar Bear Ice Skating World will make you feel more at home with a nice ice skating session. Located at Ximending in the Eslite shopping mall. Polar Bear Ice Skating World

Taipei Arena also offers ice skating as well.
Events
If you are in the mood to party during the holidays Taipei will, as per usual, have some clubbing and concert options as well.
Paris Groove in Taipei @ Neo Studio, December 26th. This concert will have some pretty awesome DJ's, including the Daft Punk Crew! Advance tickets are NT$1200 until December 25th then are NT$1500 at the door. Paris Groove Taipei 2015
Adult Game Club / X-Mas Special @ Korner, December 25th 11:59pm – December 26th Not 100% sure on the details of this event, but it looks…well…adult. NT$200 w/ 1 drink. Adult X-Mas @ Korner
Ummet Ozcan @ OMNI, December 25th 10:30pm. Another amazing DJ comes to OMNI Christmas Day. Buy tickets at the kiosks at 7-11, Family Mart, [insert convenient store]. Tickets are NT$1500 presale and NT$1800 at the door, if it's not sold out. Ummet Ozcan @ OMNI
There are bound to be more events happening around the city that I have not mentioned here. Keep an eye out on Facebook for more events. Also, type in a search on Facebook for the nightclubs in the area: Elektro, Wave, Halo, and Triangle just to name a few. They will likely have a special themed party for the holidays.
Clearly, the options in Taipei for Christmas abound! There will be plenty to do, eat, and see during the holidays; however, there is one thing that I couldn't write up because it's not something that you can search for on the streets of Taipei.
Family and Friends.
This is what the holidays are really about. Get together with your family and that doesn't necessarily mean your immediate relatives. You have a home away from home here in Taipei with friends that are your family. Spend time with them during the holidays. Whether you're at home relaxing with a bottle of wine or going out for dinner, ice skating, Christmasland, and a concert, spend time with family.
Have a Merry Christmas and Happy Holidays!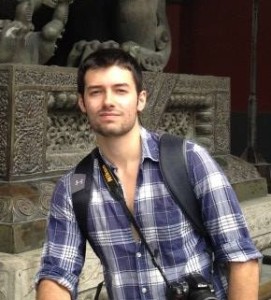 Vadim Rubin is an ethnic Belarussian learning to speak Mandarin Chinese. He is a coach, teacher, linguist, athlete, and an aspiring world traveler. As an avid volleyball player and coach, he spends a majority of his time on the court with sweaty volleyball junkies. Off the court he enjoys to travel, write, and teach world languages. In the summer of 2012 he traveled to Taiwan to study Chinese and wrote about his adventures in his blog: 三個月在臺灣 My Three months in Taiwan . He documented his adventures in Taiwan and China on his blog  Where's Your Inner Child? He is now back in Taiwan teaching English, traveling, and discovering what life has to offer. – See more at: Vadim Rubin, Author at Baltimore Post-Examiner