Reach to Teach Christmas Event at Dozo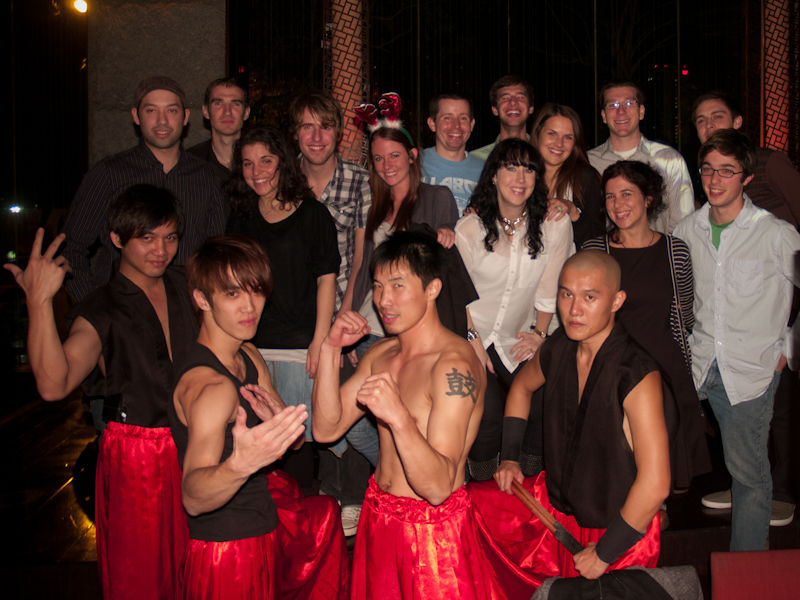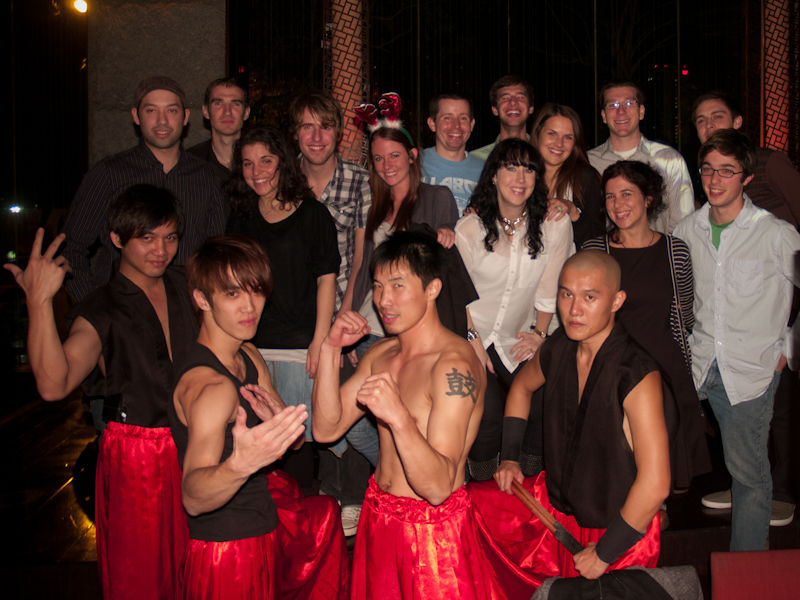 BREAKING NEWS: A group of Reach to Teach teachers were caught stealing the show from a group of Japanese drummers at Dozo Restaurant in Taipei on Saturday Night.
Joking! We didn't steal the show, just a little bit of the limelight! We were invited up onto the stage to join the drummers for a mini Reach to Teach to photoshoot.
The back-drop for our photo shoot was Dozo Japanese Dining Bar. An amazing atmospheric restaurant with Japanese drumming entertainment and an award winning menu. This was the venue for our Reach to Teach Christmas party. There wasn't a slice of Turkey or a brussel sprout in sight. Instead we feasted on an array of delicious dishes including grilled squid, sushi, deep fried dumplings and octopus. Washed down with beer from the beer taps situated at either end of our table!
The drummers took to the stage at 8pm to perform and lucky for us (not so lucky for our ears) we had front row seats! The performance was great, very tribal and energetic, and the drummers certainly won a few admirers from our table. I think it was because of their drumming talents, nothing to do with their impressive muscles of course!
Full of food, beer and Christmas spirit, we left Dozo and headed over to the Taipei Artists Village to continue the Christmas celebrations. Wow, what a place. Most of us had never been there before and were amazed by what we found. Once an old government office building this amazing space is now a hub of artistic talent with artists and performers from around the world making use of the individual artist spaces, rehearsal rooms and studios.
We joined the party fairly late on in the evening, but nevertheless we still managed to catch music from a Ween cover band, beats from a DJ from Detroit, a bit of synth punk and some live electro! We hit the dance floor and hung out beneath the stars drinking mulled wine and enjoying the amazing atmosphere. (As well as the  delicious smells coming from the BBQ)
All in all- this was the strangest Christmas party I have ever attended: octopus, Japanese drumming, synth punk and and a BBQ. However, I can honestly say I didn't miss the usual Christmas songs, Christmas party hats or crackers one bit! It was one of the most memorable and enjoyable Christmas parties I have ever been to! So thank you all so much for coming, hope you all have a great Christmas. See you in January!