Taipei Night Markets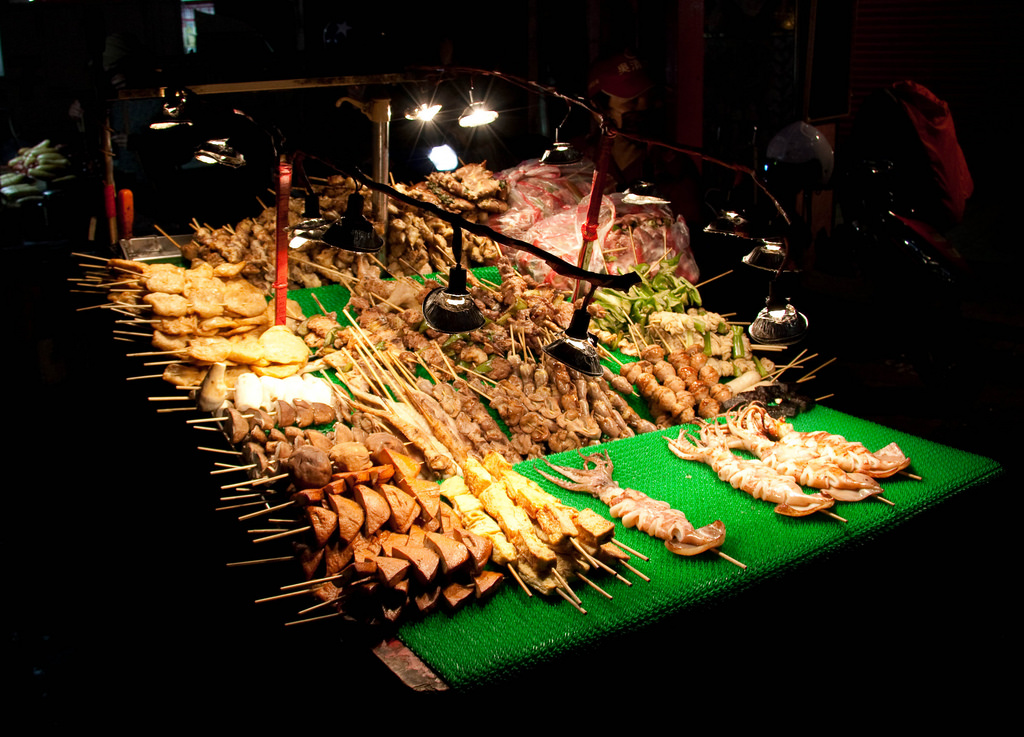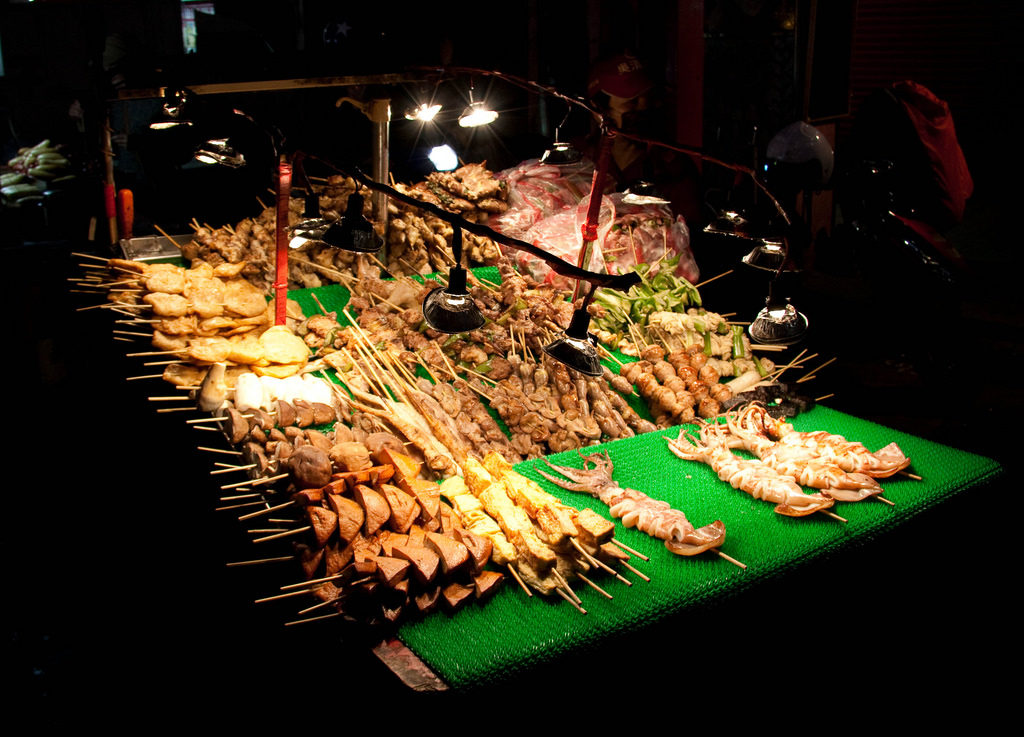 If you've heard about Taiwan then chances are you've heard of its unique night markets, especially Taipei night markets.
There have been numerous articles written about going to night markets in Taiwan and about different attractions there, but which one should you go to? What's the proper order to do things? What should you eat? What games should you play? What should you drink?
What is night market!? There are so many questions for first-comers.
Hopefully, this article will help to answer some of those questions to people who may be a bit green behind the ears when it comes to Taiwan's night markets. It might even help those who have already been in Taiwan for some time, but aren't quite sure what to do at night markets. The following lays out some of the items on my checklist of things to do at a Taiwanese night market.
I've set the titles in order of, what I think, is the best way to see a Taiwanese Night Market.
P.S. – the night markets mentioned in this article are in Taipei. Most night markets in other places in Taiwan will have similar layouts.
Where to Go?
There are plenty of night markets in Taipei alone. A simple "night market" search in Google maps alone, will come up with a multitude of options.
Of course, if you're a first timer, Shilin Night Market is always highly recommended. Although, it's been criticized by locals in recent years for becoming too commercialized and losing some of the authentic flavor, it still remains one of the largest night markets in Taipei. It also has a large indoor section with plenty of delicious local dishes to try. There are also lots of shops to buy clothes, trinkets, Buddhist jewelry and sculptures, phone cases (these are ubiquitous in night markets), and much more.
Raohe Street Night Market is located right off the Songshan MRT station. It's stationed right next to a massive temple that immediately catches your attention. This market is medium in size and has a lot of yummy food special to this market, particularly the 胡椒餅 (hu2jiao1 bing3 Black Pepper Buns (with yummy yummy beef inside)). This is one of the first shops you see when you walk in and almost always has a line.
Tonghua Night Market is another famous outdoor market in Taipei. It's a medium sized market around the Taipei 101 area. Good for city central sightseeing and late night, post-101, snacks. Linjiang Night Market also encompasses Tonghua, or perhaps the other way around. Either way, a good downtown choice.
Other night markets include Ningxia Night Market (located next to Shuanglian MRT Station, red line), Shida Night Market (next to National Taiwan Normal University), Gongguan Night Market (next to Gongguan MRT Station, green line), and Lehua Night Market (next to Yongan Market MRT Station, orange line).
Clearly, Taipei, has a plethora of markets.
What to Eat?
When you prepare to go to a night market, go hungry. Yes, you will end up spending more money on food than at a normal restaurant, but you'll get to try a lot of different foods.
The absolute first thing anyone should do when going to a night market is order something small to eat. Although, almost all the stalls will be in Chinese I've added some of the Chinese characters here so you could, potentially, match and compare. Once at the appropriate stall, or what looks like the appropriate, simply point and then wave a finger saying how many you want. Simple right?
Here's a list of the top ten foods you should try at a Taipei night market.
(Or anywhere else in Taiwan, for that matter.)
1. Stinky Tofu. (臭豆腐) It smells really bad, but it's actually really good. I personally prefer the fried version with some kimchi or pickled cabbage on top.
2. Fried Chicken Filet. (雞排) Exactly what it sounds like. A big, flat, fried piece of chicken. Can be had spicy or original flavor.
3. Hand Shaken Drinks. (手搖飲料) These are everywhere and not much explanation is necessary. Get the Boba (Bubble) Tea if possible!
4. Oyster Omelette. (蚵仔煎) These are in every night market you'll see. Not really my cup of tea, but definitely worth a try. A chewy omelette, plus oysters, and topped with sauce.

5. Roasted Sausage. (烤香腸 / 大腸包小腸) It's a roasted sausage. The second part of it is more special. It's a small sausage stuffed with veggies rolled into a large sausage, not for the faint-hearted.
6. Salted Crispy Chicken. (鹽酥雞) Bits of chicken meat, salted, spiced, and fried. Enough said. 7. Roasted Squid. Served either whole or cut into pieces, a staple for night market visits.
7. Squid on a Stick (烤魷魚) – Roasted squid on a stick. Pretty tasty!
8. Charcoal Roasted Kebabs. (炭烤串燒) There are so many options when it comes to these stores. They're easy to distinguish by the large variety of skewers brandishing different meats and veggies. Try the chicken heart and chicken butt, seriously, it's good.
9. Stewed Foods. (滷味) These stores will have ingredients laid out in front of the store with baskets next to the food. First, take a basket. Second, choose whatever food you want. Three, give your basket to the boss and he'll cook all your ingredients together within a soy sauce based sauce. Four, eat.
10. Iron Fried Steak. (鐵板牛排) Steak cooked on a super hot pan, brought to you on a sizzling plate with spaghetti underneath.
What to Play?
Most night markets will have an area to play games. These games vary from market to market. The majority of games are ones that you would commonly see at a carnival in the United States. Ring tosses, BB guns, water shooters, fishing games, etc. A fun way to enjoy the games is to first get a small snack then wander around until you see something that catches your eye.
The different games include, but are not limited to:
Darts – thrown into balloons. Pop enough balloons and you can win a prize.
BB Guns – also shot into balloons. Pop enough and win a prize.
Ninja Star Throwing – throw ninja stars into a 3×3 grid. Knock down enough tiles and win a prize.
Pinball – not the Western-style pinball machines, but more similar to Japan's Pachinko machines.
Fish Catching – catch fish in a net and win a prize.
Ring Tosses – get the ring around a bottle and win a prize.
These are just a small taste of the variety of games at each night market. Some will have more games than others, just depends on the location.
What to Buy?
Night markets are also popular for their reasonably priced merchandise. There are many shops that sell clothing, both men and women (although women's clothing is more popular), cell phone cases, religious trinkets, souvenirs, toys, fireworks, the list goes on.
Hopefully as you chose your first snack to eat and found your first game to play, you've taken a good look around at the shops along your left and right sides. After you've eaten a bit and had some fun with the games, take a look around the shops that caught your eye.
There are so many stores at most night markets, that they attract people of all ages and interests; however, don't see all the shops at once. It's important to leave some parts for later in the night! Because…
Rinse and Repeat
At this point you've got a good grasp of the layout of your chosen night market. Once you're ready for round two, start the process again. Try and different food or two, try another game, and poke your head into a couple more shops.
If you feel you want a change of environment, simply hop on the MRT and visit another one! Once you get to your second location you'll probably be ready for another plate of stinky tofu!
Photo credits: Carrie Kellenberger, My Several Worlds