What Suits You? Taiwan or China?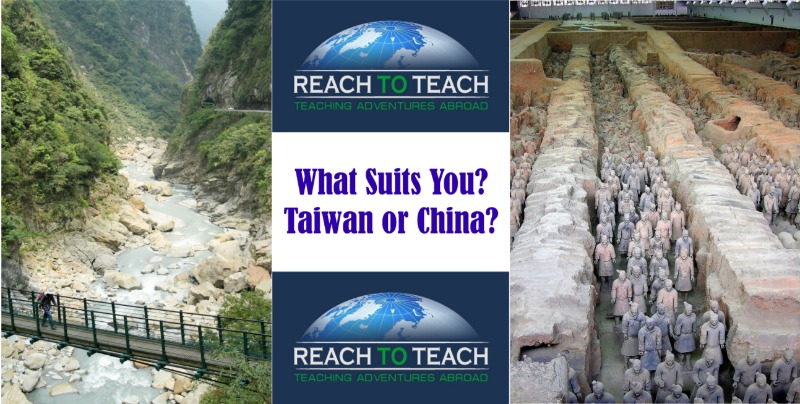 What suits you? Taiwan or China?
Do you think of yourself as a night owl? Prefer eating your dinner past midnight or get the late night munchies?
Maybe you function better in the mornings than in the evenings and you work better with children than with adults.
Maybe you're not even sure what time you like to eat, what time you like to work, and what age group you prefer to work with. That's perfectly okay, too. Taking the time to travel and meet different people helps you to discover your interests and preferences; all paramount to choosing a place to teach and live.
It's truly important to understand the type of person you are before moving to a new country. One of the many wonderful parts about working with Reach to Teach is the number of schools and countries they work with.
Moving to a new country is a great way to really learn a lot about yourself. When put into a situation where you don't have family close by, you can't speak the language, you may not have your own transportation, and you're unfamiliar with the environment, you begin to find ways to cope with situation.
The following are two countries Reach to Teach works with: China and Taiwan.
While both countries have similarities, they can vary greatly in lifestyles.
Taiwan
Taiwan is a country rich with culture, food, and natural beauty. More than any other country Reach to Teach works with, Taiwan offers the easiest access to nature and city life. With an incredibly convenient transportation system that interweaves itself through the small island, you can travel anywhere in Taiwan in less than half a day.
Traveling doesn't necessarily require a great amount of planning. If you like to be spontaneous Taiwan is definitely a place to just up and travel somewhere without giving too much thought to it. Hostels and hotels are everywhere and readily available, not to mention the ease of using Airbnb.
Also, since English is a mandatory subject in school most people around the island can speak at least a little bit of English.
Although the ESL teaching industry in Taiwan has beens stagnant for a while with schools paying by the hour and no frills teaching packages, you'd be surprised at Taiwan's massive expat population.
People come to Taiwan for Taiwan, not for teaching positions. You can still earn money, save money for your loans, and travel all while experiencing an Asian lifestyle in a country that offers a low cost of living.
You can find more information about teaching in Taiwan on our Taiwan resource page. Look in the right sidebar for further information about living and working in Taiwan.
China
China is, of course, one of the oldest countries in Asia and has some of the longest history. Also, there's a ton to see in China, but that comes at a cost. Traveling around the Middle Kingdom requires a bit of planning and potentially long, long train rides.
Because of China's massive size there are also a large variety of If you're someone who loves planning long trips and adventuring into potential unknown territory, China could be a very attractive option. Trust me, you will definitely need to plan out your travel ahead of time. China's populace is always on the move.
Getting hotels and hostels might be tricky in some places because of restrictions for only Chinese residents; however, most places will be okay booking a room with a passport.
If you're someone who enjoys staying awake into the night, there are many late night food options around China, as well as outdoor food markets that stay open until late in the night. Most places are also very relaxed and have small outdoor stalls with little tables and chairs for a quick bite or late night snack.
Teaching in China is very different to teaching in Taiwan, especially in regards to teaching packages and teaching hours.  You can earn more in China, but you might not have as many travel opportunities in China without a lot of planning.
Cram schools work on weekends and some weekdays, but there are more opportunities for private lessons and for teaching adults business English. It may be easier to create your own schedule with private lessons in China than in Taiwan because of the higher demand for business English and a larger pool of interested students.
These few tidbits are of course, only scratching the surface of a two very historical and deeply cultural places in the world.
As mentioned earlier, you can only really start to understand your travel interests once you have, you guessed it, traveled! So get out there and start exploring!