Transportation in Taipei

One of the best parts about living in different areas of the world is getting to experience the lay of the land. Each country has it's own geography that dictates how people are able to commute. As we inhabit different places around the world we mold our surroundings to fit our needs.
In America, people have built large highway systems to provide people chances to traverse the large landscape. Many people commute into the cities to work and then commute out. The ideal situation for many people later in life is to move into a suburban area.
This means cars are a necessity for life in America. A rite of passage for many teenagers when they turn 16 is to get their drivers' license and obtain a sense of freedom.
In contrast, Taiwan is a much smaller country. A country laced with railway infrastructure that makes traveling to every part of the nation a breeze. Not only are railways prevalent, but busses and taxis are so cheap, clean, and convenient that it's accessible to every walk of life.
Additionally, a big city like Taipei has its own subway system, the MRT (Mass Rapid Transit). With five lines and 117 stops the MRT is one of the most convenient ways to get anywhere in the Taipei and New Taipei City.
The average cost of a trip on the MRT will cost 20-35 NTD, roughly USD$0.60 – USD$1.10.
The streets of Taipei are also wide with plenty of room for foot and bicycle traffic. At all times of the day and night, you can see people walking and biking around everywhere. It's more popular for people to go out and meet up instead of congregating at peoples' apartments. The really wide sidewalks were created in order to accommodate all of the foot traffic.
Taipei and New Taipei City also boast a "U-bike" system, much like New York City's "Citi Bike" or London's "Santander Cycles" (Borris Bikes). All you need to do is register your metro card, called a "Yo Yo card" and you are all set to go. A
A 30-minute bike ride will cost 5 NTD (about USD$0.15) in Taipei city, in New Taipei City the first 30 minutes is free. With "U-Bike" stations everywhere it's an extremely convenient form of transport.
However, there are some pet peeves that come with this ease of transport.Taiwan boasts its wide sidewalks and big areas to walk around, but the people do not walk in a straight line. It sounds crazy, but it's a real thing!
Imagine you're in a rush walking to work or to meet up with some friends and people are constantly cutting off your path. Even worse, you're on a bike going down the sidewalk and someone decides it's a good idea to walk diagonally into your path and just when you try to cycle in the opposite direction they cut back again! Very dangerous indeed.
Also, there are small alleys off the large main roads in the city. Cars and scooters will still fly down these small alleys that have pedestrians walking down them. It's the peoples' responsibility to see the cars coming and move out of the way. Crosswalks with stop lights can often seem meaningless to some drivers.
All in all, transportation in Taipei is incredibly convenient! With time, the things that bother you become habitual and a way of life. If I had one piece of advice for the people of Taipei, it would be to look behind you before you decide to walk at a 45-degree angle.
Have you ever lived in Taiwan? Do you currently live in Taiwan? What have been your experiences of the transport system here? Let us know in the comments section below.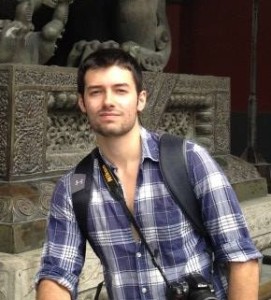 Vadim Rubin is an ethnic Belarussian learning to speak Mandarin Chinese. He is a coach, teacher, linguist, athlete, and an aspiring world traveler. As an avid volleyball player and coach, he spends a majority of his time on the court with sweaty volleyball junkies. Off the court he enjoys to travel, write, and teach world languages. In the summer of 2012 he traveled to Taiwan to study Chinese and wrote about his adventures in his blog: 三個月在臺灣 My Three months in Taiwan . He documented his adventures in Taiwan and China on his blog  Where's Your Inner Child? He is now back in Taiwan teaching English, traveling, and discovering what life has to offer. – See more at: Vadim Rubin, Author at Baltimore Post-Examiner