Transportation In Taiwan
You will be happy to hear that Taiwan is a very easy country to navigate and offers a variety of means to get from point A to point B. Each of the major cities in Taiwan has an excellent public transportation system in place, with Taipei having one of the highest rated systems in the world. The national train system offers a fast and efficient method for getting around the island during holidays. The High Speed Rail (HSR) line opened less than two years ago and allows you to travel between between Taipei and Kaohsiung in just 90 minutes.
Getting a Scooter in Taiwan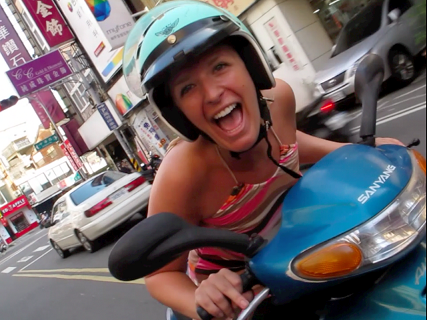 Taiwan is scooter heaven.
It would not be surprising to hear there is at least one scooter for every person over the age of 20. This is probably the most common method of transportation in Taiwan. Driving in Taiwan is definitely not for the faint of heart, but owning a scooter does offer a lot of advantages. They are cheap to buy and maintain: a decent second-hand scooter can be as cheap as NT$5-10000. They offer great fuel economy even with the rising price of gas. If you ride your scooter back and forth to work and in your general neighborhood, you may find yourself spending as little as NT150 ($5 USD) per week on gas. They also offer you flexibility in getting to harder to reach places around Taiwan.
Having a scooter is certainly not a must, but after your first couple months it is definitely worth considering. If you do decide to purchase a scooter make sure to drive carefully! Accidents are unfortunately quite common throughout the island.
By law all drivers must wear a helmet and obtain a local scooter license. The reality is that many foreigners forego the license but you should definitely always wear a helmet! If you do plan on being here for a while by all means take the time to apply for a license.
Scooters tend to jump around the foreigner community as people come and go.  If you decide to buy one from a dealer remember to bring your ARC. (Alien Resident Card)
Bicycles In Taiwan
Taiwan is known as a major cycling destination in Asia.
Good secondhand bicycles can be purchased for as little as NT$1,500, but many quality bikes are manufactured in Taiwan so purchasing a quality new bike is also an option. Giant, in particular, produces many of its bikes here and has stores all across the country. Though bikes are a great way to exercise, you will find that they are not a very convenient way to get to work, especially if one wants to start the day without a sweaty shirt!
Taiwan also has an excellent YouBike program which bikes for rent at most MRT stations. You can ride for the first 30 minutes for free if you're making a quick trip between stations or rent a bike for longer.
Trains & Transportation in Taiwan
The High Speed Rail trains can take you from the top of the island to the bottom in just under two hours! For those of us who lived in Taiwan before the HSR opened two years ago, this makes for really fast and convenient transportation in Taiwan.
Taking the train is one of the best ways to get around in Taiwan. It is safe, trains run frequently and on time, and ticket prices are reasonable. The extensive conventional railway system has major lines that combine to make a full circle of the island (along with four branches that allow access to the mountainous areas of Taiwan), allowing travelers access to most of Taiwan's major scenic and cultural attractions.
Just opened in 2007, the High Speed Rail (HSR) services travelers between Taipei and Kaohsiung with a number of stops in between. At an incredible cost of $13 billion USD, the HSR is one of the most expensive privately funded projects in human history. Reaching a top speed of 300km/h it has cut the travel time between Taipei and Kaohsiung to 90 minutes, and has eased congestion on Taiwanese highways. This convenience comes at a price, expect to pay NT$1500 each way.
Buses In Taiwan
Each of the major cities has an excellent bus system that makes getting around the city very easy. That is after you figure out where each bus goes which can take some time. Once you figure out the bus routes you need, they are a very cheap and reliable means of transportation. Depending on the distance to one's destination, intra-city bus fares run from NT$15 to NT$25.
Buses are also an excellent way to get around the rest of the island. Some of the coach buses here can be incredibly comfortable allowing you to sit back and watch movies your entire journey. A typical express journey from Taipei to Kaohsiung can take 6 hours and costs roughly NT$500. Riding the bus offers cheap and easy transportation all over the island.
Taxis In Taiwan
It is a safe bet that wherever you are in Taiwan, a yellow taxi is not far away. Equally appealing is the cheap fare, which starts at NT$70 for the first 1.5km and rises by NT$5 for every additional 0.5km. Getting around in a taxi can be very cheap and convenient, particularly if you split the fare with a friend. Most likely you will need to use taxis to get to and from bars and night clubs. Public transportation in Taiwan stops at 12:00pm which leaves you with few options when it comes time to head home.
However, it will be rare to encounter a taxi driver who speaks any English beyond maybe a "Hello, how are you?" If you know next to no Chinese this can turn into a frustrating experience. The best advice is to start taking business cards from the places you would like to return to, and simply show the driver the card with the address. It is also a good idea to copy down your own home address to the best of your ability, or have a Chinese friend do it for you.
UBER In Taiwan
Catching an UBER is likely the easiest way to get around. It's cheap and safe transportation in Taiwan and there's no hassles with trying to tell the driver where you want to go since everything is added into the app. Be careful to avoid dinner time and rush hour, especially on Fridays and Saturdays when rates are almost doubled.
Air Travel In Taiwan
Taiwan offers easy access to the rest of Asia. Hong Kong, Thailand, Singapore, and the Philippines are all at your fingertips and fares are very reasonable. In the past, getting to China was problematic with no direct flights. The easiest way was to fly to Hong Kong and buy a separate ticket into Mainland China. This is currently still the case but the new Taiwanese government has opened discussions with China to begin operating direct flights between Taipei and Beijing. These flights will hopefully begin by the end of 2008 / beginning of 2009!
Air travel is also possible within the island, but unless timing is of the up most importance, the cost is usually prohibitive compared to train and bus fares.