Ward Off The Winter Blues: 10 Fun Things To Do In Korea (Part 1)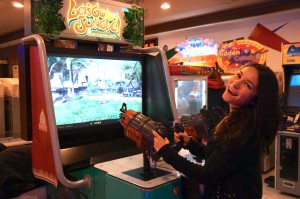 Winter in South Korea is so much fun…for about a week. After the initial joy of the cozy season begins to wear off, you really start to resent the bitter wind, harassing snowflakes, and slippery streets that plague Korea. After spending endless hours watching Christmas movie marathons while snacking on seasonal treats, you'll begin to have nightmares of a villainous Santa Claus who wields sharpened candy cane swords.
An entire month of Christmas cheer is enough to make any sane person poison their own hot chocolate…with hard liquor, of course. (My, my, you have a morbid little mind.) The problem you're now facing is it's only mid-December and you've already watched every Christmas movie, sampled all the seasonal flavors at Starbucks, and partook in intense snowball fights with random Korean children. Now you're left wondering, "What else is there to do in Korea to ward off the Winter Blues?" You want to do something fun and exciting that doesn't reek of hot apple cider and marshmallows.
Think of this little list of activities and locations as my Christmas gift to you, friend.
1. This winter, take a trip to the Yong Pyong Ski Resort in the Gangwondo Province.
I bet you're questioning my list right now. "A ski resort during winter time? Really, Judith. That's a bit obvious and done." Before you close your browser window, hear me out. This ski resort is different from the rest. Not only is it in a nice secluded area with plenty of fresh powder and short lines for the slopes, but this resort also has an indoor water park. You'll forget all about your winter chills as you conquer terrifying water slides in your bikini or swim trunks. In the mood for a cold beer after you've  come out of the wave pool? Go enjoy a cold brew while you relax in the outdoor hot tubs. If you're lucky enough to catch a snowy day, you and your friends can have a snowball fight in the hot tub. Beer, bikinis, hot tubs, and snowballs. Need I say more?
2. Drop that mug full of boring hot cocoa this weekend, and treat your taste buds to a delicious thick craft beer at a specialty beer bar.
My favorite bar is the LBOW Room in Daejeon. This hidden gem is a beer drinker's haven. Craft brews take center stage in this cozy joint, so don't go with that one friend you have who only drinks appletinis. The light jazz music and the seductive perfume of the pink dragon fruit scented candles that light up the countertops create the perfect cozy ambience without being too festive.
Enjoying an evening out on the town alone? Pop in to LBOW Room and sit at the bar top for a great conversation about beer with the owner, Mr. J. His English is perfect, and his knowledge of beers from ales to stouts is more than impressive, which he is more than willing to share. (Bonus: Mr. J is easy on the eyes. So, take that information and do what you will with it, ladies.) Nothing keeps the winter blues away like good beer, fun beer facts, and cute bartenders.
3. Get your blood pumping while watching a 4DX movie at the theater. Oh, I'm sorry. You don't know what a 4DX movie happens to be? Well, allow me to shed some light under that rock of yours, friend.
Imagine you're sitting in a comfy recliner at the theater watching The Hunger Games. You watch wide-eyed and open-mouthed as poor Katniss gets pushed into a lake, and SPRITZ! All of a sudden a cold burst of water sprays your poor unsuspecting face. As Katniss struggles to fight the rocking water and stay afloat despite her heavy knapsack, your chair begins to shake and swerve. You feel as though you are right there in the water with Katniss. And that is the magic of 4D movies.
Not only are you watching a great movie with 3D glasses, but the effects through out the theater that will amaze you. The scent of pine will waft through the theater as the heroine walks through the forest. Fog will be cling to your ankles as ominous storm clouds in the movie fill the screen. 4D movies are a great way to get some adrenaline pumping and warm you right up. Let me leave you with a word of caution, however. Make sure you watch how many beers you have at a 4D screening. I've seen drunk, tender bellied Koreans running for the exit once the action gets intense and their chairs really go into full motion.
4. Have a fun night playing old school games at an arcade.
Arcades seem to be on every street corner here in Korea. From tiny karaoke rooms to air hockey and alien shooting games, these mini arcades are packed from wall to wall with fun. Grab your friends, a few snacks, and some coins and head on down to these cute little arcades for a night of blast from the past fun times.
5. Go to an indoor amusement park.
Lotte World in Seoul has a giant indoor amusement park full of loopy roller coasters, scandalous couples' boat rides, and adorable parades. You'll forget it's winter outside as you spend the day walking the park munching on corn dogs, slushies, and cotton candy. Instead of thick winter coats and lumpy ear muffs, you'll be rocking light comfortable clothing and the over-sized bunny ears you bought at a Lotte World shop. Any remainder of the winter blues will disappear after a magical day in Lotte World.
I hope you are keeping those demonic winter elves at bay. Why don't you go ahead and try one of my suggestions for things to do in Korea this weekend? Don't forget to let me know if it did indeed cure your case of the winter blues!
Stay tuned next week, dears, for 5 more fun things to do in Korea during winter.