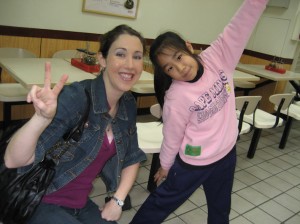 As I sit here thinking of what to write for my first post here on the new Reach To Teach community blog, I am suddenly reminded of a photo album that I started putting together during my first teaching abroad adventure in Northern China in 2003.
That photo album contains images of students that I have taught, schools that I've worked at, colleagues in both China and Taiwan, Reach To Teach events, and friends that I have made along the way.
Opening that album, I am overwhelmed by the memories that I have of these past eight years: the people that I have met, the places I have been, and the journeys I have taken have added up into one incredible adventure.
It's simply unbelievable to think of all the things I have done in such a short time. It feels like I've been here for a lifetime.
Looking through those old photos, I am reminded again of what lead me here today: I had a simple desire to see the world and it was fueled by a motivation to do something different and to start living now.  It's not enough to say that moving to Asia was the best decision I have ever made. It changed my life.
The rewards, the achievements, and the independence that I have acquired since I began this journey of self-discovery continues unabated. I am still leading an adventure, I am still learning, I am still growing, and I am still having the time of my life.
I am sure that the people that you will meet here on this blog will all echo the same sentiments.
As the newest member of the Reach To Teach team, my aim with this blog is to give our teachers a place to share their stories about teaching and living abroad, and a chance to talk about what it means to be a Reach To Teach teacher.
To RTT alumni, veteran teachers, new teachers, or teachers-to-be, this is a place for us to grow together and a place for us to show our commitment to providing excellence in education.
Thanks for reading and we hope to see you back soon.
~ Carrie Kellenberger
Oh, and that photo album I mentioned at the beginning of my post? There's more to come, so please stay tuned in!
Please share!