Outdoor Activities in Taipei: Part 1

There are so many activities in Taipei that offer many ways to be active, especially when it comes to outdoors activities. I always tell people one of the best things about Taipei is the coexistence of modern city life with beautiful natural scenery.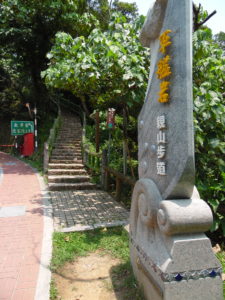 This means more opportunities to get away from the hustle and bustle of big city life, even within the city itself.
Taipei and the surrounding area offers so much in the form of outdoor recreation: cycling, hiking, swimming, surfing, paragliding, river tracing, and camping. The activities are also curtailed to people of all skill levels. 
For example, if you have never camped before, there are numerous campsites that provide everything you need – tent, sleeping bags, bathrooms, etc. – all in the safety of a well-groomed, comfortable campground.
Don't have a bike? No problem. Taipei's U-bike system allows anyone with a YoYo Card (public transportation access card) to rent bikes for extremely cheap prices (I've even seen a guy with professional riding gear renting a U-bike).
Day trips to further remote places from Taipei are also extremely convenient thanks to Taiwan's impeccable transport and railway system, also accessible with a YoYo Card. There are numerous hikes that can be done in just one day from Taipei and seeing how I haven't had much opportunity to do them, I took this extended weekend to get outside and do some physical activities.
The following is part one of my hiking adventures over the past holiday.
Junjian Yan (軍艦岩)
Getting There
As with many of the things in Taipei, this hiking trail was extremely convenient to get to. The trail has a few different entrances, but I think the most common route is behind National Yang Ming University, next to Shipai Station.
Although, we did get a bit lost at first because we were just following information we read from other blogs, we eventually found the route which was tucked inside the university.
National Yang-Ming University is a nationally renowned university for medicine in Taiwan, so it only seems appropriate that studious future doctors have a mountainous trail in their backyard to unload some steam, relax, and breath some fresh air after days of rigorous studying.
As we walked toward the back of the university, past the gamma radiation research buildings, next to the basketball courts, we began going up a steep incline which eventually led to a sign for the hiking trail accompanied by stairs with a green bamboo-esque designed handrail, quite commonly accompanied with stairs in Taiwan.
The Hike
It was quite a hot and sunny day, which I was really excited about because I was ready to get some color onto my pale white skin. My Taiwanese hiking partner, on the other hand, was wearing long, breathable pants and a long sleeve shirt, to protect from getting tan.
White skin is a valuable commodity in Asia and many people will do whatever they can to preserve it. It's common to see people riding scooters in 35+ celsius heat fully clothed from head to toe.
The beginning of the trail spikes up the mountain fairly quickly and then levels out, allowing you to take in the natural beauty of the surrounding Taipei mountains. Each level of the hike provides different views of Taipei and New Taipei City.
The Rock
The main attraction of the hike is the giant boulder overlooking the entire trail and city. On our way to the top we met a couple of Taiwanese girls who seemed very eager to reach the summit. Once we also arrived at the top we realized why they were so excited to reach the overlooking rock, a new profile picture.
The girls came out with cameras blazing. They took pictures with the community of stunningly large modern houses, the misty northern mountains, the small community of farmer houses, and the views of Taipei 101 in the background. The old colliding with the new, all conveniently captured in a profile picture.
After about thirty minutes we also clambered to the top to take in the stunning views of the surrounding areas.
A short time later, we climbed down and began our descent from the peak of the mountain.
The Descent
I always say the way down a mountain is harder than the way up – especially on a pair of worn out knees like mine.
On the way down we could see the other side of the mountain and even led us to ruins of what seemed like an old temple. A broken fountain fixture next to shattered stones and scattered Chinese writing, gave us the impression of an Indiana Jones movie set in Asia.
A giant wall with steps leading down the path granted us an exit from the incessant biting of mosquitoes that seem so prevalent this time of year in Taiwan.
The exit spat us out in a rural neighborhood behind the Qiyan MRT station. From first sight we would have never believed this neighborhood was behind a major metro line. With a small temple crammed in the corner of the neighborhood, narrow alley streets with clothes hanging in the windows, and the cats claiming the road as their own, this neighborhood seemed a world away from Taipei.
After a few winding streets and incense candles later we found our way out of the Narnian village and back into the city. Our adventure was done for the day, but another was just beginning.
Please share!