Outdoor Activities in Taipei: Part 2

After an eventful hike the day before, I was ready for more outdoor activities in Taipei. This time, we were set for another day of exploring the natural beauty of Northern Taiwan.
The only thing was, I didn't know where I was going yet and that was half the fun. The spontaneity of travel in Taiwan makes visiting new places both accessible and exciting.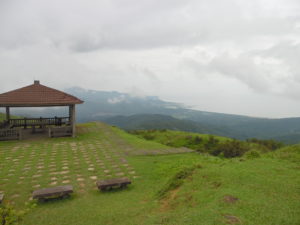 It's really amazing how often day trips out of Taipei can make you feel like you're hours away from civilization. The way of life, scenery, and pace of life are so starkly different from city life – one of the amazing reasons to teach in Taiwan!
My original plan was to hike at Huang Di Dian, located to the Southeast of Taipei. The day prior, my friends and I were discussing the best option for our hike. After meticulous use of the different texting apps popular in Asia – Facebook Messenger, WhatsApp, and, the king of messaging apps in Asia, Line – we finally came to a decision, the Caoling Historical Trail.
Caoling Historical Trail (草嶺古道)
Caoling Historical Trail is a relatively easy hike in Taiwan that provides amazing views of the Pacific Ocean and some of the small surrounding islands, so it's a popular choice for anyone interested in a day away from Taipei.
Getting There
The actual hike is located in a small city called Dali (大里) on the outskirts of Taipei. If you don't own a car the only way to get there is by taking a train. There are a few different types of trains that traverse the majority of Taiwan and among these trains, there are two companies that run train services – the Taiwan Railway Administration (TRA) and the Taiwan High Speed Rail (THSR or commonly known as HSR).
The TRA runs through all of Taiwan and offers a wide variety of routes and trains to choose from, while the HSR runs through the west of Taiwan (the most highly populated areas) and offers one type of train, a fast one – 300 km/h (186mph) kind of fast.
Since Dali is located to the east of Taipei we were resigned to take the TRA, which, seeing how it was a Dragon Boat Festival weekend, was packed with passengers.  
We stood on the train, confined to our tiny area, crammed between an Indian and Taiwanese family, both going to the beach. Although, the train ride was a little over an hour, our little international corner was in good company.
Our hiking group consisted of four people, each from different parts of the world: America, China, Britain, and Ireland. That's another great thing about Taiwan. You meet people born and raised in so many different parts of the world who can come together to share their different life perspectives.
The Hike
Once we arrived at Dali station we were the few passengers left on the train. Most people disembarked at Fulong Station – located right near the beach. We left the station and started following the signs that led us to the trail.
We came upon a temple that brought us to the beginning of our hike. As we ascended the stairs more of the eastern coast of Taiwan became visible. Walking through the large variety of vegetation that is typical of Taiwan's mountains always brings me a sense of tranquility.
Once we reached a plateau there were options to continue further down the trail or ascend further – we, of course, chose the latter. Once we reached the top we could see a comprehensive view of Taiwan's northeastern coast.
We stopped and sat on the grass at the top of the mountain for a while and discussed the likeliness of an American, Irishman, Chinese, and Brit meeting together in Taiwan and going for a hike.
After we were philosophically satisfied, we began our descent.
The Descent
The path down followed a small stream that ran alongside the stone road. The rhythmic sound of cicadas chirping and constancy of the rushing water created a harmonic natural orchestra.
We stopped at the restrooms about halfway-down the trail and were greeted by four Taiwanese men who were also enjoying the opportunity for a break. As we approached them, the first thing they asked us was, "Do you want a drink of whiskey?" Coming from a Russian background I was taught to never refuse a drink. Then again, my mother always told me never to drink from a stranger's whiskey cup whilst hiking.
Coming from a Russian background I was taught to never refuse a drink. Then again, my mother always told me never to drink from a stranger's whiskey cup whilst hiking.
This type of friendly behavior is common amongst Taiwanese, particularly the older generations. It's not uncommon for strangers to stop and help you or even offer you something to eat and drink.
We said goodbye to our whiskey friends and continued to follow the path which led us to a rice plantation surrounded by the sounds of traditional Chinese music. It felt as if someone had plucked us from the present and dropped us in a time fifty years earlier.
The sounds of buzzing insects, rushing water, families fishing in the local pond, it was enough to make anyone feel carefree and at ease.
As we reluctantly moved past the frozen-in-time rice field we emerged at a small T-intersection with a small temple on the side of the road. We continued along the highway following signs for Fulong Beach.
Have you had an adventure not far from Taipei? Let us know about your journey and what you discovered in the comments section below.