Taiwan Firsts – What To Expect When You Visit Taiwan for the First Time

Taiwan Firsts – What To Expect When You Visit Taiwan for the First Time
As my parents are getting ready to return to the U.S. from their trip to Taiwan, they reminded me what it's like to not only visit Taiwan, but also Asia, for the first time.
After being exposed to Asian culture for a majority of my life, it's easy to forget that parts of it vary greatly from what people may be accustomed to in Western culture.
Moving from a Western country to an Asian one can bring with it real culture shock. Here a few regularities that those of us living in Asia may have already gotten used to.
What's That Smell?
As my parents and I were walking through some of the night markets in Taiwan they kept commenting on the awful smell in the air. For those of us living in Taiwan we know exactly what that smell is – Stinky Tofu.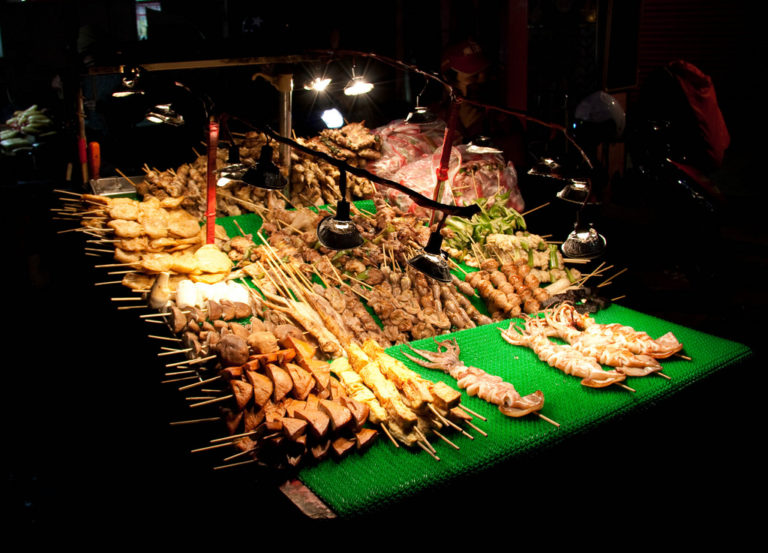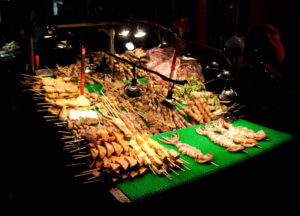 It took me a second to realize what they were talking about because I hardly notice the smell anymore; however, they're right, it smells. I mean, there's a reason it's called Stinky Tofu.
Trust me though, it delicious when fried with cabbage and spices. Even though my parents couldn't muster the courage to try it, you still should!
Cars First
For a majority of Asia, the flow of traffic goes cars and scooters goes first, with pedestrians viewed as secondary road occupants. As a rule of thumb, you want to let traffic cross an intersection before you do.
Most likely, you escape unharmed, but you may get into a close encounter, like really close. It's not unusual to be hit at least once by a scooter in Taiwan, and this usually happens because scooter drivers like to zip around corners without much regard for who might be in their way.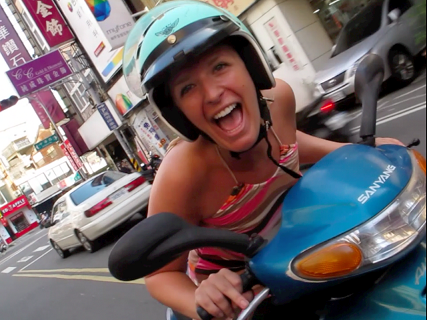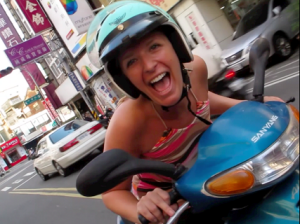 As we were walking around the streets of Taipei and Hualien, my parents were surprised at how close the cars came to grazing us in small allies. Not only that, but they were also surprised at how crosswalks meant nothing more than, "You should walk here when there are no other cars or scooters around."
Stop signs don't exist in Taiwan.
Scooters Take Some Practice
My parents and I visited Hualien and Taroko Gorge for the extended 228 weekend in Taiwan. Since I've been there five times already, (I know, that's quite  a few visits, which only proves my point. Don't miss the chance to visit Taroko Gorge.)  I would say I'm quite familiar with the process: Get to Hualien station, rent a scooter, drive to Taroko, ride back to Hualien in the late afternoon and stay in Hualien.
After riding a scooter so many times I had gotten used to the feel of a scooter; however, it can be quite scary for a first-time rider or even passenger. My father and mother were terrified.
My father has always been a quick learner and never worries too much about handling a challenge, but that first day on the scooter was one of the first times I've seen him genuinely afraid. He tried to cover it up with excuses, but I knew, those were excuses of fear.
Coming from America, where the roads are neatly groomed, cars drive on the proper side of the road, and people hold others responsible for how they drive by cursing and scolding other drivers on the road). There aren't swarms of scooters and special rules for them in America, so one can see how riding a scooter for the first time in Asia can be scary. By the  second day he was riding with much more confidence.
All in all, take it slow first if you decide to ride!
Kindness
My parents were taken aback at the friendliness of Taiwanese people. A few of my students' parents took my parents out to eat, drive them around to look at landmarks in Taipei, and paid for all expenses. Additionally, they were looking forward to doing it all again soon.
One can see this kindness in the way Taiwanese interact with each other and those around them. They willingly offering to help to dazed and confused travelers, give up their seats on public transportation regularly for the elderly, and they love to strike up conversations with strangers.
I believe this has a lot to do with the safe environment where people aren't worried of being taken advantage of.
Conclusion
These are just a few of the many new experiences my parents felt when coming to Taiwan. Of course, everybody reacts differently to the environments they're exposed to, so be aware of your surroundings and keep an open mind!
Embrace all that's foreign and use it to foster a new outlook on the world.