Taking The Next Step – A Teacher in South Korea Shares her Experiences of Moving Abroad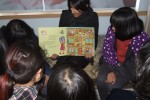 Guest Article by Uzma Ali, a Reach To Teach teacher in South Korea
When I made the decision to leave my comfortable, unfulfilling life to start teaching English in Korea, I was excited at the prospect of having an adventure half way across the world. However, when the moment came to say goodbye to 'home' I can honestly say I have never felt such fear. The urge to run indoors and make my excuses was immense and stepping onto the train to London, Heathrow was quite possibly the hardest thing I have ever had to do. "What in God's name am I doing?" I thought. The only thing I remember about that train journey was breathing deeply and whispering to myself, "Be brave, be brave, be brave," as I watched the landscape fly by.
Deciding to live in a different country – be it a few months, a year or even three years – is certainly not as easy as it may seem. Many people find the idea of living abroad enticing, but when push comes to shove and it's time to make that final decision, the number of doubts that will go through your mind is unexpectedly high.
In the end I think I was able to take that step onto the plane to Korea, only by letting go of all those niggling thoughts and reminding myself of my reasons for making the decision to live abroad. I have felt a wealth of different emotions since moving to Korea and to put it down in a few words is a challenge in itself. But when I look back on the past six months I can only see it as a journey of excitement, adventure, unease, craving the familiar, weeping, self-confrontation and more often than not, complete and utter joy.
Living abroad is not always easy, and at times the only way to describe it is hard. I suppose only you can decide whether or not temporarily sacrificing your comfort zone is really worth it. I know that for me it definitely was. If I can offer any words of advice for anyone doubting whether they should take that step, they are, "Be brave, be brave, be brave!"