Taroko National Park: Day 1

Our Travel writer Vadim Rubin recently spent a few days in one of the most beautiful and interesting parts of Taiwan, Taroko Gorge in Hualien. Here he shares his thoughts and experiences on this hidden gem. 
Sitting on top of a large, smooth, sun-warmed rock positioned just above the clear blue water, tucked away in a private alcove down the river and off the beaten path from the Shakadang trail in Taroko National Park, I turn to my friend and say, "Life is happening right now." From the rock pillow she has been resting on she turns and nods her head in relaxed agreeance.
My friends and I have always been the type to walk the path less traveled on, in life and in travel and for the most part it has really paid off.
For our trip this past weekend to Taroko and Hualien it most definitely paid off. I hope that by narrating our trip to Taroko National Park this weekend I may give some insight to others that are interested in traveling to this amazing natural reserve.
Getting There
We started off by taking the HSR train (the slower one) on Friday night around 9:30pm and arrived at Xincheng – Taroko Station at 12:30am. The ride went by quickly as we all played cards and discussed what we all wanted to do during our two days there. Plus, the seats recline pretty darn far which makes sleeping much more comfortable than on a plane.
Once we arrived at the station we called our host from Susi Space Hostel and he happily picked us up from the station. In quite possibly the quickest car ride we've experienced in Taiwan, we arrived at the hostel in less than five minutes.
Not only did the hosts offer to pick us up, but they also upgraded our room for free! We were now staying in a comfy and large two bed room with a bathroom that was about a quarter a size of the room itself.
Beginning our Day
Our alarms went off at 8:15am and we rolled around until about 8:30. Waiting for us at the bottom of the stairs in the kitchen were three amazing sandwiches, juice boxes, and bananas for breakfast.
After we hungrily scarfed our breakfast we rushed out of the hostel to start our day. First things first, renting scooters.
Taroko is not the kind of place you want to be walking around everywhere, nor is it ideal to take taxis and busses all over the mountainsides.
Busses and taxis, while they will get you around the mountain and bring you to all the tourist places, will restrict your options of places to go and stop.
Plus, they will likely be more expensive. When it comes to most things in life I like to think of spending money in terms of how much enjoyment will you get out of it to how much you are paying for it. For NT$400 + NT$100~ for gas/24 hours we were going to get a helluva lot of enjoyment for our money.
We walk back to Xincheng – Taroko station and talk to the Auntie who's manning the scooter rentals. At first, she is skeptical about our scooter driving abilities, but we reassure her we have ridden dozens of motorcycles in the States.
We have never ridden a motorcycle in our lives. After a couple minutes of sub-par interrogating and signing a few forms she was at least convinced we would not kill ourselves on the mountain. We gave Auntie our passports as collateral, she put the keys in our hands, and we were off.
On the Open Road
One of the best parts about taking a scooter to the park is the ability to stop any time there are wide areas on the shoulder, of which there are plenty. Our first day at the park consisted mostly of us riding around the winding, sometimes treacherous roads, stopping, and taking numerous photos.
We wanted to go into the "free" hot springs, but decided to instead continuing driving around the park while we still had daylight. We ended up trekking along the Baiyang trail (白楊步道) that's located in the middle of a moss roofed tunnel.
I won't give away too many details about the trail, but I will say that at the end is the "water curtain cave." I'll let your imaginations run with it.
Hualien City
We descended the mountains as it got dark and it was time to look for dinner in the small town outside of Taroko park. There was just one problem – it wasn't peak season and everything shuts down before 6pm. So, we decided to take a thirty-minute scooter ride to Hualien City, which was one of the best decisions we made.
We ate at a restaurant called Salt Lick which served up authentic American BBQ – and I'm talking about authentic. Ribs that fell off the bone and smothered with homemade BBQ sauce, juicy buffalo BBQ wings, a stuffed-to-the-rim pulled pork sandwich, and large fried onion rings. Hands down some of the best BBQ I have eaten, US or Taiwan.
After we ate to the point of explosion we went on to explore the Hualien night market. It was quite different from any other night market we had done.
It looked like a manufactured outdoor shopping center with lines of immovable stalls made from bricks, large areas of grass, picnic tables, even a wall for rock climbing! What kind of night market has a friggin climbing wall!
After we had our fun and before the night got too late we put on our rain ponchos and drove back to Susi's Space Hostel. Our first day at Taroko was ending and we had another exciting adventure ahead of us.
Did you enjoy what you read so far? Be sure to check back in for part 2 of Vadim's adventure in Taroko Gorge.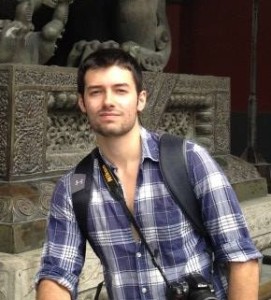 Vadim Rubin is an ethnic Belarussian learning to speak Mandarin Chinese. He is a coach, teacher, linguist, athlete, and an aspiring world traveler. As an avid volleyball player and coach, he spends a majority of his time on the court with sweaty volleyball junkies. Off the court he enjoys to travel, write, and teach world languages. In the summer of 2012 he traveled to Taiwan to study Chinese and wrote about his adventures in his blog: 三個月在臺灣 My Three months in Taiwan . He documented his adventures in Taiwan and China on his blog  Where's Your Inner Child? He is now back in Taiwan teaching English, traveling, and discovering what life has to offer. – See more at: Vadim Rubin, Author at Baltimore Post-Examiner