Event Recap: RTT Taiwan Day Trip to Wulai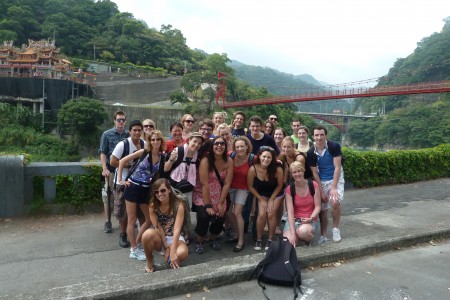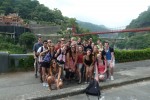 I want to give a BIG thank you to everyone who showed up to the RTT September event; I couldn't have asked for a better turnout! The day began with over 20 of us lined up to grab the bus to Wulai. Since there were so many of us we couldn't fit on the first bus and had to wait to get the next one. Luckily we all fit on the second bus, but had to stand the entire forty minute journey with jerky turns and winding roads.
Stepping of the bumpy bus was a relief, but I found many people asking me, "What do we do now?" I should have warned everyone that this was my first time in Wulai as well, so I was just as clueless as everyone else on where to start. I was saved by the maps and signs guiding novice travelers where to go.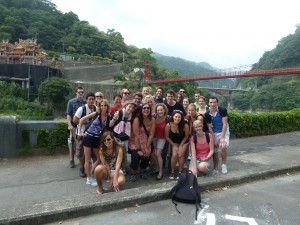 The town itself is quaint and charming, surrounded by beautiful mountain views. However, the main road in town is filled with tourist traps—snacks, trinkets, and goodies—but we quickly passed through trying to catch a glimpse of the famous waterfall. Once we made the twenty minute trek uphill to the waterfall, we stopped to take pictures and watch the gondola carrying passengers up to the top. At this point everyone split off in groups to do their own thing: ride the gondola, hike to another waterfall, or hang around town for the day.  
I decided to brave the hour and a half hike to another waterfall outside of town. It was more of a walk than a hike, and the weather was perfect to be outside. The signs were a little confusing and at times we felt a little lost, but luckily one of us could speak Chinese to ask directions on how to get there (Thanks Pei!) For just 40NT, we were able to see the beautiful three-tier waterfall. Too tired and hungry to walk all the way back, some of us took a cab back into town. After walking for what seemed like three hours, market food was just what we needed. The day ended with a dip in the cool river at dusk.
Although the entire group didn't spend all day together, I'm really glad for the turnout. It was nice to have so many people show up—and bring their friends! Hope to see everyone again at next month's event!
Cheers, Mary