Interview with Brooke O'Brien, an American Teacher in Taipei, Taiwan
Hailing from the Midwest, Brooke O'Brien decided to make the leap across the proverbial pond to begin her teaching adventures in Taipei in July 2012. Read on to read about her thoughts on teaching English in Taiwan, and what she likes best about her home on the beautiful Isla Formosa.
Hi Brooke. Thanks so much for agreeing to be our March teacher interviewee! We've been looking forward to hearing about your experiences in Taiwan. Let's start with you telling us a little about yourself.
Let's see, I just graduated this past May with an undergraduate degree in Biology. Although I had no clue what I wanted to do career-wise and in the long-term, I did know that I wanted to go abroad after graduation. I considered a number of options, but I finally settled upon coming to Taiwan to teach English and am so happy that I did. Other random facts . . . I love music, nature, cultures, traveling, meeting new people, and trying new things!
How have you enjoyed teaching in Taiwan to date? 
As I alluded to in the previous answer, I have had a very positive experience teaching in Taiwan. It has been a whirlwind of ups and downs and all-arounds, but it's been such a great and meaningful experience. Seeing the progress and growth in my students and myself, both in and out of the classroom, has been extremely rewarding.
What advice can you give to new teachers interested in teaching in Taiwan?
Go for it! But before you do go for it, make sure to put time and effort into researching the job offers you receive. Talk to the boss of the school, talk to current teachers, and truly investigate the area that the school is located in. That way you can make sure that the school and your potential future job is a good fit for you!
Can you tell us about a particularly powerful moment in your classroom?
For me, it is most powerful when I take a step back and reflect on the growth that has occurred within my classroom since the beginning of my time here in Taiwan. I was lucky because I was placed as the first foreign English teacher at a brand-new school. It's been very, very gratifying to see the dramatic progress in my students' English abilities and the development of the school as a whole. I have one class of six, seven, and eight-year olds that had barely taken any English previous to our first class. They are now my second-highest class, and their level of English has surpassed classes filled with students that are years and years older than them! Reflecting on how far they've come is immensely fulfilling to me.
What are the positive and negative aspects of living in Taiwan? 
There are so many positives! I think the most positive of them all is the people. I have met some of the most generous and kindest people in Taiwan, and I sincerely mean it when I say that. People here are so giving and welcoming, even complete strangers! The people I've met here have made a lifelong impression and have made my experience as amazing as it has been. I could go on and on, but I'll stop there. Other positives include the warm climate and the endless amount of things to do, especially in Taipei. Mountains are easily accessible throughout the city, and beaches are just a short trip away. There's also always some type of event going on at any given time, so I guess you could say there's really never a dull moment!
Negatives . . . although I've been living here for six months now, I'm still not used to constantly being stared at! I'm not sure I ever will be. And although I'm attempting to learn Chinese, the language barrier can still be a bit difficult. I guess it's just good motivation to keep studying and trying to learn!
Have you had the opportunity to travel much in Taiwan or in Asia?
Aside from all around the city of Taipei and various parts of Taoyuan, I've been to Hualien (absolutely GORGEOUS . . . a must-see for anyone coming to Taiwan), Khasioung, and various villages in Northern Taiwan. Visiting Kenting in Southern Taiwan is on my bucket list, as is traveling around other parts of Southeast Asia. I also recently visited Hong Kong for the Chinese New Year, which was absolutely amazing!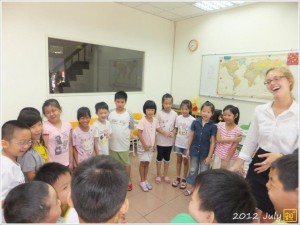 Is there anything else you'd like our readers to know about?
Taiwan is a great mix of many things—of ancient and modern, of natural and industrial, of different cultures, languages, and people. There's no adequate way to describe this country in words. I think the only way to truly understand and appreciate it is to come and experience it firsthand.
Do you have any favorite blogs or websites about Taiwan that you'd like to share with our readers?
The Traveling Vanilla Bean (See our interview with Traveling Vanilla Bean from last month!) and Hungry Girl in Taipei are two favorites to check out! The first is a blog by a fellow friend and teacher here in Taiwan, and the second is a great resource for deee-licious places to eat in Taipei!
Thanks so much for joining us today, Brooke. Enjoy the rest of your year in Taiwan!